(ATF) Swiss pharmaceutical giant Pfizer said it's ready to begin a delivery programme for its Covid vaccine in the US the day after a second treatment showed a high level of efficacy.
The response from economists has been predictable.
"There is light at the end of the tunnel," said Gain Capital's Fiona Cincotta, echoing the comments of American chief virologist Anthony Fauci.
Markets surged last week on the announcement that Pfizer's candidate, an experimental treatment developed with German startup BioNTech, is about 90% effective. Bourse climbed again this week with the news Monday that Moderna's similarly novel candidate looks likely to be even more effective.
Even though coronavirus infections are on the increase again worldwide - and most alarmingly in the US - there's now a sense of hope. More than that though, there's money to be made. 
More Vaccine News
Mergers and acquisitions looked set to resume Tuesday with $40 billion of deals put in motion after the Moderna announcement, according to he Financial Times. 
And the rush to produce vaccines will be big earner, if estimates for India are anything to go by. The world's second-most populous nation is expected to see its pharmaceutical industry surge in value to at least $70 billion this year, according to McKinsey figures released at the start of 2020. With the nation expected to play a key roll in global vaccine production and distribution, those estimates are likely to have increased.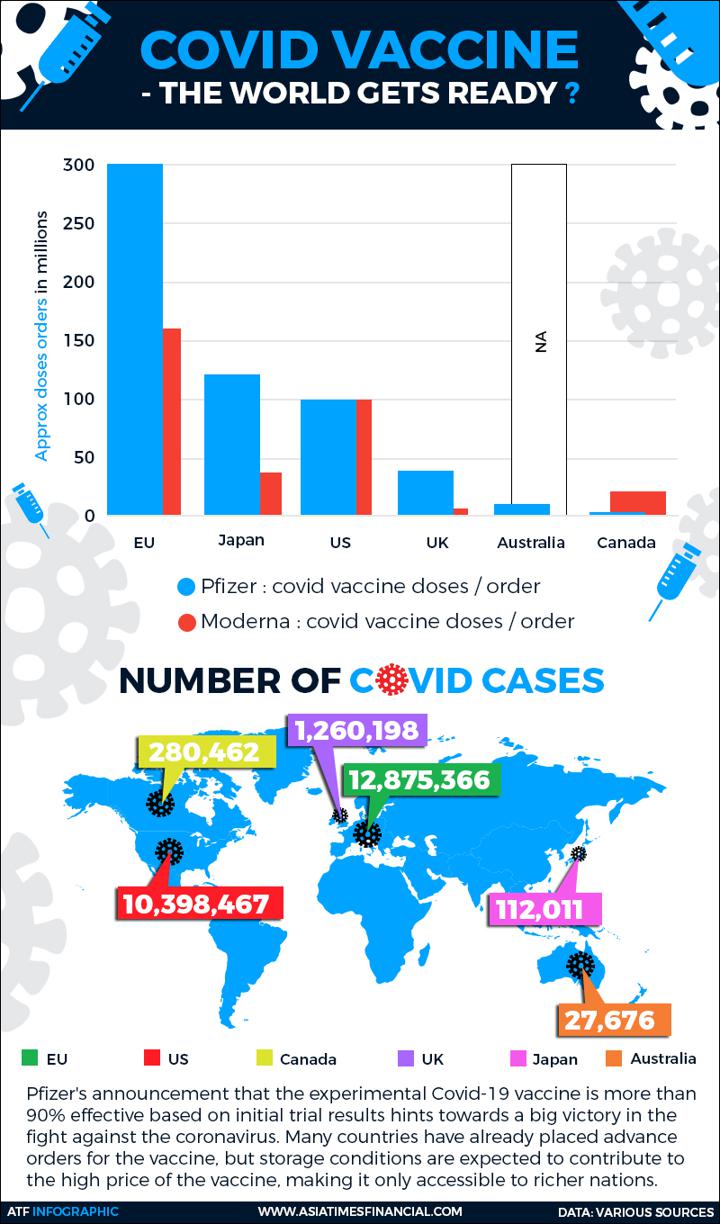 "It's been a torturous struggle for people worldwide, especially for those whose loved ones have been affected," said Stephen Innes, Chief Global Market Strategist at Axi. "But fortunately, multiple bright lights are shinning at the end of the Covid-19 tunnel, which will not only reduce health care concerns but could likely see the S&P 500 high tail it to 4,000 next year on an optimistic vaccine outcome with strong growth and still-low rates."
Pilot programme
Pfizer said it had launched a pilot delivery programme in Rhode Island, Texas, New Mexico, and Tennessee. It selected those states after taking into account their differences in overall size, diversity of populations, immunisation infrastructure, and need to reach individuals in varied urban and rural settings.
Pfizer's vaccine must be shipped and stored at -70 degrees Celsius, significantly below the standard for vaccines of 2-8 degrees Celsius.
"We are hopeful that results from this vaccine delivery pilot will serve as the model for other U.S. states and international governments, as they prepare to implement effective COVID-19 vaccine programs," Pfizer said in a statement on Monday.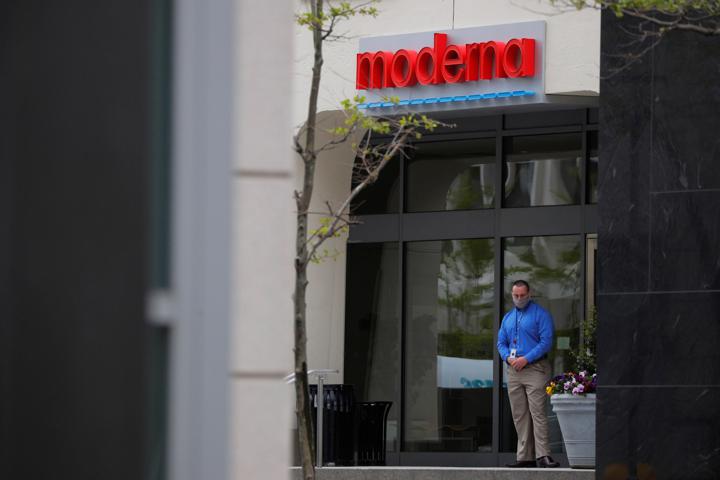 Pending more safety data and regulatory review, the US could have two vaccines authorised for emergency use in December with as many as 60 million doses of vaccine available this year.
The vaccines, both developed with new technology known as messenger RNA (mRNA), represent powerful tools to fight a pandemic that has infected 54 million people worldwide and killed 1.3 million.
Getting ready
Europe's health regulator said on Monday it had launched a real-time "rolling review" of Moderna's vaccine, as it has done for vaccines from Pfizer and AstraZeneca. Brussels also said it was in talks with Moderna about securing doses.
Other countries such as China and Russia have already begun vaccinations. Russia licensed its Sputnik-V treatment for domestic use in August before it started large-scale trials. It said on November 11 that its vaccine was 92% effective based on 20 infections in its large trial.
Washington, faced with the world's highest known number of COVID-19 cases, could have access next year to more than 1 billion doses from Moderna and Pfizer, more than needed for the country's 330 million residents.
The Trump Administration has mainly relied on the development of vaccines and treatments as its response to the pandemic. Moderna has received nearly $1 billion in research and development funding from the U.S. government and has a $1.5 billion deal for 100 million doses. The government has an option for another 400 million doses.
"The US infection rate and death toll still rising at truly horrific speed - the vaccine rollout can't come soon enough," said Ulas Akincilar, Head of Trading at the online trading platform INFINOX. "No-one should expect the US economy to return to pre-Covid normality any time soon. But in the economy that emerges from the ruins, there will be big winners, and investors are frenziedly trying to pick them."  
Additional reporting by Reuters