(ATF) The bonds of Chinese government-controlled companies surged Thursday after a sale of panda bonds by the Asia Development Bank (ADB) was oversubscribed.
A gauge of state-owned enterprises (SOEs) jumped the most since October 2016, given added impetus by Premier Li Keqiang's pledge that the government would focus its energies on job creation. SOEs are likely to benefit most from government assistance in boosting employment.
The gains sent the benchmark ATF China Bond 50 Index of AAA rated credits 0.02% higher to 106.81. A selloff on concern that pent-up consumer demand would unleash an inflationary spiral when pandemic lockdowns are lifted has eased this week. 
Also on ATF
The $1.9 trillion stimulus package passed the US congress also lifted sentiment. It's expected to boost the global economy and accelerate US growth past that of China for the first time in years.
The Enterprise sub-index of SOEs climbed 0.19%. The ADB said it had raised 2 billion yuan ($307 million) through the sale of its first panda bond in more than a decade. The lender said the sale was 1.86 times oversubscribed.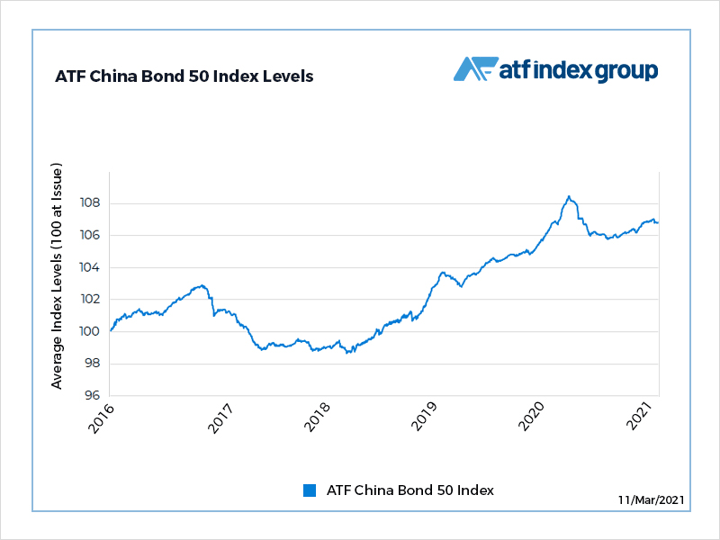 "ADB has worked hard on our return to the Chinese domestic bond market, and is delighted with this outstanding result," said ADB Treasurer Pierre Van Peteghem in a statement on the bank's website. "The availability of competitively priced local currency liquidity is critical to supporting ADB's development projects in the People's Republic of China (PRC), as announced in the 5-year country partnership strategy." 
The bonds were also boosted when Premier Li said job creation would be the government's main goal this year.
"We would certainly be happy to see robust growth, but we are also keenly aware of the large uncertainty around the economic rebound in China as well as global economic growth and development," Li said at the end of the Chinese legislature's annual meeting in Beijing.