(ATF) Apple blazed a trail on the information superhighway, now it wants to do the same on the actual highway.
The iPhone maker plans to be building its own electric cars by 2024, according Reuters. People familiar with the plans said the vehicle could include the Californian company's own breakthrough battery technology.
The possibility of an iCar has been mooted many times, but not until now has there been any sign that such a plan would be hatched. So much credence has been put in the report that it sent shares in Teslas, world's most valuable electric car maker, plummeting.
Also Read on ATF
Known as Project Titan, the development has proceeded unevenly since 2014 when it first started to design its own vehicle from scratch. At one point, Apple drew back the effort to focus on software and reassessed its goals. 
Doug Field, an Apple veteran who had worked at Tesla, returned to oversee the project in 2018 and laid off 190 people from the team in 2019.
Since then, Apple has progressed enough that it now aims to build a vehicle for consumers, two people familiar with the effort said, asking not to be named because Apple's plans are not public. Apple's goal of building a personal vehicle for the mass market contrasts with rivals such as Alphabet's Waymo, which has built robo-taxis to carry passengers for a driverless ride-hailing service.
Central to Apple's strategy is a new battery design that could "radically" reduce the cost of batteries and increase the vehicle's range, according to a third person who has seen Apple's battery design. 
Apple declined to comment on its plans or future products. 
Shares of Tesla ended sharply lower in their S&P 500 debut Monday. Its stock ended down 6.5% from a record high in the previous session, its steepest one-day drop in over a week. Losses steepened towards the end of the session after the Reuters report.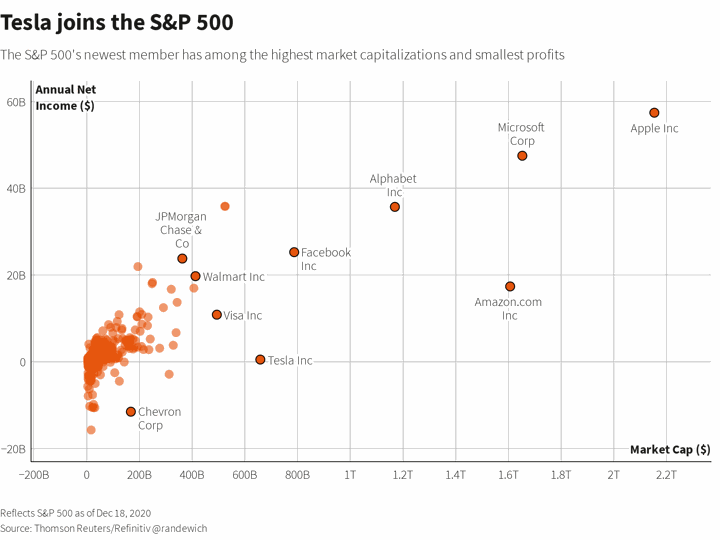 The decline in Tesla's shares accounted for about 0.1 percentage points of the S&P 500's 0.4% decline for the day, according to Refinitiv data. 
Making a vehicle represents a supply chain challenge even for Apple, a company with deep pockets that makes hundreds of millions of electronics products each year with parts from around the world, but has never made a car. It took Elon Musk's Tesla 17 years before it finally turned a sustained profit making cars.
"If there is one company on the planet that has the resources to do that, it's probably Apple. But at the same time, it's not a cellphone," said a person who worked on Project Titan.  
It remains unclear who would assemble an Apple-branded car, but sources have said they expect the company to rely on a manufacturing partner to build vehicles. And there is still a chance Apple will decide to reduce the scope of its efforts to an autonomous driving system that would be integrated with a car made by a traditional automaker, rather than the iPhone maker selling an Apple-branded car, one of the people added.
Apple plans to use a unique "monocell" design that bulks up the individual cells in the battery and frees up space inside the battery pack by eliminating pouches and modules that hold battery materials, one of the people said.  
Apple's design means that more active material can be packed inside the battery, giving the car a potentially longer range. Apple is also examining a chemistry for the battery called LFP, or lithium iron phosphate, the person said, which is inherently less likely to overheat and is thus safer than other types of lithium-ion batteries.
"It's next level," the person said of Apple's battery technology. "Like the first time you saw the iPhone."
Additional reporting by Reuters