(ATF) In the context of the coronavirus pandemic, many countries and businesses have experienced an economic downturn and financial difficulties. Huawei and ZTE – China's top telecom equipment suppliers – should be no exception, combined with the fact they are the target of sanctions and fines in some developed markets.
Contrary to this expectation Huawei and ZTE's global telecommunications market share has increased, both firms claim.
Huawei says it accounted for 31% of global telecoms equipment spending in the first half of this year, twice that of Ericsson, while ZTE's share also rose to 11%, according to the 'Voice of the Times', a Chinese Telecom analytical service. The share of other companies has declined, and they show an obvious impact of the epidemic on them.
ZTE was forced to pay a settlement of US$1.4 billion, while Huawei was completely banned by the United States. Both also lost patent lawsuits in the UK. In order to force Huawei to compromise, the US  joined forces with allies to ban Huawei equipment.
"After Huawei did not succumb, the United States forced major electronics manufacturers to stop supplying chips to Huawei, in an attempt to completely cut off Huawei's mobile phone business," the report said.
Under these circumstances it is hard to understand how these companies will expand in the long term. Numerous components of Huawei equipment are entirely reliant on foreign IP and technology – and may not be able to manufacture or develop such tech for years, if not decades.
Analysts say China is about 10 years behind developed countries in top-level component design and production. They assemble these components in their devices, but now the component well is running dry. Huawei has even been cut off from the world's top screen designs, as they us technology developed in the US.
Though Huawei is ahead in 5G equipment, it will not function without foreign IP or components. Huawei and ZTE – now struggling in developed markets, have long held a strong position in second and tertiary developing economies. A Huawei telecom infrastructure package is often included in China infrastructure projects, for instance, in African countries, in exchange for resources such as mineral rights.
Also Huawei and ZTE, which both of emerged from the Chinese military, are teaming up in many areas.
Huawei, ZTE increased global market share in first half
Huawei's expenditure on telecom network equipment this year accounted for about one-third of the world market, a slight increase from last year. But this is a special situation at the moment.
The other company, ZTE, is also a difficult brother to Huawei. ZTE has also been one of the targets of vigorous suppression by the United States. The original ZTE incident has drained a lot of its vitality. In the second quarter, ZTE's share growth increased from 9% to 11%, and it can be said that Huawei and ZTE together have nearly 40% of the global market.
In the telecommunications equipment market, there are seven main players – Huawei, Nokia, Ericsson, ZTE, Samsung, Cisco and Ciena.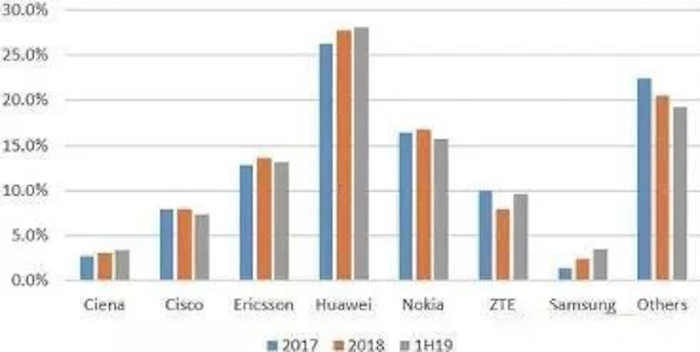 Table showing main telecom companies' market share in recent years (DelOrro research).
As sanctions take effect, we can expect to see a dramatic drop in Huawei and ZTE sales if US pressure continues.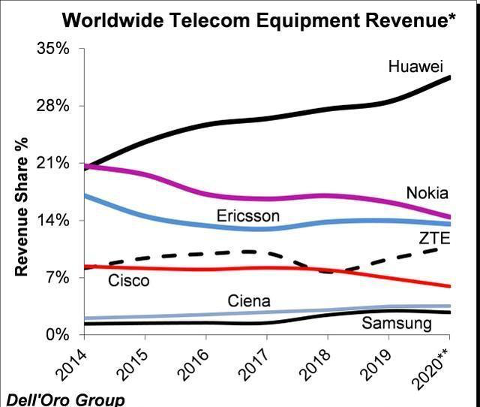 Dell'Oro group predicts that the global telecommunications equipment market will continue to grow in the second half of the year, and the overall growth is expected to be 5% over last year.
Cisco in the United States is behind in '5G' development but it is gradually catching up, with Ciena and Samsung behind them. Ironically, Huawei originally copied most of the "early" equipment used in its business dealings with Cisco during the 2000s. China just slightly modified Cisco designs and amplified more of the "Big brother" surveillance attributes, which Cisco invented but did not usually deploy in public networks.
Huawei released its unaudited operating results for the first quarter of 2020 based on International Financial Reporting Standards. In the first quarter of 2020, the company said it achieved sales revenue of 182.2 billion yuan (approximately $25.8 billion), a year-on-year increase of 1.4% and a net profit margin of 7.3%. Despite the global spread of the coronavirus, Huawei's various businesses operated relatively normally, and the overall operating results were in line with expectations at that time.
Meanwhile, Cisco released its earnings report for the third quarter of the 2020 fiscal year. In the fiscal quarter ending April 25, 2020, net profit was $2.8 billion, a decrease of 9% from a $3-billion increase in the same period last year, while net revenue was $12 billion, a decrease of 8% from $13 billion in the same period last year.
But this is all likely to change going forward, if political pressures on China continues.
Also Nokia's 5G business continues to grow, with 70 commercial orders and 21 5G communication networks.
Ericsson (Ericsson) released its financial report for the first quarter of the 2020 fiscal year. The net profit attributable to shareholders of Ericsson's parent company was 2.156 billion Swedish krona (about $213 million), a year-on-year decrease of 6.9%. So, this is another company that should see sales rise, as Huawei's market access declines.
Chinese researchers at the 'Voice of Time' claim it "looks awkward" for the US that Huawei and ZTE have such a large share of the global telecom equipment market.
But, in reality, the Chinese tech companies are selling equipment that they may not be able to replace.