(ATF) Most of the ATF indexes rose on Monday, as investors anticipate no rate cut on China's Medium-Term Lending facility (MLF) this week. The flagship China Bond 50 index gained 0.02%, and the ATF ALLINDEX Financial, Corporates and Local Governments rose 0.03% each. Only the ATF ALLINDEX Enterprise closed in negative territory, losing 0.15% on the back of a coupon payment.
The MLF rate setting each month is almost like a de facto monetary decision date so Tuesday's announcement is an important event for China policy watchers, according to analysts. Another key date is September 20, which marks the monthly Loan Prime Rate fixing and is usually based on the MLF rate. 
Introduced in 2014, the MLF is a funding channel that enables the PBoC to inject liquidity into the banking system and affect interest rates for longer-term loans. Its rate serves as a guide for the Loan Prime Rate (LPR), which is set by a panel of commercial banks on the 20th of every month and acts as the reference rate against which all new loans and outstanding floating-rate debt are priced. 
Previously little-watched, the LPR was linked to the MLF under reforms announced in 2019 to better reflect market dynamics.
The rate on China's one-year MLF is 2.95%, while the one-year and over-five-year LPR rates are 3.85% and 4.65%, respectively. 
Within the China Bond 50, the biggest gains in terms of price were posted by Guangzhou Metro and China Minsheng Banking. Their bonds rose 0.24% and 0.13%, causing their respective yields to drop 1.19% and 1.23%. Henan Investment Group and PetroChina bonds recorded the biggest losses of the index in terms of price, with their paper dropping 0.31% and 0.25%. This translated into yield increases of 3.02% and 2.35%, respectively.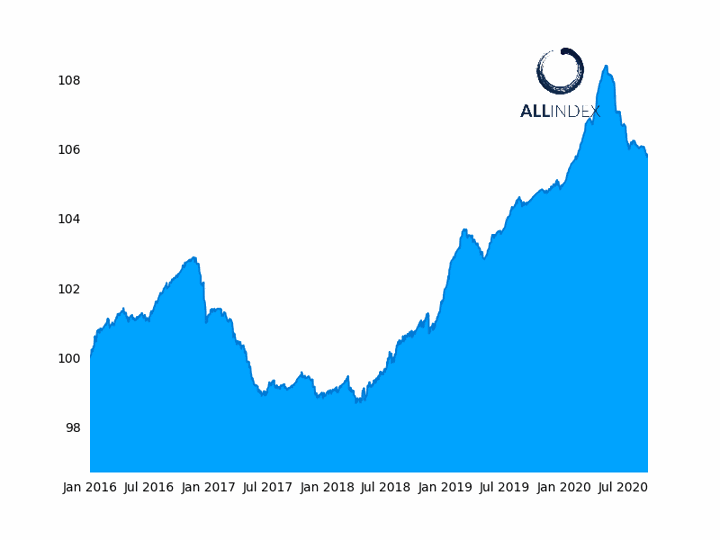 The China Bond 50 Index climbed 0.02%.
Yield-wise, the biggest gains of the index were posted by Xiamen International Bank (+1.76%) and Huishang Bank Corporation (+0.69%). The price of these bonds retreated 0.04% and 0.03% respectively.
Xiamen International Bank and Huishang Bank Corporation also recorded the biggest yield gains of the ATF ALLINDEX Financial, of which they are constituents, while China Minsheng posted the biggest price rise of the index (0.13%, as above, for a yield of -1.23%).
The most significant price moves of the ATF ALLINDEX Corporates were those of the bonds of Guangzhou Metro (+0.24%), Fuyan Construction (+0.24%) and Henan Investment Group (-0.31%), which recorded yield changes of -1.19%, -1% and +3.02% respectively.
Dragging down the ATF ALLINDEX Enterprise gauge, China Yangtze's coupon payment caused the price of its bonds to drop 7.55%, and pushed their yield up 26.85%. The only other price drop of the index was that of PetroChina's bonds, which as above fell 0.25%, posting a yield increase of 2.35% . Meanwhile, the biggest gains in price were seen in the bonds of Guangzhou Metro (+0.24%), Nanjing State-Owned Assets (+0.11%) Chengdu Rail Transit Group (+0.28%), which posted yields of -1.19%, -0.49% and -2.05% respectively.
All the ATF ALLINDEX Local Government constituents recorded price rises of between 0.02% and 0.03%.