(ATF) The CEO of Baidu – China's answer to Google – has formally shared his thoughts on the next 10 years of development of his firm and China's tech sector, making some intriguing forecasts of what the future holds. As China has made high-tech a pillar of development until at least 2035, Baidu will play a central role.
On November 8, Baidu founder, chairman and CEO Robin Li (Li Yanhong) gave a keynote address at the Second World Forum on Science and Technology and Development hosted by the Chinese Association for Science and Technology, the Chinese Academy of Sciences, and the Chinese Academy of Engineering.
Li said there are eight key technologies that bring transformative qualitative changes. And once this happens, these technologies will have a profound impact on the digital economy and even on broader social and cultural fields.
And the eight are...
Li said the eight key technologies are autonomous driving, machine translation, biological computing, deep learning frameworks, digital city operations, knowledge management, AI chips and personal intelligent assistants, China Youth Daily reported.
Autonomous driving is the most complex artificial intelligence project in Li's opinion. In the process of commercialization, he said it would directly drive rapid development of radar, sensors, navigation systems and other industries. The social value and strategic significance of unmanned vehicles are far beyond the means of transportation itself, and these factors will bring people a brand new lifestyle.
Li said recently there has been a very important change – that is, unmanned vehicles have entered the era of parallel driving. The driver of these are not in the car, but in the internet 'cloud'. Unmanned vehicles will cause a qualitative change in business, such as speeding up shared taxi operations. The Baidu World Conference showed the application of this technology on a live broadcast on CCTV in September this year.
The second key technology is machine translation. In recent years, the emergence and rapid development of neural network machine translation have greatly increased the level of machine translation, and a qualitative change is coming. In the past few decades, relying on low labor costs and a spirit of continuous striving for self-improvement, Chinese manufacturing has spread all over the world. As language barriers disappear, the service trade is tipped to usher in global opportunities
Baidu took the lead in pushing for large-scale industrial application of neural network machine translation in 2015. It achieved mutual translation of 203 languages, while translating hundreds of billions of characters every day, serving hundreds of millions of users, and supporting more than 400,000 third-party companies. Work with individual developers helped people across the world bridge language barriers and communicate better.
The third key technology is biological computing. Due to the empowerment of artificial intelligence technology and the popularisation of single-cell sequencing technology, a large amount of life's information is digitised, and biological computing will show its talent in target discovery, compound synthesis, compound screening, and crystal form prediction – reliable methods of predicting the crystal structure of a compound, based only on its composition. This has reportedly been a goal of the physical sciences since the 1950s. 
Li said that with the development of technology, the speed of new drug research and development has been greatly accelerated, and early disease screening will promote people's health.
The fourth technology is a deep learning framework. Li said the operating system in the PC era was Windows, and the operating system in the mobile era has been IOS and Android. And the operating system in the artificial intelligence era is a deep learning framework.
Baidu's 'Feida' (flying oar) is the first deep learning framework independently developed by China. From the official open source version, launched in 2016 to today, Feida has served 2.3 million developers, 90,000 companies, and created 310,000 models. The market share has gradually expanded and its influence has grown. According to an IDC report that Li quoted, China's market share of deep learning open source frameworks around the world, Flying Oar, is third; the top two are Tensorflow and PyTorch from the United States.
The fifth technology is digital city operations. The digital trend of modern cities is inevitable, and digitalization will become the most important infrastructure in future cities. Now, almost all major cities in China are plagued by congestion. Li believes that the Baidu digital city operator model will be a good solution.
Knowledge management technology – the sixth item on Li's list – is something the Baidu founder values very much. He believes this is a big opportunity in the "intelligent age". In the industrial age, because of the emergence of assembly lines, production efficiency greatly improved. He said that Baidu was already doing this kind of work and is continuing to interactively develop a "Ruliu" smart office system, which Baidu uses internally. By having the enterprise's knowledge, experience and other information completely online, an intelligent distribution algorithm can push relevant knowledge and experience to those who may need it, and achieve an efficient flow of knowledge within the business. Li has requested that within three years Baidu's work efficiency should be doubled due to its knowledge management system.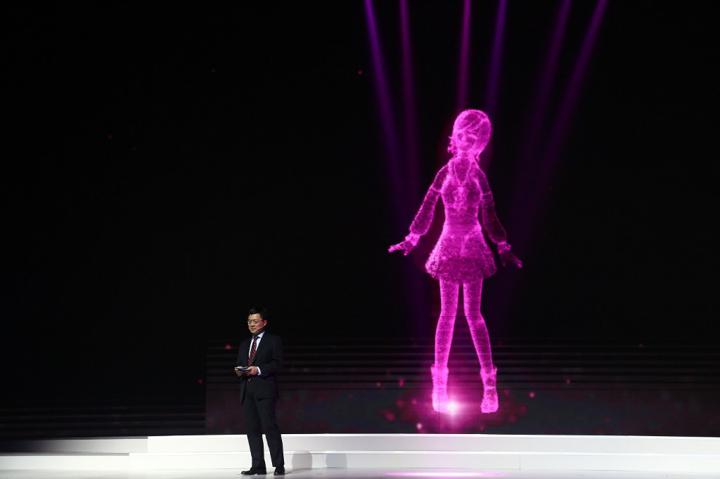 Shen Xiangyang, a former executive of Microsoft, introduces the AI character 'XiaoIce' at a ceremony for leading tech achievements at the fourth World Internet Conference in Wuzhen in late 2017. XiaoIce combined the natural-language processing techniques for understanding words from regular people to perform computing tasks. It is now a Chinese firm that promotes AI interaction. Photo: Ni Yanqiang / Imaginechina via AFP.
The seventh technology is a personal intelligent assistant. Li Yanhong said that in the future, everyone should have their one of these devices. There may be dedicated intelligent assistants in any familiar field such as medical care, education and finance.
Today, Xiaodu, Baidu's version of Google home or Amazon Alexa, are in thousands of homes in China. Many children are growing up with Xiaodu intelligent life assistants.
The eight transformative technology is Artificial Intelligence chips. Li said that in the PC and mobile Internet era, chips are relatively standard, such as those used by CPUs and GPUs. However, in the era of artificial intelligence, a large number of dedicated chips are likely to appear to optimise scenarios and provide unprecedented cost-effective computing power. This includes both relatively low-priced dedicated chips used in various terminals, and high-end chips worth tens of thousands of yuan, which are relatively common on cloud servers. Baidu's self-developed cloud general-purpose AI chip Kunlun is already used on search engines.
ALSO SEE: