(ATF) BHP, the world's biggest mining company, announced a record $5.1 billion interim dividend as half-year profits hit a seven-year high due to surging prices for iron ore. 
China's reliance on commodities to sustain economic growth has sent prices of the steelmaking ingredient to multi-year highs, while the Covid-19 vaccination push has brightened the outlook for global trade this year.
BHP shareholders will receive a payment of $1.01 a share, up from $0.65 this time a year ago, after what its chief executive Mike Henry described as "very strong" results in spite of the challenges posed by the Covid-19 pandemic. 
"BHP is benefitting from stronger balance sheets and elevated iron ore prices," said Eleanor Creagh, Australian market strategist at Copenhagen-based Saxo Bank. "Miners are in a strong position to return cash to shareholders."
Underlying profit for the six months rose to $6.04 billion from $5.19 billion last year. "It reflects our underlying performance and confidence in the outlook," said Henry, who took the helm in early 2020.
SHARES SURGE
London-listed shares in BHP have surged more than 130% from their pandemic lows in March, and it recently overtook Royal Dutch Shell and Unilever as the biggest company in the UK with a market capitalisation of $170 billion. 
Its Sydney-listed stock rose 2.45% to A$46.87  in trading on Tuesday February 16.
BHP expects a continuation of strong Chinese demand in 2021, and recovery in the rest of the world's global crude steel production. 
The miner acknowledged that its coal business has taken a hit due to a trade spat between Australia and China that the miner does not expect to be resolved any time soon. But BHP plans to sell or spin off the coal unit.
"We're certainly not banking on any near-term resetting," Henry said.
With reporting by Reuters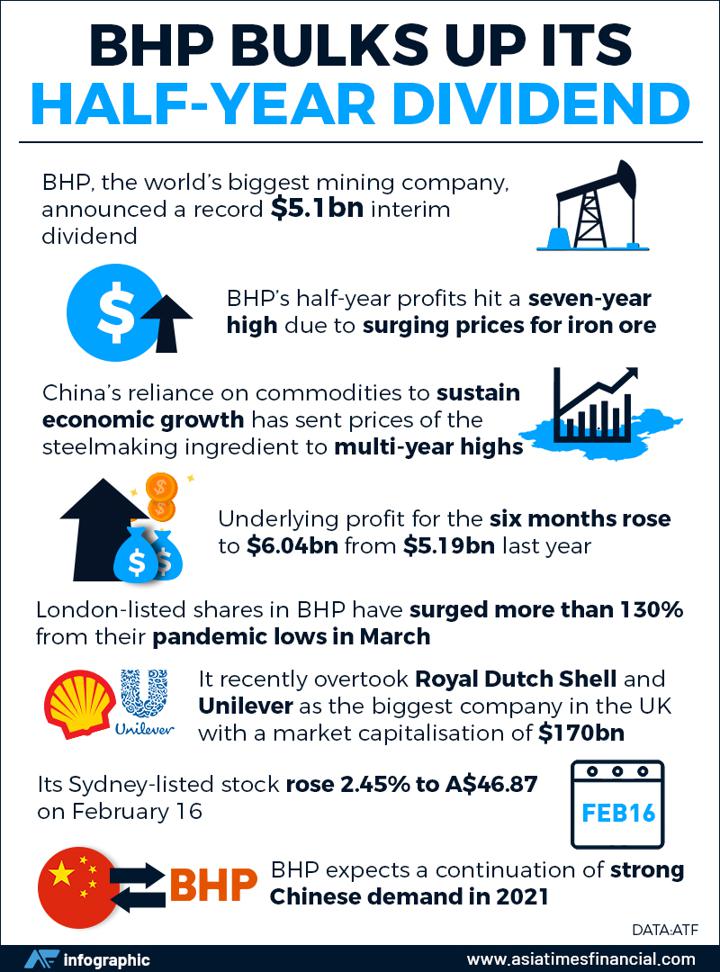 ALSO SEE: