(ATF) US Secretary of State Antony Blinken told top Chinese diplomat Yang Jiechi in a phone call on February 5 that Washington would stand up for human rights and democratic values in Xinjiang, Tibet and Hong Kong.
Blinken reaffirmed that Washington will work with allies to hold Beijing accountable for efforts to threaten Asia-Pacific stability, including across the Taiwan Strait, the US state department said in a statement.
Ned Price, a department spokesman, said Blinken had extended Yang, director of the Office of the Central Commission for Foreign Affairs, best wishes for the lunar new year, which begins on February 12.
"The Secretary reaffirmed that the United States will work together with its allies and partners in defence of our shared values and interests to hold the PRC accountable for its efforts to threaten stability in the Indo-Pacific, including across the Taiwan Strait, and its undermining of the rules-based international system," Price said in a statement.
According to the Chinese foreign ministry, Yang urged the US to redress recent mistakes, "act constructively" and not interfere in Xinjiang, Tibet and Hong Kong. "No one can stop the great rejuvenation of the Chinese nation," he told Blinken.
The US secretary of state also pressed China to condemn the military coup in Myanmar and later summarised his call with a post on Twitter: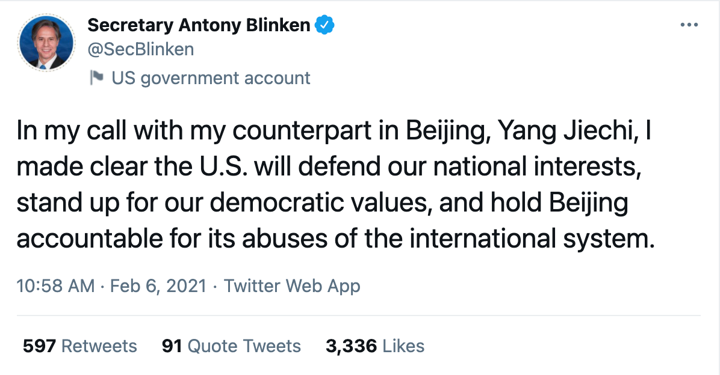 On February 4, Blinken signalled a more assertive US foreign policy in a speech at the White House.
"We need diplomacy to check the rise of authoritarianism, to prevent the spread of dangerous weapons, to shore up democracy, to defend human rights – all of which makes the world more stable and free, and all of which protects the security and prosperity of the American people," he said.
Earlier, Blinken discussed Iran and other issues on Friday in a virtual meeting with his British, French and German counterparts as the group weighs how to revive the Iran nuclear deal.
The US said beside Iran, other issues including the coronavirus pandemic, Myanmar, Russia, China and climate change were also discussed and Blinken "underscored the US commitment to coordinated action to overcome global challenges."
"We just had a in-depth and important conversation on Iran ... to handle together nuclear and regional security challenges," French foreign minister Jean-Yves Le Drian wrote on Twitter.
Britain's Dominic Raab and Germany's Heiko Maas also took part in the meeting.
With reporting by Reuters
ALSO SEE: