(ATF) China bonds were little changed Tuesday as investors judged that a deep selloff the day before was overdone.
The ATF China Bond 50 Index-listed security of miner Datong Coal rallied after the steepest decline in almost two years yesterday.
The benchmark CB50 climbed 0.01%, matched by all four sub-indexes; Enterprises, Corporates, Financials and Local Governments.
The biggest mover was Datong Coal. The yield on its 7.2% bond fell 1.88% following a 20.5% surge on Monday. Only Shengjing Bank's 3.98% bond made anything near the same impression, with its yield climbing 0.13%.
With public holidays approaching and traders straightening their books for the end of the year, liquidity is likely to be thin in the coming week.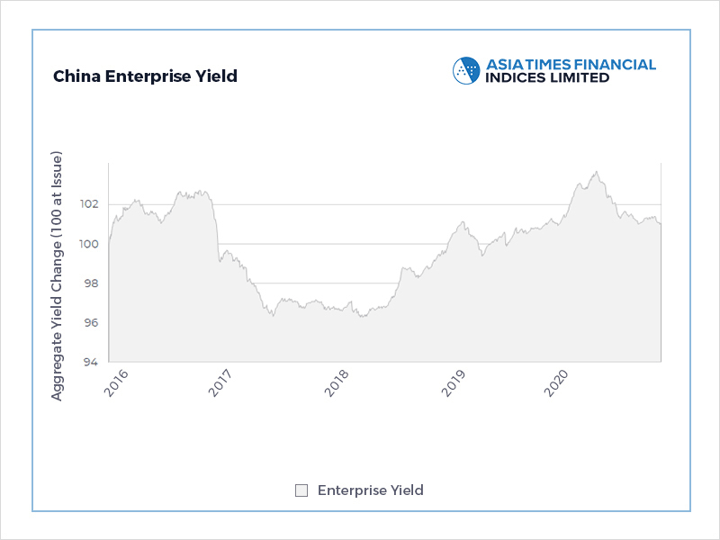 China's 4 trillion yuan bond market has staged a rollercoaster month since a rash of defaults sparked a selloff in mid-November. While assurances from officials to rebalance the market saw a rally, concerns that credit risks continue to build are troubling investors and officials.
Former Finance Minister Lou Jiwei scalded regulators for not acting fast enough to address market instabilities, according to Caixing magazine. Lou said that without further intervention, more credits would default and investors would lose interest in China even as the government opens up its markets to overseas capital.
His comments elicited a stern rebuke from the People's Bank of China, which cited in the Financial News an expert as saying credit weakness was due to poor corporate governance and not because the bonds are traded on the interbank market.