(ATF) Central bank interest rate announcements are unlikely to have much impact on China credits this week, with policy makers expected to hold monetary policy during the global downturn.
Better news on Covid vaccines has already fed into the nation's non-sovereign bond markets, with the benchmark ATF China Bond 50 Index climbing for a second week last week as the UK began its inoculation programme and the US approved the start of its.
Vaccines, of which there are at least five being rolled out or about to be distributed, are seen as offering a chance to get people back to work after the the coronavirus pandemic shut down much of the world's economy.
China's non-sovereign bonds climbed for a second week, adding 0.1%. Gains were highest among financial stocks, which advanced 0.14% on data that showed banks had increased lending in October. Credits also rose last week after consumer and producer price data showed a decline, spurring bets that deflation would increase the value of the fixed payments on bonds.
Read Related ATF News
Bonds were spurred further when Euroclear Bank, the Brussels-based International Central Securities Depositary (ICSD) and the Chinese financial market infrastructure Shanghai Clearing House announced the creation of Yulan bonds.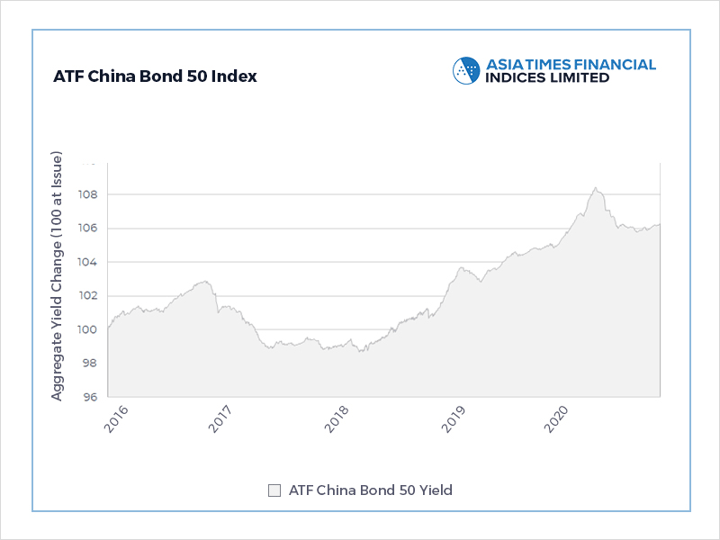 The new class of Chinese debt can be traded in Europe and give Chinese borrowers easier access to European liquidity pools.
This week the US Federal Reserve, Bank of Japan and Bank of England will be among central banks whose rates-setting committees will meet. With borrowing costs already at rock-bottom levels in those countries, policymakers aren't expected to change their settings, with little apparent impact on the bonds of overseas issuers.