(ATF) China is a chief offender in global deforestation, one of the leading causes of global warming, according to two reports.
The world's most populous nation's hunger for beef and its bank' backing of companies that fell vital woodland undermine Beijing's claims to be a global leader in reducing the effects of greenhouse gas emissions.
Chinese imports of Brazilian beef is surging and having a direct effect on the Amazonian rainforest, according to a report by Green Queen. The online publication cited data from consultancy firm Safras & Mercado, which shows Brazil exported 76% more beef to China last year than in 2019. The South American country now provides 43% of China's beef, it said.
Also on ATF
Rainforest has been cleared to make way for cattle grazing land, a practice Brazil's right-wing President Jair Bolsonaro denies is happening. 
A separate report by Transparency for Sustainable Economies (Trase), a European network that monitors supply chains, found that 70% of China's Brazilian imports were sourced from the Amazon and Cerrado - a region of tropical grasslands.
Swine virus
The report said the surge in beef consumption coincided with declines in China's pig herds - the traditional source of meat protein in the country – amid African swine virus outbreaks that claimed 440 million animals in 2018-2019.   
China has said it will be carbon-neutral by 2060, but critics say that the nation's overseas activities are not matching those claims.
Brazil is also feeling the impact of Chinese banks' lending to logging and agricultural companies behind much of the world's deforestation, according a report by the Financial Times.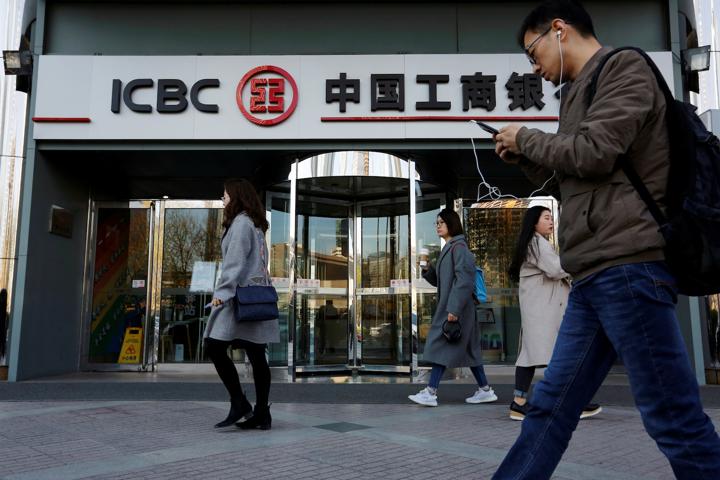 ICBC is the largest Chinese lender to companies that enable deforestation, report says. Photo: Reuters
Banks including the government-run Industrial and Commercial Bank of China, were the second-largest financers of such destructive businesses, the report said, citing data from the Forests & Finance pressure group.
"The world's big economies talk big on climate action yet continue to turn a blind eye to their own banks funding tropical deforestation," Tom Picken, head of the Forests & Finance campaign, was quoted as saying. His organisation found that the loans fell way below what could be considered green finance and that it would press China adopt stricter oversight. 
The FT report said loans offered to pulp and paper, palm oil, soy, rubber and timber producers in Brazil, Africa and Asia totalled $15 billion. ICBC was the largest of these, it added, with $2.2bn of loans, followed by Chemical giant Sinochem being the largest recipient of loans, at $4.6bn.
The Forest & Finance report said these companies contributed about 5% of greenhouse gases through their activities.