(ATF) China is the biggest market as the value of the gaming industry has topped $300 billion following a pandemic-fuelled surge, with 2.7 billion players worldwide, a research report said Thursday.
The Accenture report said the gaming sector is worth more than the combined markets for other visual entertainment forms, driven by gains in mobile gaming and an emphasis on making connections during a time of pandemic social distancing.
"The gaming market just keeps getting bigger," Christian Kelly, managing director of software and platforms at Accenture, said. "It has surpassed movies and music — combined. It is popular in every corner of the globe, with all ages, and with all demographic groups."
Accenture commissioned a study of the industry, with research is based on data collected via an online survey with 4,000 consumers in China, Japan, the US, and Britain, and included interviews with industry executives.
Kelly said those 4,000 subjects surveyed were people defined as playing video games for an average of four hours or more per week across four of the largest markets for gaming: China, Japan, US, and UK.
"Combined, these markets represent 47% of all gamers globally and 64% of all direct consumer spend on gaming."
China and Japan among top 3 gaming markets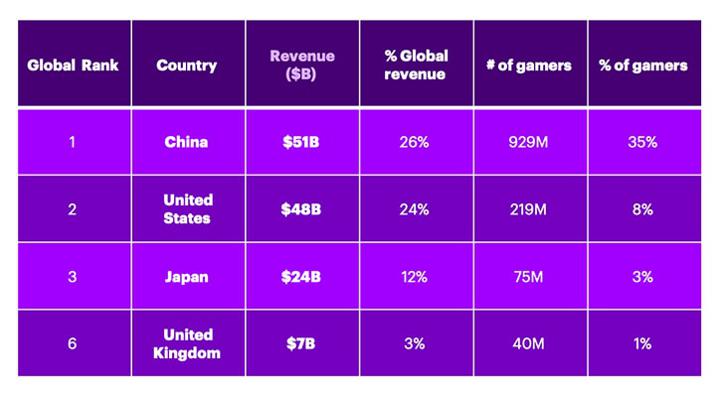 Source: Accenture.
China topped the charts in terms of industry value - at $51 billion, followed by the US at $48 billion and Japan at $24 billion.
At least 14 other markets, including South Korea, Germany, France, Canada, Italy, and Spain, generate more than $1 billion in consumer-related revenue.
The study found the gaming industry has increased by half a billion players in the past three years, and predicts more than 400 million new gamers are expected by the end of 2023.
"Gamers are spending more and more time engaged in play, and increasingly it's a social and community activity. The limits on this growth remain uncharted," Kelly said.
For the newest gamers, 60% are women, 30% are under 25 years old and one-third identify as non-white. That contrasts with longtime gamers who were 61% male, and more than three-quarters white and over 25.
According to the survey, gamers are spending an average 16 hours a week playing, eight hours a week watching or participating in game streams and six hours a week interacting in game forums and communities. 
ALSO SEE: