(ATF) Previously overlooked by global investors, China's nearly US$14-trillion bond market has garnered growing attention as an increasingly attractive asset class.
As China continues to open up and bond index inclusions prompt more passive money to flow in, this ongoing influx of capital will create a form of structural support for China's bond market, helping to bolster its ability to offer strong return prospects and unconventional portfolio diversification potential to global investors.
Part of the rising appeal has to do with the increasing accessibility of China bonds on global indices, which has been a notable trend in the last few years. China onshore bonds have achieved milestones over the years with their inclusion into Bloomberg Barclays Global Aggregate Bond Index in April 2019 and JP Morgan Government Bond Index – Emerging Marketing in February 2020.
While there still is the FTSE Russell Global Bond Index review in September for inclusion consideration, international investors have continued to deploy capital towards Chinese bonds regardless, given existing representation from the other two indices and compelling yield levels (2.5 to 3.5% range) relative to other developed market government bond markets mired in zero or negative yields.
As a testament towards the attraction of yield and the structurally supportive trends bolstering this asset class, Chinese government bonds' foreigner holding percentage ratios have gone from a modest 2% in previous years to a touch over 9%. As recently as July of this year, there was a record $23 billion of inflows into Chinese bonds by foreign investors, the highest on record since 2010 despite ongoing US-China tensions. This signifies investors are comfortable with this asset class despite the US-China uncertainty, and that there are expectations for a reasonable chance of FTSE Russell Global Bond Index inclusion.
Seismic volume
All three index inclusions would translate into a fairly seismic volume of passive inflows as tracker funds and ETFs move in lock step with these indexes, sending approximately $250-300 billion into China's onshore bond market, according to Wind, ADB Research and JP Morgan data (Sept 2019). Not only does this mark a turning point of sorts in capital markets globally, it may also provide meaningful tailwinds to China bonds over time.
In the post-Covid era, social mobility has been heavily constrained, resulting in substantial economic shocks and a corresponding wave of monetary easing globally. Asia is no exception – after the policy actions taken by Asian central banks this year, Chinese government bonds have now become the third highest yielding government bonds within Asia, allowing investors to generate a relatively decent level of income without the need to extend aggressively into riskier countries that may come with dual deficits.
In short, Chinese bonds have a degree of attraction on a risk-adjusted basis, particularly for investors who may be cautious about countries with balance of payment constraints despite attractive yield levels.
As a consideration as well towards portfolio diversification, the key attractiveness of China bonds lies in their relatively low correlation to other global bond markets. Such statistical diversification is arguably derived from China's differential economic cycle relative to developed markets.
Typically when developed markets are subject to downside growth shocks, China tends to be in a tightening stance and vice-versa. As a recent reference to this dynamic, current Covid statistics suggest a rather benign situation within China relative to other parts of the world. As such, there is indeed more potential for China's economy to strengthen as they've thus far gotten the virus under control, which would suggest the PBOC no longer needs to ease substantially.
This certainly is a counter-cyclical trend versus what we can observe in other markets, and reinforces the diversification benefits China bonds may hold for global investors in the future cycles as well.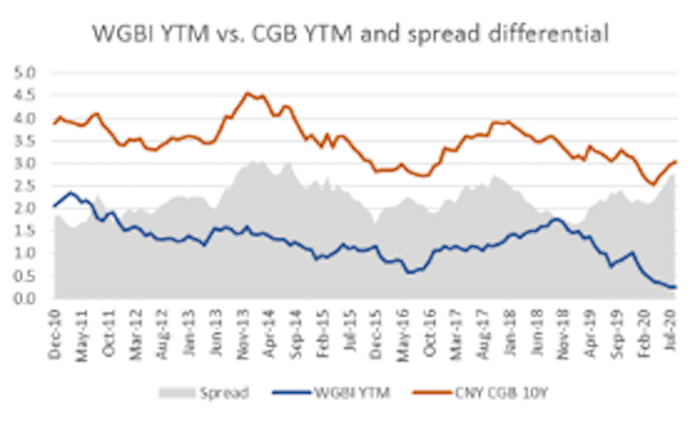 This characteristic, coupled with China bonds' potential for relatively high risk-adjusted returns and inflow trend, makes these assets stand out in a world awash in negative yielding bonds.
While China's bonds are gradually becoming a global asset, some investors still remain concerned about liquidity, exchange rate, credit risks as well as accessibility and global standard rating limitations.
However, as evidenced by foreigner holding representations, it is increasingly clear that China bonds' globalisation is simply a matter of time and it may not be worthwhile to fight the trend, particularly as hedging costs become increasingly reasonable and additional hedging accessibility becomes available for investors to manage risks over time.
# Jason Pang is a Portfolio Manager at JF Asset Management Ltd in Hong Kong, a division of JP Morgan Chase & Co.