(ATF) China's annual e-commerce sales event has broken all records for sales and logistics speeds with billions of dollars-worth of products sold in the first two hours alone.
The first wave of sales in this year's so-called Double Eleven shopping festival, also called Single's Day, clocked up 372.3 billion transactions - equal to 580,000 orders per second, according to the China Economic Daily. 
More than 100 brands sold at least 100 million yuan of merchandise each in the first half hour of the 11-day event alone, the newspaper said. 
Alibaba's sales for the post-Covid shopping extravaganza hit $74 billion over the 11 days and sellers on its platforms bought 21 times as many orders by value as Amazon.com's two-day global Prime Day last month.
However, the haul was overshadowed by a 10% drop in Alibaba's shares on Wednesday after China published draft anti-monopoly rules aimed at internet platforms. The group lost about 10% of its market value last week when regulators scuppered the listing of fintech affiliate Ant Group.
Alibaba rivals JD.com and Pinduoduo, plus firms such as Douyin – the Chinese version of Beijing ByteDance Technology's TikTok – also held Singles' Day events.
"Because of Covid-19, many Chinese cannot go overseas," Alibaba vice-president Liu Bo told reporters. "This actually stimulates online consumption."
The retail spectacular, which is usually closes on November 11 and has become familiar to Western shoppers used to the Black Friday sales in the US, was given added impetus this year by a broad shift to online shopping during the coronavirus pandemic.
The biggest platform, Alibaba-owned Tmall, changed the rules this year to cope with an anticipated surge of orders and added three days of offers and sales. While that initially added confusion, other retailers quickly fell in line to turbo-charge their offers.
The event has morphed from a Singles Day sale, akin to Valentine's Day, into a shopping jamboree. China's leadership is keen to encourage Double Eleven because it helps foster a self-sustaining domestic retail market.
Data provided by Tmall shows that from half-past midnight on November 1 to November 11, real-time turnover exceeded 372.3 billion yuan.
Taobao, Alibaba's other e-commerce company, saw sales soar from 52 million yuan in 2009 to around 300 billion yuan this year, according to provisional figures.
Smartphone maker Xiaomi proved the most popular brand in Shanghai. In Jiangsu, Guangzhou and other places, its mobile phone products have become the most popular model after the iPhone 12. 
Most Tmall sales came from Shanghai, Beijing, Hangzhou, Shenzhen, and Guangzhou.
The pandemic made itself felt in the sales statistics:
UV disinfection machine sales increased more than 1,000%.

Medical examinations and vaccines increased more than 1,500%,

Vitamins and other health foods increased by more than 1,600%

Mask sales fell 76% from their peak period during coronavirus epidemic in the first quarter. 
JD.com sales reached 271 billion yuan, also setting a record. Its JD 11.11 Global Love Season was officially launched on October 21 and by October 29 the pre-sale orders had surged 108% on last year. Order volumes for 2,536 brands increased more than 100%. 
Jindong said orders for Beijing-Tokyo Motor Club maintenance packages increased 118-fold and turnover of lifetime payments increased fivefold. The number of orders for housekeeping cleaning services increased by 3.5 times. The turnover of pots and utensils increased by more than 300% and in the first 30 minutes, orders for domestic tours increased by 200%.
Suning said orders surged 72% year-on-year. Its first-hour order report shows that consumers were focused on upgrading home appliances and making home improvements. Large-screen colour TVs above 65 inches saw sales increase 161%; smart small appliances increased by 213%; and, smart home improvements increased 608%.
Younger consumers' orders of e-sports equipment increased 325% and sales of 5G mobile phones climbed tenfold.
Wang Xiaohong, deputy director of the Information Department of the China International Economic Exchange Center, pointed out that Double Eleven shows strong signs of China's consumer recovery.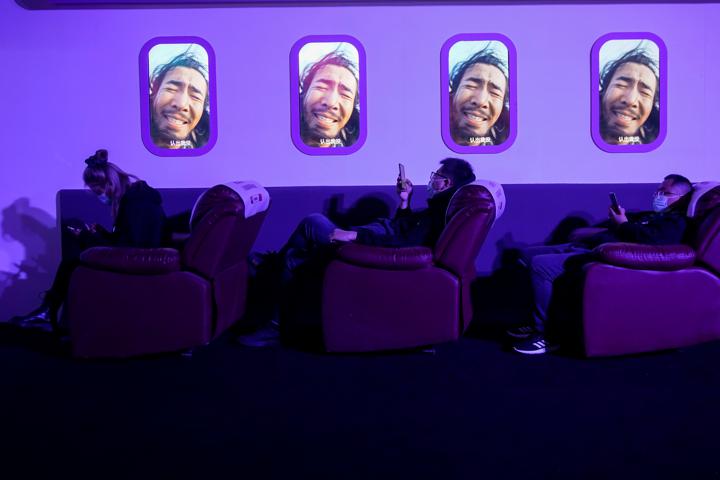 People look at their phones during Alibaba Group's 11.11 Singles' Day global shopping festival at a media center in Hangzhou, Zhejiang. Photo: Reuters
Wang Junxiu, vice president of the Chinese Society of Social Psychology and researcher of the Institute of Sociology of the Chinese Academy of Social Sciences, said that at this stage, between fighting the epidemic and restoring the economy and people's livelihoods, the common people have made new choices, while remaining vigilant in the prevention and control of the epidemic.
China's Economic Daily said this year's shopping festival was huge and reflected the continued recovery of domestic consumer spending. 
Zhong Hongjun, director of the Digital Economy Research Center of Shanghai University of Finance and Economics, told the Shanghai Observer that this year's Double Eleven has been accompanied by a large number of business innovations, such as Live shopping, AR try-on and 3D shopping were all available. 
Live-anchor sales from a broadcast room also became the standard pitch for most vendors. According to data from Taobao, pre-sale orders in the first 10 minutes of live broadcasts on October 21 exceeded full-day orders last year by a multiple of four.
New brands sold well. Shanghai's Dark Horse, Sandton, Bruco, Yongpu, Zhiben, and Mint Health ranked high in many categories alongside national brands on the Tmall platform. More than 1,800 new marques pulled in turnover in excess of last year's Double Eleven and 94 brands made their debut this year. Sales for all of those increased more than 1,000%, according to Tmall data.
Two million local businesses from hundreds of cities across the country joined Tmall's carnival alone. Alibaba's commercial operating system and complete digital capabilities have greatly reduced the market entry barriers for small- and micro-enterprises.
With reporting by Reuters