(ATF) China Telecom – the country's second largest telecom operator – and QuantumCTek are developing smartphones with quantum encryption security, which they plan to launch at the end of this year or early 2021, Chinese media has reported.
A joint venture just set up between the two groups is developing smartphones with quantum security SIM cards to enable ultra-secure mobile communications, Chinese newspaper the Economic Observer said. 
Quantum CTek, which debuted on the STAR Board in July, is China's main quantum communication firm. It has supplied technologies to both China's quantum communication satellite Micius and the Beijing-Shanghai Trunk Line.
The SIM is developed based on China's homegrown encryption key chipset and algorithm, and can support a wide range of smartphone models, the report said.
By installing this special SIM and the corresponding software, a regular phone can be converted to enable ultra-secure voice calls, data transmission and storage that is protected with encryption keys.
QuantumCTek representatives told the Economic Observer that both parties must use smartphones with quantum security SIMs in order for a quantum encryption-protected call to work.
The SIM-enabled solution is an alternative to the deployment of a quantum communication network that distributes encryption keys in a wide area, according to the company.
Beijing-based chip designer Unigroup Guoxin Microelectronics has reached a partnership with China Telecom and QuantumCTek to develop quantum security SIMs, the report said.
Earlier this month, China Telecom showcased two quantum-powered smartphone prototypes at its e-Surfing Smart Ecosystem Expo 2020. These models were altered from Huawei's and ZTE's existing models.
China Telecom told the newspaper that it will sell quantum-powered smartphones using its own distribution channels.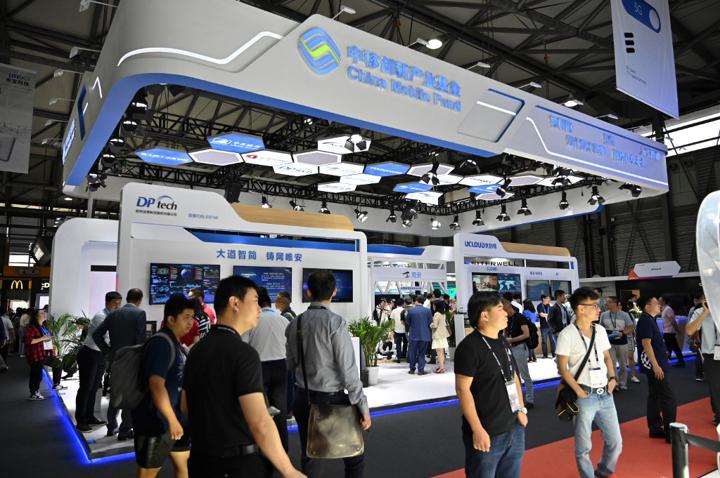 People walk by a stand at the Mobile World Congress which featured next-generation technology at the Shanghai International Expo Centre in June 2019. Many Chinese and Asian telecom groups are exploring new frontiers for communication. Photo: AFP.
Samsung model
In May of this year, South Korea's Samsung and SK Telecom announced the launch of "the world's first" quantum-powered 5G smartphone – the Galaxy A Quantum.
The Galaxy A71 5G is a rebranded and updated smartphone that has a quantum random-number-generator (QRNG) chip developed by ID Quantique for improved security. It was priced at about US$530.
"Quantum-powered smartphones can protect people's privacy. But 'genuine randomness' cannot be achieved via an algorithm, and the quantum encryption chipsets are expensive today. It will take a while before quantum-powered phones are widely adopted," Yin Yanji, an analyst from Huaan Securities said in a commentary.
'Of great significance': Xi
China considers developing quantum science and technology of "great scientific and strategic significance", China's President Xi Jingping said at the Political Bureau of the Communist Party of China's Central Committee last month.
Quantum technology is included as one of the new high-tech focus areas in China's medium-term policy blueprint, the 14th Five-Year Plan for 2021-2025.
Quantum communications have had narrow applications in China so far, and is mostly used by the government, the military, and banks, which require very high confidentiality, Yin said.
Due to technical constraints, quantum communications provide very low bandwidth today that can only support the transmission of text and voice. The cost of quantum communication equipment is also very high.
But quantum communications provides higher security than the traditional mathematical algorithms, which are becoming increasingly vulnerable with the development of ultra-powerful computers powered by quantum technology.
In the longer term, Yin expects that quantum communications will lead to a revolution of internet technologies, and that applications such as quantum Internet of Things and quantum cloud computing will emerge.
According to Chinese industrial research firm Qianzhan, the size of China's quantum communications market was 32.5 billion yuan ($4.9 billion) in 2019, up 19% from a year earlier.
ALSO SEE: