(ATF) China's two stock exchanges have received the first applications for publicly tradable real estate investment trusts (REITs) that will invest in infrastructure projects, pointing to the imminent launch of a new type of financial vehicle that will help local governments finance highways and business parks, while allowing retail investors to tap into what may become a $3 trillion market.
Two highway construction investment funds have been submitted to Shanghai Stock Exchange, according to filings with the exchange on Wednesday.
One of them is for a highway project in southwest China's Chongqing municipality with Sinolink Securities Co as the fund manager. The other is for a project in east China's Zhejiang province that is managed by Zheshang Securities Co.
The exchange will make a decision on whether to accept them within five working days, according to a statement on its official WeChat account. 
The approval review takes up to 30 working days, according to listing rules, which indicate the REITs may start trading in June.
At the same time, Shenzhen Stock Exchange received two applications, according to information posted to its website on Wednesday.
One of them will invest in a waste disposal and biomass power generation project at Shougang Environment Industry Co Ltd, a wholly owned subsidiary of state-owned steelmaker Shougang Group. The REIT is managed by state-owned AVIC Securities Co Ltd.
The other one will invest in an industrial park project in Shenzhen originally owned by China Merchants Shekou Industrial Zone Holdings Co Ltd, and the fund will be managed by Bosera Capital.
REITs are investment vehicles backed by income-producing properties and trade like stocks. They have become popular around the world among investors seeking access to the real estate sector. The publicly traded trusts typically offer people access to shopping malls and office towers, paying out the vast majority of their income to investors in yields in the range of 4% to 8%. 
For a long time, the only way to get exposure to China's real estate market, for mom and pop investors at least, was to buy a house. That's all set to change with the advent of real estate investment trusts.
China kicked off a REIT trial in late April last year, which excludes residential and commercial real estate properties though. China's REITs focus on projects such as toll highways, sewage systems, data centres, and 5G.
If successful, the program may be expanded to include traditional real estate, exposing individual investors to a market Goldman Sachs Group Inc estimates could one day be worth as much as $3 trillion.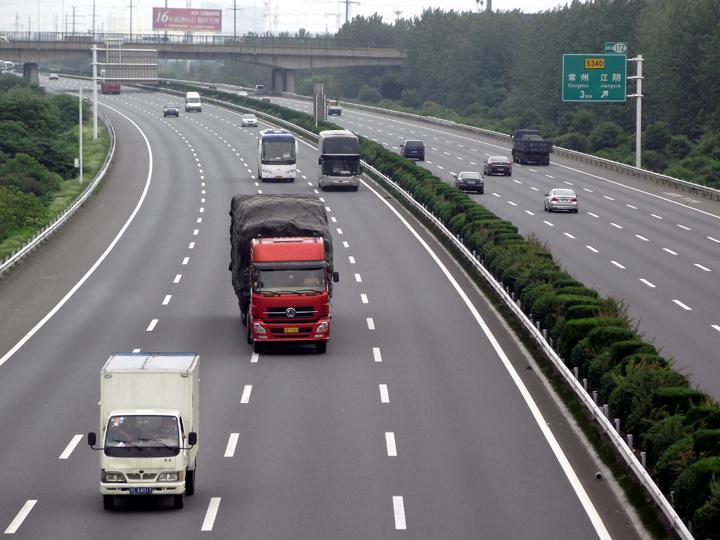 Vehicles travel on an expressway in Changzhou city in eastern China's Jiangsu Province in this AFP file photo.
Could alleviate local govt debt strain
The programme will open a channel that lets investors tap into the country's property growth, while limiting their speculation and avoiding property bubbles. A lack of investment options has meant Chinese families have around 78% of their wealth tied up in property, more than double the U.S., a 2019 study by Chengdu's Southwestern University of Finance and Economics showed. Less than 1% is invested in stocks.
"REITs have been a source of passive income for investors. Development of the REIT market in China is positive, as it gives investors more investment options and access to China's real estate market," Seow Zhi Qi, credit research analyst at Singapore-headquartered Oversea-Chinese Banking Corporation (OCBC Bank) told Asia Times Financial. 
With retail investors financing highways, bridges and business parks, local governments could also alleviate their debt strain. 
The pilot program includes a number of rules to ensure prudence. Retail investors can only buy 16% of any one REIT's securities and cornerstone retail investors have to hold at least 20% of their investment for a minimum of five years. Institutional investors will control the rest.
Because of their high dividends and lower liquidity in the mid-to-long term, REITs may be particularly attractive to insurers, pension managers and wealth managers, Wang Yifeng, Everbright Securities' chief analyst on banking, said.
To prevent against funds being misused, REITs can only obtain leverage of up to 20% and any money borrowed has to be used for maintenance and renovation rather than acquisitions.
Infrastructure assets must also have been profitable or have had a positive net operating cashflow in the last three years, and located in one of six designated economic zones, one of which includes the Greater Bay Area that links Guangdong, Hong Kong and Macau. The ability to pay an annual dividend of at least 4% in the next three years is also a prerequisite.
Meanwhile, analysts from S&P Global expect the scale of the pilot programme to be small. They noted that tax and legal issues cloud prospects for the market's growth, although China's infrastructure REITs market has a potential to become the world's largest.  
"The pilot program appears to be more of an experiment, aiming to shortlist some high-quality projects in the target regions and sectors," they said. 
"If there could be regulatory overhauls to allow tax benefits and certain other incentives, and also driven by the sheer size of the existing infrastructure assets in China, the fast expansion of e-commerce, and the country's ambitious new infrastructure investment plan, China's infrastructure REITs market has the potential to become one of the largest in the world," analysts from S&P Global said. 
The potential scale of a new infrastructure REIT market is dizzying. Assuming only 1% of existing infrastructure projects are securitized, at least 1 trillion yuan will be released onto equities markets, according to a report in 2019 by Peking University's Guanghua School of Management.
SEE ALSO: