(ATF)
Chinese people in Myanmar have expressed concern for their well-being after more than 30 Chinese-owned factories and businesses were attacked or set ablaze on Sunday, a
ccording to Red Star News
.
A family of three Chinese named Lu (a pseudonym) living in Myanmar told the Chinese language outlet that protests in the country had made their lives – and the Covid-19 epidemic – worse.
"Since the epidemic last year, we have almost never gone out except to go to the supermarket," Lu told Red Star News. "Before the (Chinese-funded) factory was burned down, we did not feel panic and did not intend to bring our children back to China."
But she told Red Star News there was no hope of resuming work in the near-term, and many small Chinese companies and private owners were out of business. 
"Because of the epidemic, there were many epidemic prevention requirements for resuming production at that time, but we (initially) did not have an order and could not afford to pay [workers]." This caused a lot of factories to close down.
Lu added that an engineering company run by her husband had to work from home, but "fortunately, most of the company's projects are open-air operations, so it is relatively safer."
As well as small businesses, major Chinese companies – A-share firms – have invested over US$1 billion in Myanmar. Another Chinese media outlet, Securities Times, contacted listed companies operating in Myanmar.
It said that many companies, such as Northern International, Creative Information and Jiaxin Silk told reporters that they have not been affected. But the staff of Jiangsu Cathay Pacific said they were "not sure". Others, such as Huafeng and Shangrong Medical, could not be contacted.
Myanmar is one of China's Belt and Road partners, and has always been an important investment destination for Chinese companies looking to expand 'abroad'.
Major investor 
According to data from the Myanmar Investment Commission, in the three decades from 1988 to September 30, 2018, Myanmar had attracted a total of $77.74 billion in foreign investment. The amount that came from China was put at $20.24 billion, accounting for 26% of the total FDI and the most from any country in that period.
Over the past two years, China has also invested and built factories. The cumulative investment has exceeded 170 billion yuan (over $26 billion), which is second only to investment from Singapore.
However, the coup staged by Senior General Min Aung Hlaing has thrown a dramatic cloud over the country's future. Close to 200 protesters have been killed – many shot dead by troops or police trying desperately to contain a massive uprising in towns all across the country – and martial law was declared in large chunks of Yangon and Mandalay on Monday.
Many protests have been staged outside the Chinese and Russian embassies, influential members of the UN Security Council, which have sought to water down calls for a stronger international reaction or intervention to try to end the crisis in Myanmar. These protests have added to concerns that Chinese businesspeople have faced since the crisis began more than six weeks ago.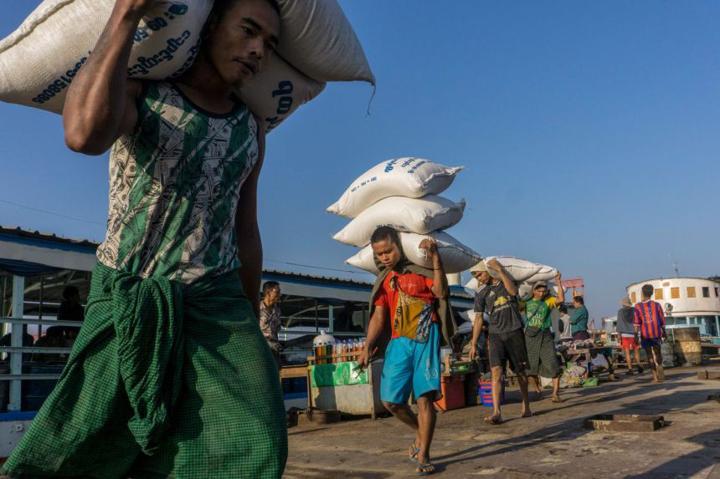 The UN food agency says the price of rice has risen by 4% in Yangon and Mandalay since the end of February. File photo: AFP.
Food prices rising, WFP warns
Meanwhile, local people are running out of food and money as the economy and the banking system has been brought to a standstill.
The UN food agency said on Tuesday rising food and fuel prices since the coup were undermining poor people's ability to feed themselves.
The World Food Programme (WFP) said palm oil had shot up 20% in some areas around Yangon and rice prices were up 4% in Yangon and Mandalay since the end of February. But in parts of Kachin State in the north, the price of rice was up as much as 35%, while prices of cooking oil and pulses were sharply higher in parts of Rakhine State in the west, it said in a statement.
The cost of fuel had risen by 15% nationwide since February 1, raising concern about further food price rises. "These rising food and fuel prices are compounded by the near paralysis of the banking sector, slowdowns in remittances, and widespread limits on cash availability," the WFP said.
Meanwhile, domestic telecommunication operators said they received a notice saying that their networks would be shut down indefinitely from March 15, and mobile phones would only be able to take or receive calls and text messages.
Up till Wednesday, Myanmar's optical fiber communication network (FTTH) had not been closed, and users could access the Internet through WiFi function of the optical fiber network.
Soros NGO calls for release of staff member
In other news, the Open Society Foundations, a philanthropic organisation founded by billionaire George Soros, has called for the immediate release of a staff member held in Myanmar and said allegations of financial misconduct were false.
State media reported that authorities had detained an official from the Open Society Myanmar and were looking for 11 other employees on suspicion the group passed funds to opponents of the coup.
"The Open Society Foundations are deeply concerned by reports that an OSM (Open Society Myanmar) staff member has been detained in Myanmar," the Open Society Foundations said in an emailed statement. "We call for her immediate release. We are alarmed by reports that authorities are seeking to interrogate other staff members."
The Global New Light of Myanmar newspaper, a long-time mouthpiece of the military, said OSM transferred funds without seeking permission from the Foreign Exchange Management Department. The group then exchanged $1.4 million into Myanmar's kyat currency "without following the necessary rules and regulations", the paper alleged.
But the Open Society Foundations said: "Claims of financial misconduct, including that OSM acted illegally by withdrawing their own funds in local currency from the SMID bank, are false... These funds were used for purposes fully within the objectives of OSM."
The Global New Light of Myanmar paper suggested that unidentified non-governmental organisations were "providing cash assistance to CDM movements". The paper said the finance officer of Open Society Myanmar, Phyu Pa Pa Thaw, had been interrogated since last Friday about "that cash flow into the CDM movement".
Authorities were looking for 11 other OSM employees to interrogate them, it said.
"These allegations suggest a worrying attempt to attack and discredit those who wish for a return to peace and democracy in Myanmar," The Open Society Foundations said. The NGO – which claims to be the world's largest private funder of independent groups working for justice, democratic governance, and human rights – provides grants through a network of national and regional foundations and offices, funding an array of projects.
It says the Myanmar foundation supports "civil society and groups representing marginalised people to encourage a representative democracy to take root".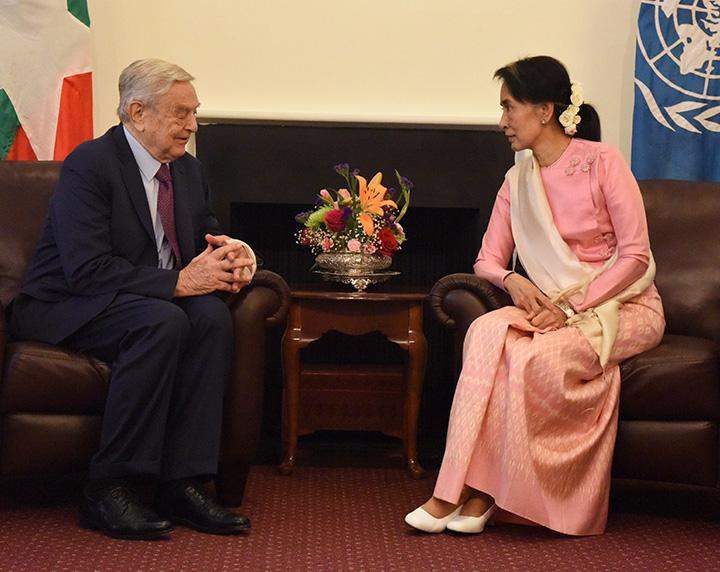 The newspaper published a picture of Suu Kyi meeting Soros in 2016 in New York (seen above) and one of her meeting his son, Alexander Soros, in Myanmar, but it did not link Suu Kyi or the Open Society Foundations to any alleged irregular transfer of funds.
With reporting by Reuters
ALSO SEE: