The $2.3 trillion 
government funding bill
 passed by the US  Congress this week includes robust new critical minerals and materials policy that highlights the dire need for the US to break free of China's hold on the tech metals supply chain. 
The bill, which passed the House and Senate on December 21, includes funding for domestic research and development for rare earth elements (REEs) and calls on the US Department of Energy to establish a new Critical Materials Consortium and a Critical Materials Supply Chain Research Facility.
The bill also provides for ongoing reports by the Director of National Intelligence on China's mineral investments under the Belt and Road Initiative.
This is an urgent and necessary endeavor for a number of reasons:
# Biden's climate plan currently relies on China, which is not environmentally friendly.
President-Elect Biden's Climate Plan to support a 100% clean energy economy by 2050 – including a strong push to increase production of US manufactured electric vehicles – is presently fully reliant on China's industrial sector for high-tech metals, given China's dominance of the critical minerals supply chain.
This is entirely counter-productive since China is one of the least eco-friendly countries on the planet – especially its rare earth mining and processing industry, known for its non-sustainable and even dangerous extraction and refining techniques, as well as unsafe working conditions – causing pollution and illness both locally and globally, according to recent studies. It has also been reported to cause severe illness to the nearby population.
# China wants to maintain geopolitical control
Beijing's strong grip over the critical minerals supply chain is well documented. A key element of its "Made in China by 2025" and "Belt and Road Initiative," the CCP's "export control law" (ECL) that went into effect December 1, 2020, is its latest effort to tie up these raw materials and squeeze out an advantage over global technology manufacturers.
China is also stockpiling rare earths and critical minerals for its own domestic use, as companies and governments worldwide face shortages in the supply chain, and the prices of these materials continue to rise. China is also scouring the globe looking to acquire rare earth projects in other countries, and in fact, is now a net importer of rare earths. This is about more than a trade war. This is about global domination of the supply chain and thereby controlling manufacturing and trade worldwide.
As we learned from the OPEC oil embargo in the 1970s, if China can control the supply of rare earth elements, it can control the market and cause havoc among its trading partners. The implications are far greater than what the world faced with oil supplies as it touches critical industries ranging from advanced weaponry to electric vehicles, and renewables to consumer electronics.
With the automotive sector rushing to build electric vehicles and as countries around the world and states within the US announce regulations phasing out gasoline-fueled cars – including Apple, which announced this week that it will start building its electric vehicle by 2024 – the race to secure non-Chinese materials is well and truly in process, as these materials will be in high-demand and scarce.
So, what happens next?
The passage of this spending package and policy is a good start. However, we've seen legislative efforts, as well as presidential executive orders like this before. And whilst the Trump administration has done a good job raising awareness of and pursuing solutions to China's monopoly on critical minerals, and Congress has made several bipartisan attempts to move on this issue, it all comes down to the execution by the incoming Biden Administration. So far, the early signs are positive, as President-Elect Biden's team has confirmed that they will be maintaining the policies that have recently been implemented, especially as they seek to increase production of electric vehicles and renewable energy applications.
Several rounds of funding and grants by the Department of Defense and Department of Energy have resulted in some good forward movement, but more certainly needs to be done to ensure a robust domestic supply chain.
The US and many other developed nations are decades and billions of dollars behind China in the mine-to-magnet critical minerals supply chain. The Biden administration will need to maintain a focus on addressing China's domination of the critical mineral supply chain in both its climate plan and foreign affairs policy. Critical minerals are the backbone of the global economy, and it's also paramount to our national security and electrical vehicles and renewables endeavors.
We [in the US and the West] must break free of our dependence on China as soon as possible and doing so is going to take a broad bipartisan and industry-wide effort, featuring partnerships and collaborations between governments and industry across the globe. To date we've already seen formal strategic partnerships signed between the US and Australia, the US and Canada, and funding by Japan Oil, Gas and Metals National Corporation (JOGMEC) for an Australian rare earth producer. 
The EU Commission is also exploring collaboration to ensure a supply chain that will meet their requirements for electric vehicles and renewables, which according to the EU Commission report released in September calls for an 18 times increase in lithium and a ten-fold increase for rare earths.
IREL (India) Ltd has developed rare earth processing facilities, has stockpiled rare earth oxides and is seeking collaboration on the metals and alloys and magnet manufacturing phases of the supply chain as it seeks to become an alternative source to China for the critical materials supply chain.
This effort in the US will also take interagency cooperation, as the scope of rare earth uses runs the gamut from defense to renewables to medical equipment, to consumer electronics and more.
Now is the time to develop a fully domestic supply chain for critical minerals so our clean tech can actually be clean, and our green tech can be as carbon neutral as possible.
# Pini Althaus is Chief Executive Officer of New York City-based USA Rare Earth, LLC (www.usarareearth.com), the funder and operator of the Round Top Heavy Rare Earth and Critical Minerals Project in Hudspeth County, Texas, and owner of the critical minerals processing plant in Wheat Ridge, Colorado and the neo/permanent magnet plant in North Carolina.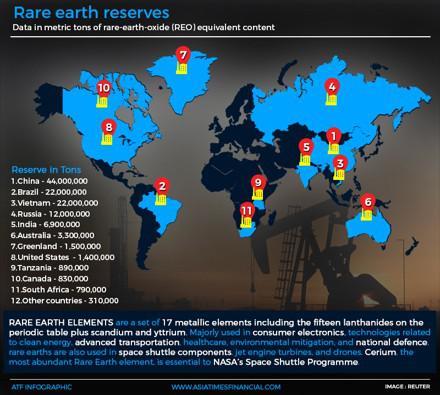 ALSO SEE: