(ATF) China bonds snapped heavy losses from the past two days as the global reflation trade eased.
The ATF benchmark gauge of non-sovereign bonds climbed for the first day in three as investors weary of volatility in global assets took advantage of relative stability in China's credit market.
The China bid was strengthened by comments from the nation's banking regulator that asset bubbles were forming in overseas economies.
Also on ATF
The ATF China Bond 50 Index of AAA rated corporate and local government bonds climbed 0.02% after plunging 0.20% the previous two trading days amid a global bonds selloff. The returns-tracking gauge improved as US 10-year Treasury yields, on which trillions of dollars-worth of loans and other debt are priced, saw yields drop from the highest since markets slumped at the beginning of the coronavirus pandemic a year ago.
Gains were led by bonds on the private-company Corporates sub-gauge, which advanced 0.03%, the most in two weeks.
Growing optimism that global coronavirus vaccine rollouts will hasten a recovery in the world economy has spurred bets that inflation will soar as pent-up consumer demand is finally unleashed when covid restrictions are lifted.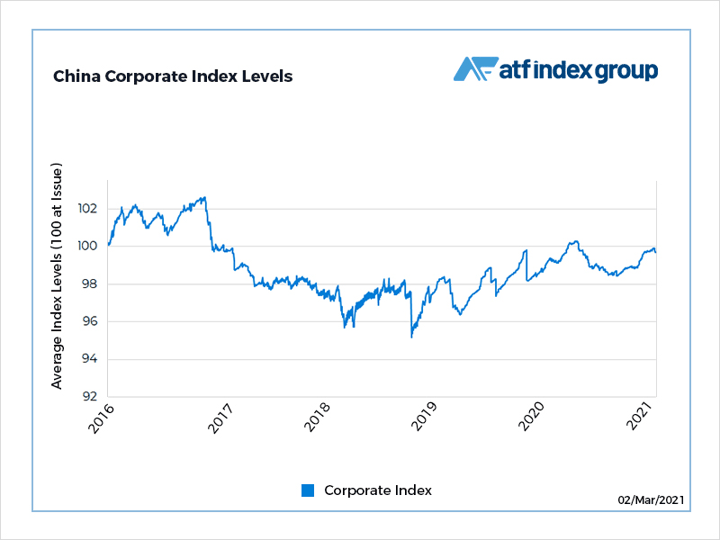 The 10-year breakeven rate, a gauge of inflation expectations based on the Treasuries market, implies consumer price rises will exceed the Fed's goal of 2% inflation in the next decade.
Bonds tend to decline on inflationary signals because rising prices erode the cash value of the fixed payments the securities offer.
Chinese debt was further boosted when Guo Shuqing, head of the China Banking and Insurance Regulatory Commission, told a news conference that overseas markets were overvalued and asset bubbles were likely to burst.
"Financial markets are trading at high levels in Europe, the U.S. and other developed countries, which runs counter to the real economy," Guo said.