(ATF) Riskier Chinese bonds climbed Tuesday after a deal struck with Europe's financial clearing authorities promised to broaden the internationalisation of China's capital markets.
A gauge of private company debt fell the most in six weeks amid concern that outgoing US President Donald Trump would seek to impose more sanctions on Chinese firms before he leaves office next month.   
The benchmark ATF China Bond 50 Index climbed 0.02%, an eighth consecutive day of advances, after Euroclear Bank, the Brussels based International Central Securities Depositary (ICSD) and the Chinese financial market infrastructure Shanghai Clearing House announced the creation of Yulan bonds.
Read Related News on ATF
The new class of Chinese debt can be traded in Europe and give Chinese borrowers easier access to European liquidity pools.
China has been aggressively seeking to lure foreign investment into its capital markets to strengthen its financial base and encourage efficiency in its debt-laden private firms and bloated state-owned enterprises.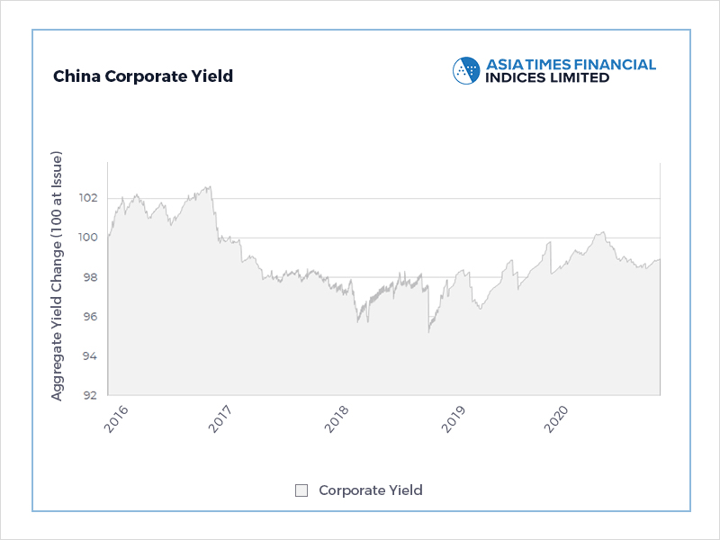 Corporates fell 0.04%
The Corporate debt gauge declined for a second day in three, falling 0.08% after Trump imposed sanctions on 14 senior Chinese leaders in further retaliation for a crackdown imposed on Hong Kong earlier this year.
The 2.95% bond of Jizhong Energy Group led declines, with its price falling 92 basis points.
Lacklustre sale
Property-related bonds have also fallen on concern the sector is overvalued following a lacklustre fund-raising effort by China's largest developer Evergrande, which is also steeped in a debt crisis.
Investor enthusiasm has waned for bonds on the private bank-heavy Corporate sub-index as China's reluctance to add more stimulus sent safer sovereign yields higher, increasing their relative attractiveness over riskier company securities.  
The gauge has also suffered as banks have curbed lending to Chinese companies and municipal authorities following a string of defaults among state-owned-enterprises. The Local Government sub-index was unchanged Tuesday, snapping a 10-day, 0.22% gain.
The SOE-heavy Enterprises sub-gauge climbed for a seventh day as investors were calmed by regulatory promises of measures to reduce liabilities on corporate balance sheets. That's also boosted bonds on the Financials sub-gauge, which climbed 0.04%, the most in a month.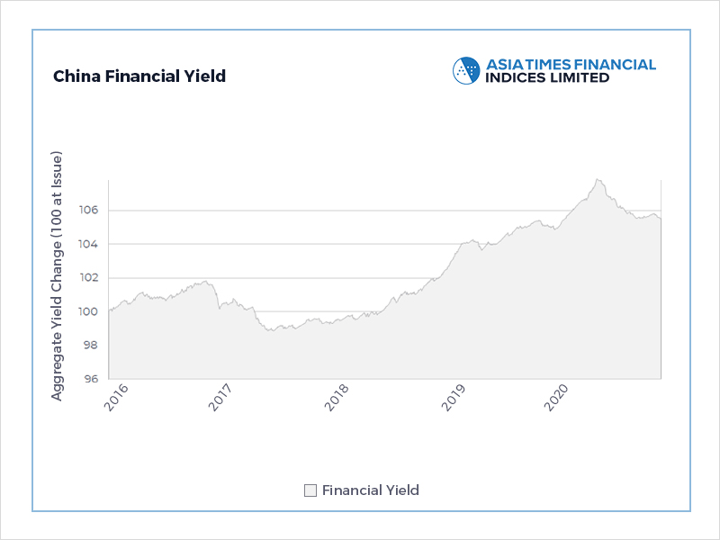 Financials climbed 0.04%