(ATF)

Amazon may find itself in hot water this week if votes, set to be counted in the coming days, lead to the creation of a union in the United States. It would cement a historic effort by its employees over a five month-long David vs Goliath campaign.

While not officially declaring an all-out fight to block the union, Amazon has reportedly waged a determined campaign, holding weekly "informational" meetings, sending text messages and putting up posters in restrooms to defeat the union initiative.

More than 5,800 Amazon employees throughout the US have also worked tirelessly for five months to "make sure" that the Retail, Wholesale and Department Store Union (RWDSU) wins.

READ MORE

After all the RWDSU, a first in the US for Amazon, which employs 800,000 people in the country, would also be a major coup for a union movement coming at a time when President Joe Biden promises to be the country's "most pro-union president".

The RWDSU could also open the floodgates to unionization efforts at other Amazon sites and other firms.

Unions and political leaders in the US have argued that the company's employees not only face constant pressure and monitoring, with little job protection, but the e-commerce giant indulges in anti-competitive or monopolistic behaviour as well.

INTERNATIONAL PUSHBACKS

The challenges at home though, are just a hint of what Amazon is facing internationally, where a growing number of countries and their political leaders, platform sellers, competitors and even associates are pushing back in ways the US has not.

Last week for instance, delivery workers of Amazon's India business threatened to go on strike "in the coming days" across Bengaluru, Delhi, Hyderabad, and Pune, where Amazon operates warehouses. They are demanding an increase in delivery commissions and employee benefits.

Amazon reportedly issued a new policy update on March 15 changing the compensation per delivery that the the Indian Federation of App-based Transport workers and Telangana Gig and Platform Workers Union say slashes their earnings to less than half.

This threat comes just days after hundreds of Amazon's delivery heads walked out in Delhi and Pune out to protest against Amazon's policies since 2020.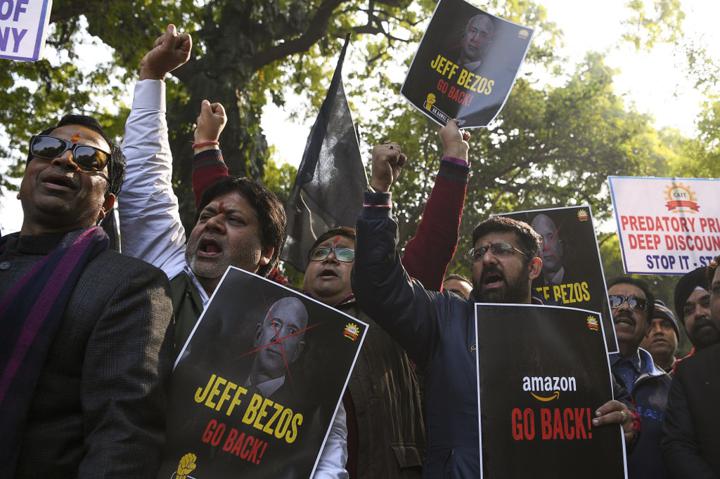 Flipkart employees protest against Amazon . Photo: Reuters
Weeks earlier, Amazon India faced another challenge when a sensational Reuters report, based on internal documents dated between 2012 and 2019, revealed how Amazon was using a secret strategy to dodge India's regulators.
Indian traders, both brick-and-mortar and smaller online sellers, have long alleged that Amazon's platform largely benefits a tiny number of big sellers and that the American giant engages in predatory pricing.
But Amazon is embroiled in a bitter communications battle in Europe as well with three sets of regulators in Europe opening investigations into whether Amazon is a threat to open competition. Over the past year Germany, France and Italy have opened investigations into whether Amazon is a threat to open competition, that culminated into the European Commission challenging Amazon-in November, saying it used independent sellers' data to benefit its own retail business.
Last week, 40,000 Amazon workers in Italy went on a 24-hour strike in the first such blow to its entire logistics operation in the country, including third-party delivery service providers.
The trade union Verdi also called for workers at six Amazon sites in Germany, its biggest market after the US, to strike for four days from Sunday evening in the latest attempt to try to force the company to recognise collective bargaining agreements.
LIMITING A GIANT
Amazon, though, insists that while the company's business strategies differ slightly to resonate with the nuances of markets around the world, it never changes its approach of working with policymakers to build, invest and meet the needs of governments.
Yet, according to experts, policymakers in these countries want to limit Amazon to protect homegrown businesses. That presents the biggest barrier to the company's record of unbridled growth.
While Amazon has rapidly expanded over the past two decades in the US, that is now slowing, putting an increased burden on expansion worldwide
Although sill puny in terms of contribution to operating income, Amazon's international businesses accounted for 27% of its revenue in 2020, and hence is important to its overall model.
Succeeding in India and Europe, the top markets for many American companies, is crucial for the e-commerce giant especially after it had to close its marketplace in China in July 2019 amid stiff competition from local players like Alibaba, JD.com and Pinduoduo.
Consequently, Amazon has been forced onto the backfoot. It denies any wrongdoing in Europe, where it says no company cares more about small businesses or has done more to support them over the past two decades.
Backed by Walmart, which owns Flipkart, Amazon reportedly has also asked the Indian government to not tweak or come up with fresh rules in e-commerce, saying it could disrupt the sector and potentially dent global investment sentiment.
India has proposed a new draft policy recently that wants to restrict foreign-owned online retailers by calling for data to be stored locally and for more data centres and server farms to be located within the country. These moves, experts say, could boost Indian e-retailers and high-tech companies at the expense of foreign competitors, who would see their costs rise.