(ATF) The backlog of vessels and their cargoes immobilised by the grounding of the massive container ship

Ever Given

in the Suez Canal continues to grow, posing a deeper threat to global supply chains.
According to data from consultancy Refinitiv, there are 206 ships waiting on either side of the canal to transit as of early Friday, carrying 14.1 million deadweight tonnes – the total load that the ships can carry.
"This is an increase of 26% in tonnage and 17% increase in the number of vessels waiting," Ranjith Raja, head of Middle East and North Africa oil and shipping research at Refinitiv, said.
Data from Moody's Investors Service, the rating agency, indicated that disruptions to crude oil are as much as 2 million barrels per day. 
In early Friday trading, Brent crude rose 43 cents, or 0.7%, to $62.38 a barrel. But West Texas Intermediate, the US benchmark, fell 49 cents, or 0.8%, to $59.05 a barrel.
Analysts say Europe's manufacturing, automotive and vehicle parts suppliers to be most affected because they operate "just-in-time" supply chains.
"This means they do not stockpile parts and only have enough on hand for a short period, and source components from Asian manufacturers," Daniel Harlid, a vice president at Moody's in Stockholm, said. 
"Even if the situation is resolved within the next 48 hours, port congestion and further delays to an already constrained supply chain is inevitable," he added.
Shipping costs have soared since the beginning of the coronavirus pandemic, but recent data from the Bureau for Economic Policy Analysis in the Netherlands suggested that world trade had shrugged off the extra burden, with real goods trade volumes rising by 2.5% in January over the previous month.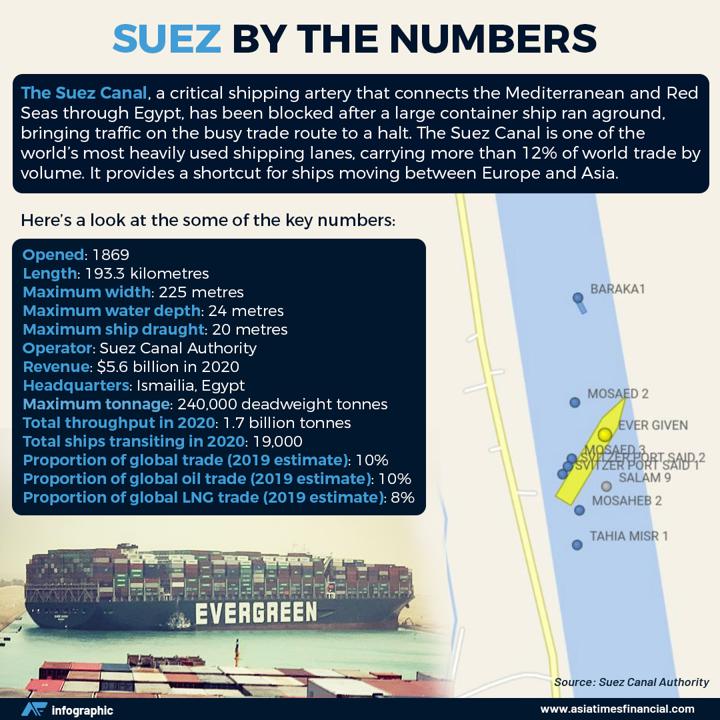 However, the stricken Ever Given has thrown a 224,000-tonne spanner in the works. Given the sheer size of the vessel, experts have suggested that it could take days to weeks to free it, and to unclog the world's second most important waterway through which roughly 10% of world trade passes each year.
"If the grounding of the huge container ship in the Suez Canal is not resolved soon, it could push freight rates even higher, causing a further rise in manufacturers' costs and exacerbating temporary supply shortages," Gabriella Dickens, global economist at Capital Economics in London, said.
Raja at Refinitiv said it was possible that some of the smaller ships could be given priority if the canal is partially cleared.
"The best-case scenario in the short term is that we can expect smaller ships at either end to effectively jump the queue and be repositioned to transit the canal when it is clear enough for vessels of that size," he said.
Analysts said data indicated delivery times have already lengthened this month.
"While there is clear and growing evidence of bottlenecks pushing up producers' costs, there is little sign, so far at least, that they are restricting real demand for traded goods," Dickens said.
Two liquefied natural gas tankers loaded in the US and bound for Asia markets appear to have changed course in the mid-Atlantic and are now heading to the Cape of Good Hope around Africa to avoid the Suez gridlock, automatic identification system (AIS) data from Marine Traffic indicates.
The 250-metre Hyundai Prestige container ship is also believed to be headed via the Cape of Good Hope to Thailand, the AIS data show.
Shipping lines AP Moller-Maersk and Hapag-Lloyd have said they are considering sending ships along the same route.
Shares in most major shipping lines rose in Friday trading, with Hyundai Merchant Marine soaring as much as 21.2%. It was up 9.7% in late-morning trading. Korean Line was up 4.1% and Pan Ocean gained 2.9%.
Among Chinese shippers, Cosco Shipping rose 9.7% while Ningbo Marine gained 3%. Japan's Nippon Yusen ticked up 3% while Mitsui OSK Lines saw a 1.8% gain.
ALSO SEE: