(ATF) Hong Kong's economy appears to have bounced back from its longest-ever recession with GDP estimates showing strong growth in the first quarter.
The self-run southern Chinese city saw growth of 7.8% year-on-year in the three months through March, according to government advance estimates. That's from a downward-revised slump of 2.8% in the previous quarter.
Hong Kong had posted six consecutive quarters of declines as political turmoil following mass pro-democracy protests and the Covid pandemic drew investment and business from the trade-reliant former British colony.
Also on ATF
The government said that falling Covid rates at home and across the border in China had enable officials to lift some lockdown restrictions and get the economy running again. Hopes for a continued recovery largely pinned on a vaccination drive. The lifting gloom from the global economy has also played a role.
"Looking ahead, the global economic recovery led by the mainland and the US should bode well for Hong Kong's exports of goods in the near term," a government spokesman said in a statement.
"Exports of services should likewise improve, though the revival of tourism-related activities will likely be slow in view of the still austere pandemic situation in many places around the world."
Export growth
The latest data reflected strong growth of exports of goods amid the global economic recovery led by the mainland and the United States, and helped by a low base comparison.
It is expected to see a broader-based improvement later in the year provided the pandemic remains under control.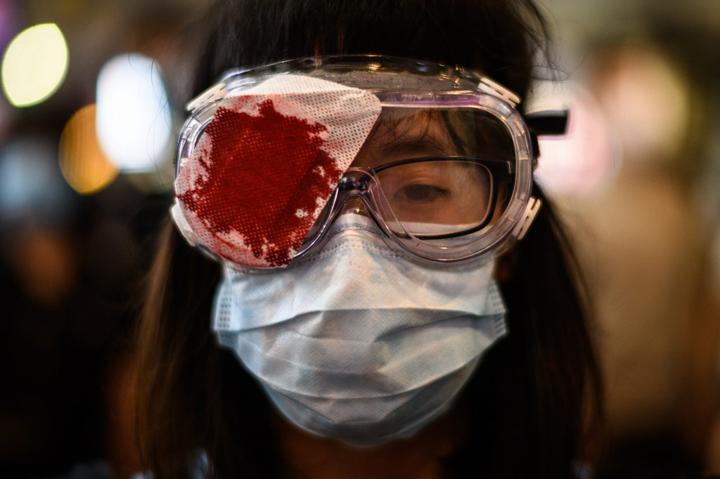 A pro-democracy protester in Hong Kong at the height of violent protests against Chinese rule. Political turmoil that culminated in Beijing imposing harsh anti-sedition laws on the city contributed to its economic decline. Photo: AFP
On a quarter-on-quarter basis, the economy grew a seasonally adjusted 5.3% for the January-March period, from a revised growth of 0.5% in the previous quarter.
The government had earlier forecast its real GDP growth of 3.5% to 5.5% for 2021. The revised forecast will be released on May 14.
Hong Kong, which has avoided the ravaging outbreaks seen in other developed cities, loosened some of its coronavirus restrictions last month, though slow progress in the vaccination programme remains a concern.
The city's seasonally adjusted unemployment rate slipped to 6.8% in the January-March period, compared with 7.2% in the December-February period.