(ATF) Huawei Marine, a subdivision of the Chinese tech giant, has laid around 25% of the world's undersea telecommunications cables, but – under growing scrutiny from US authorities – has announced a name change and integration of its business with another Chinese firm.
The US has said that with Huawei laying huge amounts of undersea cables the company is a security threat. However, it does not appear to have damaged the firm's business much so far.
According to Sina news, the submarine cable business designed by Huawei Ocean Networks Co Ltd will be switched to Huahai Communication Technology Co Ltd, and a new corporate identity was launched last week, on November 3, 2020.
Submarine optical cables are responsible for 95% of the world's international data traffic transmission. They, and related technologies, are regarded as the crown jewels in the telecom field.
Huahai Communications, which was set up in 2008, has focused on transoceanic communication through the laying of underwater optical cables, creating global arteries for information interconnection, and helping to transform the world's digital economy. To date, end-to-end delivery of more than 60,000 kilometres of new submarine cables has been completed, with 108 projects spread to more than 70 countries and regions around the world, serving more than 60 customers.
According to Sina's data, Huawei Marine is an advanced global marine communication "solution provider" with transoceanic submarine cable system integration capabilities. It has laid a total of 63,752 kilometers of new marine optical cable systems and 54 expansion projects. It is one of four major transoceanic submarine cable companies.
Meanwhile, Hengtong Optoelectronics intends to increase its 70% equity stake in Shanghai Hengtong Marine Equipment Co Ltd and Huawei Marine Network (Hong Kong) Co Ltd, now renamed and holding 51% of the equity in Huahai Communication International Co Ltd. Huawei Ocean was transferred to Jiangsu Hengtong Ocean Optical Network System Co Ltd (Ocean Optical Network).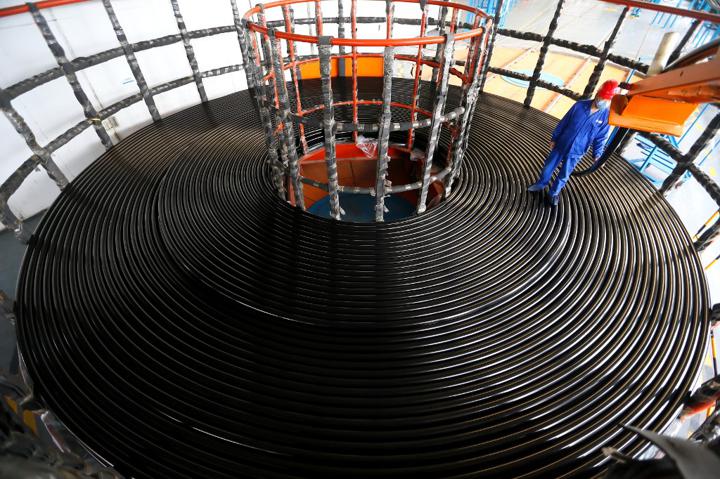 Corporate chicanery
Some might call this corporate chicanery; a complex corporate web designed to conceal key players, operations, or intent. And that may stem from a desire to bury the Huawei name, or disguise the company's origin, after the Trump administration adopted restrictions on the company because of concern that its 5G telecom system is a security risk (an allegation that the company denies). But the firm also appears to bolstered its size and capacity with tie-ups with these other firms.
Ocean Optical Network also intends to purchase 100% equity from Hengtong Group Co Ltd via a stock equity deal. This connected transaction, will see Hengtong Technology mainly hold 30% of Huawei Marine.
According to an asset appraisal report issued by Beijing North Asia Assets Appraisal Office on Huawei Marine, Ocean Optical Network, Hengtong Technology, and Marine Equipment, the assessed value of 100% equity of the four companies' equipment is 1.79 trillion yuan, 85 billion yuan, 596 billion yuan and 49 billion yuan, respectively.
After the agreement of all parties, it determined that before integration of these assets, the combined group will lay many thousands more kilometres of undersea cable.
On November 2, Hengtong Optoelectronics announced that according to the firm's strategic plan, in order to further accelerate high-quality development, it intends to optimise and integrate the company's ocean communications, ocean observation and "smart city" business segments' equity structure and strengthen the companies in the industry in accordance with policies and conditions of the capital market. It wants to expand financing via the market to comprehensively boost its competitiveness of the industry. So, it will do this with a complicated asset arrangement with Huawei.
Ocean Optical Network is mainly engaged in research and development and making submarine optical cables, underwater special cables and related underwater equipment. It claims to be the world's leading submarine optical cable after much research, development and work on its production capability. The company's products have passed sea tests after being laid 5,000 metres underwater and its international relay systems are widely used in transoceanic submarine cable communications. It currently produces about 15,000 kilometers of submarine optical cable a year.
The tie-up with Huawei will not only focus on undersea cables but will also involve China's "smart city" infrastructure build-out nationwide.
ALSO SEE: