(ATF) India's economic growth and in lock-step its electricity usage and energy consumption are slated to increase going forward, raising concerns on whether the country of some 1.3 billion people can reign in its carbon emissions, particularly as other major powers have made carbon neutral pledges by the mid part of the decade.
Prime Minister Narendra Modi has now upped the ante even more, stating that India – the world's third largest emitter of greenhouse gas emissions (GHG) – will be the major driver of global energy demand in the years to come, but will hold down carbon emissions even as its power consumption soars.
"India is set to nearly double its energy consumption over the long term," Modi said at the India Energy Forum in New Delhi on Monday. He added that even though a contraction in global energy demand is projected to continue for the next few years, India's demand is projected to increase.
"Our energy sector will be growth-centric, industry friendly and environment conscious... We are well on track to meet the commitment we made to the global community," he said. "India's energy plan aims to ensure energy justice; that too while fully following our global commitment for sustainable growth. This means more energy to improve the lives of Indians. But, with a smaller carbon footprint."
Multi-pronged approach
Modi plans to achieve India's greenhouse gas reduction goal with a multi-pronged approach.
First, by increasing its use of cleaner burning natural gas as part of its energy mix from a current 6.25% share to a 15% share by 2030.
India is also in the process of building out liquefied natural gas (LNG) infrastructure, as well as taking advantage of historic low prices for the super-cooled fuel due to both demand destruction from the Covid-19 pandemic and a prolonged supply glut of the fuel. 
India is also going long on renewables, particularly wind and solar, increasing to 175 gigawatts (GW) by 2022 and 450 GW by 2030.
The country will also have greater reliance on domestic sources of bio-fuels, increase the contribution of electricity to decarbonize mobility, moving into alternative fuels, including hydrogen, and digital innovation across all energy systems.
While much of the focus is to make India a natural gas-based economy, the country will also raise oil refining capacity from a current 250 million tonnes per annum to 450 million tonnes in just five years to keep self-reliance in sync with demand, Modi said.
The International Energy Agency (IEA) said in January that the rate of growth of India's oil consumption is expected to surpass that of China by the mid-2020s, making India a very attractive market for refinery investment. 
India imports around 80% of all of its fossil fuel needs, and as such is the world's third largest crude oil importer after China and the US, and the world's fourth largest LNG importer after Japan, China and South Korea – all legacy LNG buyers.
Can India pull it off?
Modi's comments came the same day that Japan, the world's fifth largest greenhouse gas emitter, said it would be carbon neutral by 2050, without giving further details, that will reportedly come by year's end.
Japan is following China, the world's largest greenhouse-gas violator, which last month pledged to become carbon neutral by 2060, also without giving details of just how they would achieve that questionable feat given its insatiable hydrocarbon appetite.
The European Union (EU) was the first out of the gate in 2018 when it pledged to become carbon neutral by 2050. If it achieves its goal it will become the first carbon neutral continent. 
The UK and France have, by legislation, decided to become net carbon neutral by 2050. The US, the world's second largest GHG emitter, under the Trump administration has pulled back on previously made climate change agendas and as such has withdrawn from the Paris Climate Accord.
Though India has not declared a goal of total carbon neutrality by 2050 or any date for that matter, it still has its hands full just trying to reduce greenhouse gas emissions given its size, its growing economic heft and its ramped up energy appetite that will accompany these dynamics.
The quandary for India or any other nation for that matter in taming its gas emissions is its electricity usage and how that power is derived, either by fossil fuels, renewables or nuclear power.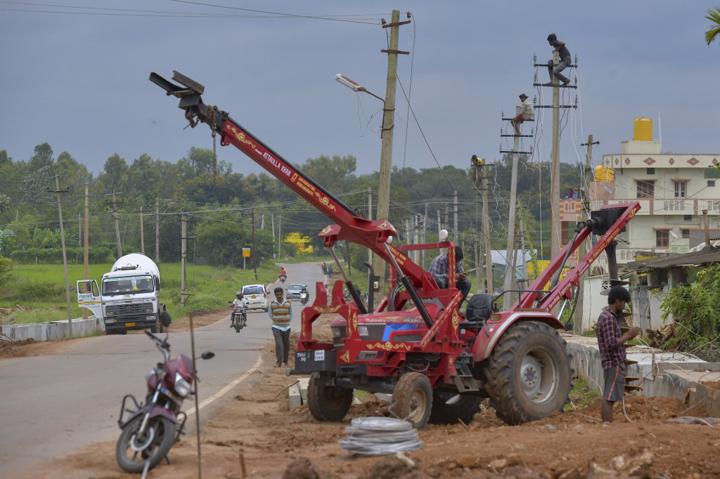 Workers on contract with Karnataka Power Transmission Corp, install new power cable lines on the outskirts of Bangalore on October 12, 2020. Photo: Manjunath Kiran / AFP
Quick phase-out of coal needed, with a renewables boost
India's rapid increase in electricity usage to date has largely been fueled by coal, the dirtiest burning fossil fuel but the cheapest and preferred method of power production in the Asia-Pacific region. India is the second largest coal consumer after China, while thermal coal-fired power plants generate around 65-70% of India's electricity annually. 
Consequently, much of India's ability to meet increased electricity demand while keeping Modi's pledge of less carbon intensity will depend on how quickly and efficiently it can phase out coal's dominance in its energy mix and replace them with renewable sources.
Echoing Modi's statements, earlier this month India's power minister Raj Kumar said non-fossil fuel sources will account for as much as 60% of Indian generation capacity by 2030.
New Delhi also made an international commitment five years ago that as much as 40% of its overall power generation capacity would be based on cleaner energy sources by 2030, a goal which the country is set to achieve as early as this year or next, according to an Argus report on October 7. Meeting this goal would give policymakers greater ability to help reign in expansion of the coal-fired fleet in the country. 
For its part, growth in India's renewable sector is expected to outpace the expansion of its coal-fired power stations in the coming decade, in line with plans to cut its dependence on the fuel, the report added.
As such, Modi's goal to increase electricity capacity while lowering India's carbon footprint could be achieved.
Much, still depends, however, on more renewable energy build-out and implementing a more mature natural gas and LNG sector, including much needed pipelines to move that gas from coastal zones where it received to other parts of the country. 
The Indian government has also made significant progress in reducing the use of traditional biomass in cooking, the chief cause of indoor air pollution that particularly affects women and children. The government has encouraged clean cooking with liquefied petroleum (LPG) gas as well.
ALSO SEE: