China's Lenovo Group, the world's biggest PC maker, posted a better than expected quarterly profit on Thursday and said it is capturing opportunities emerging from remote working and education.
A Fortune Global 500 company, with 63,000 employees and operating in 180 markets around the world, Lenovo reported a 31% jump in net profit for its first quarter ended June to $213 million, beating an average $107.48 million estimate of five analysts, according to Refinitiv data.
Revenue increased 7% to $13.3 billion.
Pre-tax income grew 38% compared to the same quarter a year earlier, to $332 million, while net income also increased by 31% year-on-year to $213 million. Basic earnings per share for the first quarter were 1.80 cents.
Beating the coronavirus pandemic.
"Our outstanding performance last quarter proves that Lenovo has quickly regained momentum from the impact of the pandemic and is capturing the new opportunities emerging from remote working, education and accelerated digitalisation," said Yang Yuanqing, Lenovo Chairman and CEO.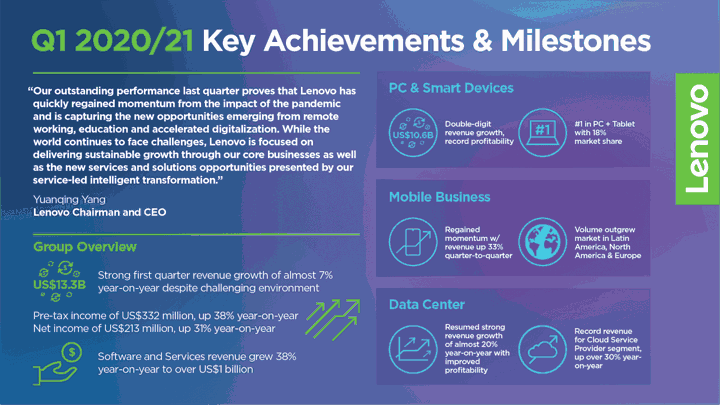 The chairman added although the last quarter was full industry-wide business challenges, including ongoing geo-political uncertainties and the COVID-19 pandemic, Lenovo continued to leverage its core competencies of operational excellence and a 'global sourcing, local delivery' approach.
Future looks even better
Looking to the future, the company expects that the strong demand for PCs and smart devices, that reported a revenue growth by double digits year-on-year to $10.6 billion would continue to add significantly to its growth.
That apart, the Data Center Group resumed hyper-growth as well, with revenue growing almost 20% to $1.6 billion and profitability improving year-on-year. Notable successes included Cloud Service Provider business, which grew more than 30% year-on-year, setting a new revenue record also by capturing strong public cloud infrastructure demand driven by increased digital consumption due to COVID-19 lockdowns.
Meanwhile, the Enterprise and SMB business also delivered double-digit year-on-year revenue growth, led segments such as Software Defined Infrastructure and Services, as well as High-Performance Computing.
Looking ahead, the company said it expects long-term growth in the Cloud Service Provider segment and will leverage the team's existing strength in public and private cloud to expand the Edge computing business.
"While the world continues to face challenges, Lenovo is focused on delivering sustainable growth through our core businesses as well as the new services and solutions opportunities presented by our service-led intelligent transformation," Yang said.
Read more: Full speed ahead for China's Lenovo Group
Reporting by Reuter's Pei Li and Indrajit Basu for ATF.