(ATF) Economic events
Financial markets will be hostage to political noise from the United States next week ahead of the November 3 presidential elections which will keep the volume of rhetoric quite high. 
China's top leaders will chart the country's economic course for 2021-2025 at a key meeting starting on Monday, seeking to balance growth and reforms to avoid stagnation amid an uncertain global outlook and deepening tensions with the United States.
"We think the Five-Year Plan, will be based on estimated potential growth of 5-6%, with a greater focus on employment, income redistribution and social security to release China's consumption potential," Standard Chartered Bank economists said in a note. "Investment in technology may be increased via state support and private-sector participation. We see a renewed impetus for renminbi internationalisation, aimed at reducing reliance on the USD-dominant financial system."
The trade war and growing tensions with foreign governments have heightened concern about reliance on foreign inputs and this would accelerate the campaign of self sufficiency.
"The number one priority is boosting domestic production of semiconductors. They are China's single largest import (even ahead of oil) and are crucial to sectors like AI and 5G that the leadership hopes China can dominate," said Julian Evans-Pritchard, Senior China Economist at Capital Economics.
While the Plenum will be behind closed doors, a statement is expected on the final day. 
Meanwhile, Hong Kong, Korea, and Taiwan report 3Q GDP numbers next week, and it is expected export strength will outweigh domestic demand weakness.
Fund flows
Emerging market funds saw sustained flows into their bond and equity funds as investors re-entered their positions they had squared between March and May, fund data provider EPFR said. 
While Emerging Markets Equity Funds climbed to a six-week high during the seven days ending Oct. 21, EM bond funds attracted fresh money 15 of the past 16 weeks, it said.
"The renewed interest in emerging markets fund groups continues to parallel rather than supplant the dominant flow themes of the past six months. Investors are still piling into Bond Funds, especially those with US and global mandates, and committing record-setting sums to funds with socially responsible (SRI) or environmental, social and governance (ESG) mandates," said Cameron Brandt, EPFR's Director of Research, while noting that bond funds have absorbed a net $606 billion and SRI/ESG Equity Funds $92.7 billion, since April this year.
Bond Funds added $14.4 billion, Equity Funds took in $1.8 billion while $204 million flowed out of Alternative Funds and $1.8 billion from Balanced Funds. Money Market Funds saw outflows of $9.6 billion as the asset group experienced the 11th consecutive week of outflows.
China focused funds saw significant additions with a $2.4 billion inflow, a six-week high.
Economic data calendar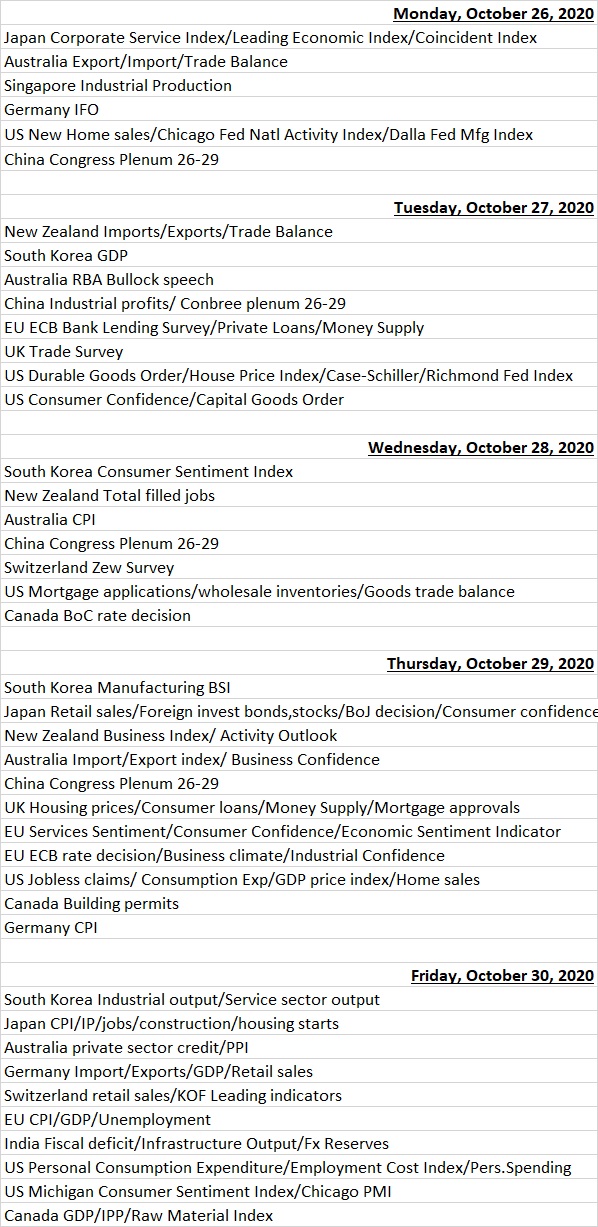 Last week's rating changes