(ATF) Nasdaq has proposed a requirement that all companies listed on the exchange should meet new diversity requirements, including appointing female directors to their boards.
Nasdaq is a popular listing venue with Chinese technology companies and the new requirement could force change on firms that often have no women on their boards.
Chinese internet giants Baidu, JD.Com and Pinduoduo are all listed on Nasdaq but do not currently feature women on their boards, for example.
Companies listed on Nasdaq will have plenty of time to make changes to meet the proposed diversity requirement, which has not yet been approved by the US Securities and Exchange Commission (SEC). This included 13 national level state-owned enterprises (SOEs).
There were 217 Chinese companies listed on major US stock exchanges as of October and they had a market capitalisation of more than $2.2 trillion, the US government says.
More than 150 Chinese firms are listed on the Nasdaq, including 20 that listed this year. They include five firms in the Nasdaq 100 – Pinduoduo, JD.com, Baidu, Trip.com and Netease.
But Chinese companies that are listed in the US currently have more pressing concerns, such legislation that passed this week in the House of Representatives that would tighten audit oversight requirements for foreign firms with US listings and could eventually force delisting on many firms.
The Nasdaq proposal may nevertheless prompt a closer examination of boardroom diversity by some Chinese companies.  
"The rules would require most Nasdaq-listed companies to have, or explain why they do not have, at least two diverse directors, including one who self-identifies as female and one who self-identifies as either an underrepresented minority or LGBTQ+. Foreign companies and smaller reporting companies would have additional flexibility in satisfying this requirement with two female directors," Nasdaq said in a statement released on Tuesday December 1.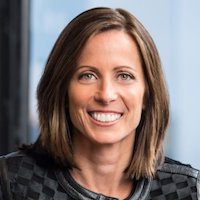 Nasdaq's president and CEO Adena Friedman, seen here, explained the initiative.
"Nasdaq's purpose is to champion inclusive growth and prosperity to power stronger economies," she said. "Our goal with this proposal is to provide a transparent framework for  Nasdaq-listed companies to present their board composition and diversity philosophy effectively to all stakeholders."
Under the proposal, all Nasdaq-listed companies will be required to publicly disclose board-level diversity statistics through its proposed disclosure framework within one year of the SEC's approval of the listing rule. 
The timeframe to meet the minimum board composition expectations will be based on each company's listing tier.
All companies will be expected to have one diverse director within two years of the SEC's approval of the listing rule. Companies listed on Nasdaq's Global Select market and Nasdaq Global will be expected to have two diverse directors within four years of the SEC's approval of the listing rule. Companies listed on the Nasdaq Capital Market will be expected to have two diverse directors within five years of the SEC's approval.
For companies that are not in a position to meet the board composition objectives within the required timeframes, they will not be subject to delisting if they provide a public explanation of their reasons for not meeting the objectives.
This final get-out clause will make it possible for companies to simply provide a statement about why they do not meet Nasdaq's diversity goals, but many firms – from different regions – may decide that the current trend towards greater demand for socially responsible policies by listed companies justifies more substantive action.
Nasdaq isn't the only organisation looking to force diversity requirements on its customers, for example. Goldman Sachs made a similar move earlier this year, when it said it would not take a company public unless it had at least one diverse board member, with CEO David Solomon saying there would be a focus on adding women to boards of its clients.
The Nasdaq move also has implications for other tech 'unicorns' from Asia that have expressed a desire to tap into public markets, such as such as Grab, Gojek, Tokopedia and Traveloka.
ALSO SEE: