(ATF)
Adani Green Energy, the ambitious solar power arm of Indian billionaire Gautam Adani, faces higher risk as tariffs fall and potential customers – India's power distribution companies – have suffered coronavirus pandemic-related losses.
A new threat – the lack of a guaranteed customer for Adani Green's record $6 billion solar power project – has plunged the company's solar fortunes into further doubt. According to a Reuters report on Thursday, Adani Green's power purchase guarantor, Solar Energy Corporation of India (SECI), has no "legal or financial obligation" to support the project if it fails to find buyers.
"There are no buyers lined up for the Adani project yet and it's unclear when SECI will be able to find buyers, a process that typically takes months," the Reuters report said. This would be the first major SECI project without a state-guaranteed power purchase agreement (PPA), which analysts say has been key to building India's renewable energy sector.
SECI is a government-owned agency that acts as an intermediary to facilitate implementation of renewable power projects and ensures its offtake by signing PPAs with the project developers. The agency then sells the power to the grid or to power distribution companies, known as 'discoms' in Indian industry parlance. SECI also issues tenders, awards projects to renewable power developers, and also tries to ensure that there are buyers for that power.
In June 2019, Adani Green bagged a manufacturing-linked solar contract from the SECI to set up 8 gigawatts of solar power with an outlay of $6 billion, one of the largest renewables projects in the world. When SECI awarded the project, it had said a PPA would be assured, but according to Reuters, a year later it withdrew the clause guaranteeing purchase in the deal.
"There shall not be any legal or financial implication to SECI in relation to such (unsold) quantum including associated quantum of manufacturing facilities," the agreement, reviewed by Reuters, said. Since dropping the PPA with Adani, SECI has removed the clause from some other renewable energy tenders too, Reuters reported.
Discom losses
"My hunch is that SECI has not been able to find a discom or sell that power to various discoms given that distribution companies are in dire straits," Vibhuti Garg, energy economist at the Cleveland-based Institute for Energy Economics and Financial Analysis (IEEFA) told Asia Times Financial.
The institute's calculations reveal that Indian discoms' overdue payments to power producers jumped 52% from $10.5 billion in June 2019 to $17.2 billion as of September this year. "Distribution companies are sinking because their revenue collection is falling due to the pandemic-driven fall in power consumption and rising prices of thermal power bought from power generation companies that they cannot sell," said Garg.
"So, they cannot pay the developers and are not willing to enter into any new PPA agreements with any agencies. The withdrawal of the PPAs would be a blow not just for Adani Green but for all renewable power companies as well," she added.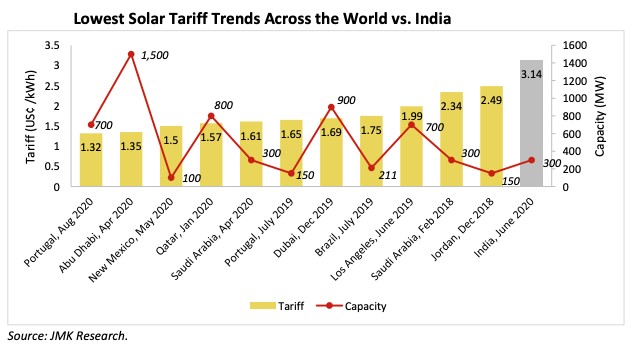 Falling solar power tariffs could also have driven the SECI to step back from its assurance, say experts. "Solar power rates have falling consistently for about four years, touching the lowest of Rs2.36/kwh [about 3 US cents] in July and could fall further," Jyoti Gulia, founder of JMK Research and Analytics, a Delhi-based renewable-energy research firm, told ATF. "This is why both SECI and discoms are hesitant to enter into new PPAs."
According to IEEFA, the solar power tariff could gradually slide to Rs. 1.1/per kwh over the next few years. 
Financing risk
Adani Green has said 2 GW of generation capacity will come onstream by 2022, while the rest will be added in annual increments of 2GW through till 2025 as a part of the agreement. Auctions by the SECI usually attract greater participation because of the assurance of power purchase and payments.
The SECI agreement for the project started with a PPA price of Rs2.75/kwh, which was raised to Rs2.93 a year later. Consequently, Adani Green's shares soared three-fold since the signing of the deal on the back of being the "largest of its type, ever" and a landmark energy project for India.
But the lack of such a guarantee could undermine investor and lender confidence, raising financing costs in a market like India where power demand growth has repeatedly fallen short of expectations amid a broader economic slowdown.
Adani, the project's owner, maintains that the project can make a profit at the power price of Rs. 2.92/kwh agreed in the SECI tender. "At 2.92 rupees, there is enough margin available plus we also have time of three to five years to implement this project," the billionaire said in June.
But Garg said any tariff below Rs.2.5/kwh would be unsustainable. "[Adani Green's] stock price shot up because they were able to secure a deal with SECI but now that SECI cannot sell that power [to discoms] it will impact them negatively."
Besides, by using farmland and destroying ecosystems and traditional water-conservation techniques, large solar plants like Adani Green are also facing pushbacks from farmers and environmentalists, says Leo Saldanha, an activist based in Bengaluru (Bangalore) working with Environment Support Group.
With reporting by Reuters.