(ATF) 

Pan Gongsheng, Deputy Governor of the People's Bank of China and director of the Foreign Exchange Bureau, gave a speech at the 12th Lujiazui Forum this week, which was put online in full by Sina Finance. Among those listening were Vice Premier Liu He, Shanghai Party Secretary Li Qiang, and Shanghai Mayor Gong Zheng.

In key comments, Pan said he supported construction of the Shanghai International Financial Center, plus recent reforms and the opening up of the financial market.

"This year, the yuan settlement pilot for cross-border trade was first launched in Shanghai, and yuan internationalisation was officially launched. It can be said that the construction of the Shanghai International Financial Center and the yuan internationalisation started together and move side by side. For more than 10 years, the yuan has successfully joined the IDR SDR currency baskets, and major progress has been made in the construction of the Shanghai International Financial Center."

The next step of the People's Bank of China and the Foreign Exchange Bureau would be to promote the implementation of various opening-up policies that have been introduced – to study and launch new opening measures, such as expanding the scale of Qualified Domestic Limited Partner (QDLP) and Qualified Foreign Limited Partner (QFLP) schemes, exploring cross-border investment and financing management models based on private equity investment funds, Pan said.

Echoing the words of Liu He, a member of the Polit Bureau and Vice Premier of the State Council, Pan said China must adhere to the principles of marketisation and rule of law, as well as improve its basic systems of information disclosure, issuance and delisting, and focus on enhancing transactions. "Convenience, market liquidity, and market activity, and improving the system that encourages mid- and long-term capital to develop valued investments."
Bond market growth
China's bond and stock market was currently the second largest in the world, exceeding 160 trillion yuan, Pan said, and had been included in many mainstream international indexes.
The allocation of yuan assets by international institutions has reached 6.4 trillion yuan, and has grown at an average annual rate of more than 20%. In particular, the holding of domestic yuan bond assets by foreign investors had grown at an average annual rate of nearly 40% in recent years.
The People's Bank of China and the Foreign Exchange Bureau would support Shanghai to take advantage of the unique advantages of yuan asset issuance and trading centres, Pan said, as well as moves to innovate and enrich yuan financial products, expand the depth and breadth of the yuan financial market, and meet the investment and financing needs of various investors around the world.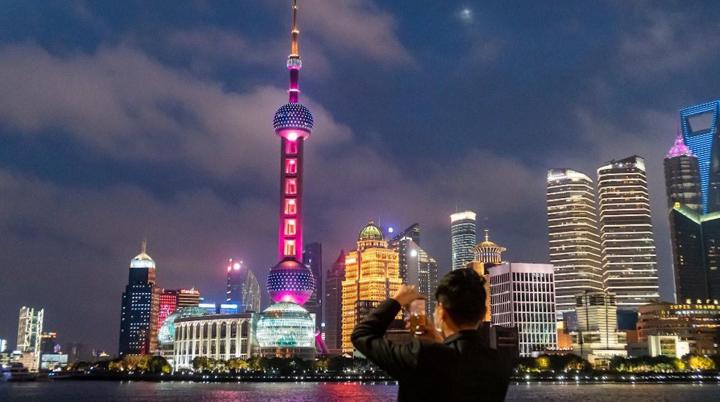 Shanghai at night. AFP image.
China would continue to promote Shanghai to become a gathering place for financial institutions, especially wealth management institutions and asset management bodies.
"In recent years, the opening up of my country's financial services industry has been accelerating. At present, restrictions on the ratio of foreign shares in banks, securities, fund management, futures, and personal insurance have been completely lifted.
"Many foreign-funded financial institutions, including the world's top 10 asset management institutions, and more than 90% of foreign private equity institutions nationwide, have chosen to settle in Shanghai."
Pan said Shanghai had become an important hub for yuan internationalisation and has always been at the forefront of financial opening to the outside world.
In terms of interconnection between domestic and overseas markets, "Bond Connect", "Shanghai-Hong Kong Stock Connect" and "Shanghai-London Connect" were all connected through Shanghai.
In terms of yuan internationalisation, Shanghai's cross-border yuan settlement volume accounted for more than 50% of China currency trade; the cross-border yuan settlement volume of the world's top 500 companies in Shanghai exceeded the foreign currency settlement volume, and the yuan had become the preferred cross-border settlement currency for multinational companies in Shanghai, he said.