(ATF) The geopolitical cat-and-mouse game between Manila and Beijing in the South China Sea has taken yet another turn. Philippine President Rodrigo Duterte said in October he had lifted a six-year moratorium on oil and gas exploration in part of the South China Sea, which the country still refers to as the West Philippine Sea.
The move opens the way for the resumption of three postponed Philippine offshore exploration projects, and more importantly could open the door for joint Sino-Philippine oil and gas exploration cooperation in disputed waters.
Philippine Energy Secretary Alfonso Cusi said the decision to lift the moratorium was reached "in good faith and with full regard of the ongoing negotiations between the Philippines and China, and Forum Ltd and the China National Offshore Corp." CNOOC, for its part, is China's largest offshore oil and gas production company and currently operates in more than 40 countries.
A memorandum of understanding (MoU) had already been signed during Chinese President Xi Jinping's visit to the Philippines in 2018, reached during the apex of Duterte's controversial pivot toward Beijing and away from long-time ally and mutual defence treaty partner the US.
The moratorium was put initially in place in 2014 by former Philippine President Benigno Aquino III while Manila was waiting for a ruling by the Permanent Court of Arbitration in the Hague over Beijing's South China Sea claims, including areas within the Philippines' UN-mandated 200-nautical mile exclusive economic zone (EEZ).
Duterte, for his part, took office in 2016, shortly after the Court issued a scathing report against China in favour of the Philippines, but largely ignored the Court's ruling.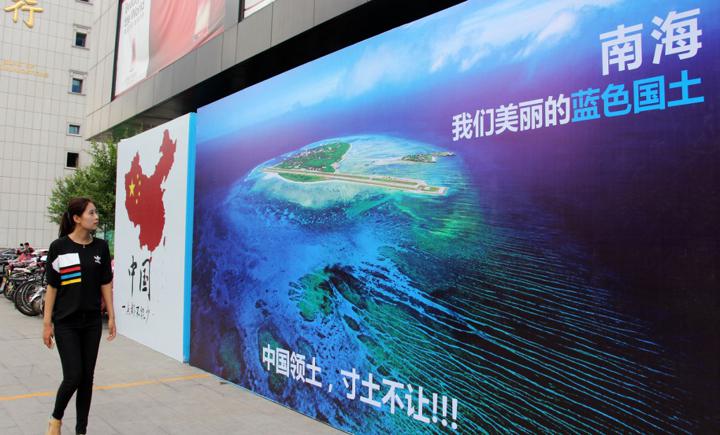 A pedestrian looks at a poster on a street in Weifang in Shandong province in July 2016. It shows Yongxing Island in the South China Sea, which Beijing claims. China vowed to take all necessary measures to protect its "sovereignty", after rejecting an international tribunal ruling denying its claims to the energy-rich waters. Chinese media called the Permanent Court of Arbitration in the Hague a "puppet" of external forces after it ruled that China had breached the Philippines' rights by endangering its ships and fishing and oil projects. Beijing's claims overlap in parts with Vietnam, the Philippines, Malaysia, Brunei and Taiwan. Photo: Zhang Chi / Imaginechina via AFP.
Second time around
While Duterte's move to lift the exploration ban came as no surprise, there remains considerable doubt over the likelihood of a joint Sino-Philippine venture actually panning out. There are just too many obstacles in the way, both legal and political. 
Upping the ante even more, the Philippine populace is still decidedly anti-China, despite Manila's pro-Beijing pivot in recent years. As such, until the Covid-19 pandemic commenced, open and often vocal anti-China protests in the streets of Manila were a common occurrence, and could be again once the pandemic eases.
On the legal front, according to Philippine law any oil or gas extracted would have to belong to the Philippines and be placed under Philippine legal jurisdiction. Per terms of the 2018 MoU reached between the two sides, CNOOC would operate a service contract under licence with a Philippine-owned company that holds a licence issued by the government. The question remains, however, if CNOOC would push for new terms if a formal deal is reached.
However, the idea of joint oil and gas exploration and development between the two sides is nothing new, dating back to at least 1993 when it was first breached by Manila but flatly rejected at the time by Beijing. 
It resurfaced again in 2003 after political maneuvering outside of official government channels when a group of politicians from Manila approached their Chinese counterparts. This time, the idea gained traction.
By October that year, CNOOC inked a preliminary agreement with a subsidiary of state-run Philippine National Oil Co. (PNOC) to undertake joint exploration and development of oil and in the disputed area.
The deal even carried over into 2004 when a so-called Joint Marine Seismic Undertaking (JMSU) was signed between the two sides later.
However, it also brought the ire of the Association of Southeast Asian Nations (ASEAN), which asked Manila why it had undermined years of calls for regional solidarity over the issue. Vietnam, which also has overlapping claims with China in its own 200-nautical mile EEZ. was the most vocal over the deal. Yet, Hanoi was finally persuaded to come on-board as a third party.
By late 2005, a CNOOC survey ship spent two and a half months gathering nearly 7,000 kilometers (4,000 miles) of seismic data, in the entire JMSU area. Phase 2 was implemented the next year, with another phase of exploration scheduled for 2007 - then Philippine politics got in the way.
Then Philippine President Gloria Macapagal Arroyo became involved in a major corruption scandal, including implications of wrongdoing over the exploration deal, subsequently bringing it crashing down. 
By July 1, 2008, the JMSU formally expired. Even if the JMSU would have been renewed, it's likely that incoming president Benigno Aquino III would have pushed back against it given his particularly strong stance against Chinese incursions in Philippine waters during his six years in office as well as spearheading the Philippine case against China at the Hague.
Time is of the essence
Another hurdle for the Philippines in trying to renew offshore oil and gas exploration with China is time. Duterte's term in office will end by mid-2022, paving the way for a new administration to comb over every detail of any upcoming deal.
Given the controversial nature of Sino-Philippine relations and the favourable ruling for the Philippines by the Hague, largely ignored by Duterte, it's possible that a new administration in Manila could withdraw from the agreement.
However, time is running out for the Philippines, at least on the energy front. The Malampaya offshore gas field, which provides 40-45% of power generation requirements for Luzon (the country's main island, which also includes Manila) is due to become inactive by 2030 or even earlier.
As such, the country is already having to turn to a more costly liquefied natural gas (LNG) infrastructure build out and soon LNG imports, as well as pivoting back to dirtier burning coal for power generation.
On October 15, Philippine Energy Secretary Alfonso Cusi also mentioned this quandary.
"With the impending depletion of our natural gas reserve at Malampaya, it is the department's [DOE] position that there is an urgent imperative to resume exploration, development and production activities within our EEZ to ensure continuity of supply of indigenous resources in the country."
On October 19, the Philippines' PXP Energy Corp said it was in negotiations with CNOOC in relation to a memorandum of understanding between Manila and Beijing on joint oil and gas development in the South China Sea.
ALSO SEE: