(ATF) A returns-focused index of Chinese state-owned enterprises (SOEs) bonds fell steeply for a second Tuesday day after pledges by the central bank to tighten controls on rating companies stirred default concerns.
Gains in a broader gauge of credit markets were further capped after a leading international index compiler said it would include Chinese sovereign debt in its calculations, raising the relative allure of government securities.
The ATF China Bond 50 Index of AAA rated debt was little changed at 106.61 Tuesday. A sub-gauge of notes issued by some of the biggest SOEs fell 0.14%. On Monday the measure slumped 0.15% after Citic Corporation made a coupon payment on its 5.18% bond due in March next year.
Also on ATF
The ATFCB50 has lost 0.33% this month amid dual fears that the recovering global economy will set off an inflationary spiral and as issuers honoured coupon payments.
Higher inflation sends bond prices down because the rising cost of living erodes the value of the fixed payments on the securities. Prices similarly tend to fall when coupon obligations are met because the payments reduce the fixed pool of interest dispersed to investors during the rest of the bond's lifetime.
The People's Bank of China and other oversight bodies have issued a draft regulation that proposes closer scrutiny of the country's rating firms. Officials have questioned the role the companies played in a spate of SOE bond payment defaults last year that sparked a selloff in Chinese bonds.
The proposal would force ratings firms to set up a quality appraisal process.
"Rating agencies must gradually lower the proportion of high ratings to a reasonable level, and help form a system with clear differentiation," the PBOC said in circular issued on Sunday.
The Enterprise sub-index lost 0.59% in the fourth quarter as over-leveraging caused hundreds of SOEs to miss bond payments. Officials launched investigations after a key mining company and bank succumbed.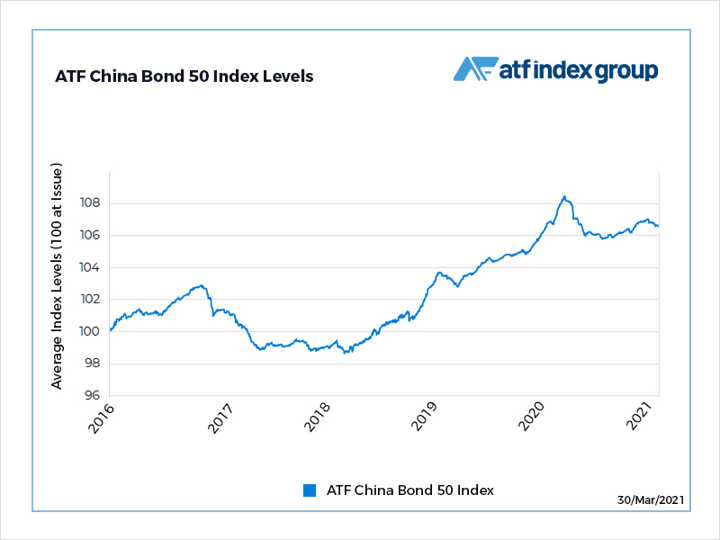 The broader non-sovereign bonds market was also subdued after FTSE-Russell said it would include Chinese government debt in its flagship WGBI gauge from this autumn. The announcement prompted forecasts that as much as $130 billion of capital could buy into the index.