(ATF) Boosting India's energy transition efforts and energy independence, Reliance Industries (RIL) and its partner BP said on Monday that they have started production from second set of new discoveries the two are developing in the eastern offshore KG-D6 Block in India.
Coming two months ahead of schedule despite Covid challenges, the feat takes India, the fourth-largest global energy consumer, yet another step forward for meeting 15% of its gas demand and 25% of domestic production, said a joint statement.
RIL and BP are developing three deep-water gas fields called the R Cluster, Satellite Cluster and MJ in KG D6 – Block, a gas field that lies in the Krishna-Godavari basin of the Bay of Bengal on the eastern coast of India.
The block owned by the RIL (66.6%) and BP (33.33%) covers an area of 8,100sqkm in water depths between 700m and 1,700m, which together are expected to produce around 30 million metric standard cubic meter per day (mmscmd or, 1 billion cubic feet a day) of natural gas by 2023, meeting up to 15% of India's gas demand.
India's domestic gas demand is projected to climb from 153.8 mmscmd in FY21 (April 2020 to March 2021) to 215.5 mmscmd in 2024-25, according to estimates by brokerage firm HDFC,Securities.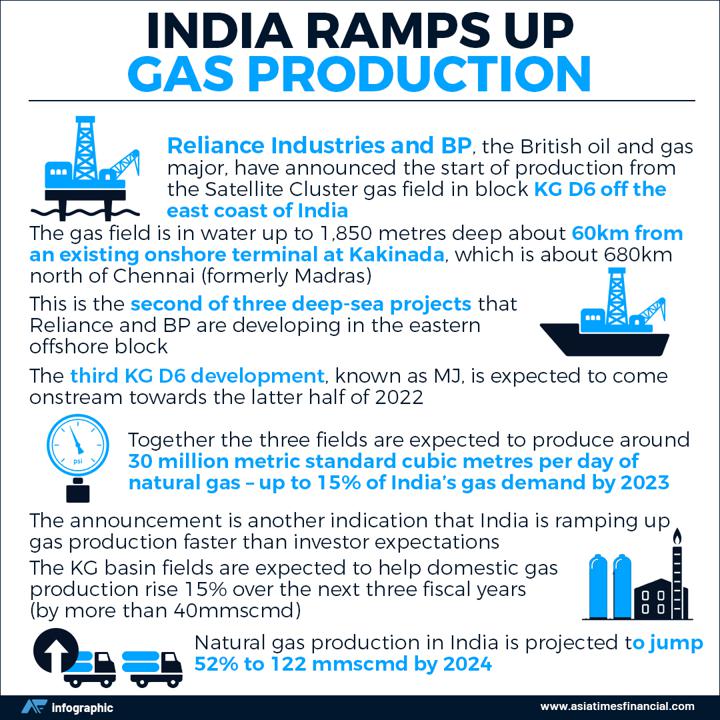 In December, the RIL-BP combine started production from the R Cluster, the deepest offshore gas field in Asia, which is projected to reach plateau gas production of about 12.9 mmscd in 2021.
The Satellite Cluster is the second of the three developments to come onstream, that was originally scheduled to begin production in mid-2021.
The field located in water depths of up to 1850 meters, will produce gas from four reservoirs utilizing a total of five wells and is expected to reach gas production of up to 6 mmscmd.
Together, the R Cluster and Satellite Cluster are expected to contribute to about 20% of India's current gas production, the statement said.
 The third, MJ, is expected to come onstream towards the latter half of 2022.
Sharp increase
"Through our deep-water infrastructure in the Krishna Godavari basin we expect to produce gas and meet the growing clean energy requirements of the nation," Mukesh Ambani, RIL's chairman and the richest Indian, said in a statement.
While the role of gas in the country energy mix has grown significantly following the government's policy to increasingly shift towards cleaner fuel, the share of gas in the country's energy mix is still a meagre 6%.
The Indian economy still relies on coal for electricity and on petroleum for 80% of its annual energy needs, but according to International Energy Agency, import of India's natural gas has been shooting up lately, increasing from 20% in 2010 to almost 50% now.
"Tenders to sell gas from the KG Basin indicate that ramp-up in domestic gas production is faster than investor expectation," said the HDFC Security report.
"These and earlier tenders from the Block indicate a total increase of about 20mmscmd (23% of FY20 domestic supply) in supply of gas from domestic sources over Dec 2020 to July 2021," the report added.
The Satellite Cluster is also expected to take India's natural gas production near the targeted 122 mmscd by 2024; a jump of 52% over the current level.
Natural gas production in 2019-20 was 85 mmscmd, which is estimated to have fallen to 80 mmscmd in the following year, HDFC Securities said.
Budget push
According to BP Chief Executive Bernard Looney, the KG-D6 partnership also supports the country's  goal of growing production of cleaner burning gas to meet a significant portion of its energy demand, as well as shape and improve its future energy mix.
Experts add that India has been displaying increasing commitment to liberalise its natural gas market, and has been strengthening regulatory supervision of upstream, midstream and downstream activities to bring greater efficiency and drive-up demand for gas and investment in gas transport infrastructure.
In the 2021 budget for instance, finance minister Nirmala Sitharaman announcement investments to increase the gas infrastructure and expanding it to 100 more cities, mirroring similar efforts in western countries where gas markets are developed and see high use of the cleaner fuel.
The nation hopes to raise its gas transmission capacity by 580 million cubic metres a day (mmcmd) from the current 330 mmcmd as its doubles current 17,000-kilometre gas pipeline network in next four years.
Most of the pipeline network is owned by state-run gas marketing firm GAIL (India) Ltd.
READ MORE:
Gas pains remain for India's long-term pipeline ambitions
India's new offshore gas production could shake up Asian LNG markets