Russia unveiled a $72 billion recovery plan for its economy, which was hammered by the coronavirus pandemic, vowing to boost employment and incomes in the country where cases continue to mount. 
The economy is set for a sharp contraction this year, and President Vladimir Putin is eager to get growth back on track in a bid to boost approval ratings. 
Prime Minister Mikhail Mishustin unveiled a raft of measures on Tuesday worth $72 billion aimed at reviving the sputtering economy after weeks of lockdowns that have kept much of the population home from work and shut key industries. 
Aimed at boosting employment, incomes and economic growth, the programme "contains over 500 measures, its cost over two years will be about five trillion rubles," Mishustin told Putin in a televised meeting.
Putin described the plan as a "foundation" for repairing the economy and implementing "long-term structural change".
"It is a matter of crucial importance for us to solve today's acute problems, as well as ensure confident movement forward in the long-term," he said.
Putin said the epidemic had "seriously impacted all spheres of life" and added that he expected to launch the recovery plan next month.
The prime minister said the plan would be rolled out over three separate stages.
Stage one would stabilise the economy and will be delivered in the current quarter. The next steps aimed to rebuild the economy and put it on a "trajectory for stable economic growth," the prime minister added.
Russia has introduced targeted tax cuts and provided some emergency aid for families and people newly unemployed since introducing the lockdown at the end of March.
Yet observers have said that Russia's rescue package falls short of aid provided to populations by other countries with similar economies.
Companies like 'wildflowers'
Russia has the third highest number of coronavirus cases globally, with more than 423,000 infections, and its death toll topped 5,000 on Tuesday. 
Under strict lockdown measures imposed in March, large swathes of the economy were inactive for weeks, with some regions only recently beginning to ease anti-virus measures.
Industries were delivered a double blow as Putin ordered companies to stop work activities but continue paying salaries.
The lockdown compounded existing problems for the Russian economy, ranging from effects of sanctions following the 2014 Crimea annexation, to the oil price crash this year.
The government's forecast is that the economy will shrink by 9.5% in the second quarter and up to 6% for the current year.
Some said the newly unveiled plan would not be enough to aid struggling businesses.
'Quite modest' 
It would only offer "quite modest" support and looks like a symbolic project introduced while the government waits for second quarter data, Sergei Khestanov, an economist at the Presidential Academy of National Economy and Public Administration, said.
The government is unlikely to blanket aid across the sectors, and instead only help select companies deemed to be crucial, he added.
The remaining companies will be treated like "wildflowers" he said, explaining that "if they are there, that's nice, but if they die, it's okay, since new ones will grow".
A draft of the plan cited by TASS news agency included measures ranging from creating a national reserve of medication to developing domestic tourism and spending one trillion rubles on infrastructural projects.
Labour Minister Anton Kotyakov said this week that over two million people in the country were registered as unemployed.
Analysts at the Boston Consulting Group last week predicted unemployment could triple from the pre-crisis figure of 4.6%, based on its projections for the worst-case scenario.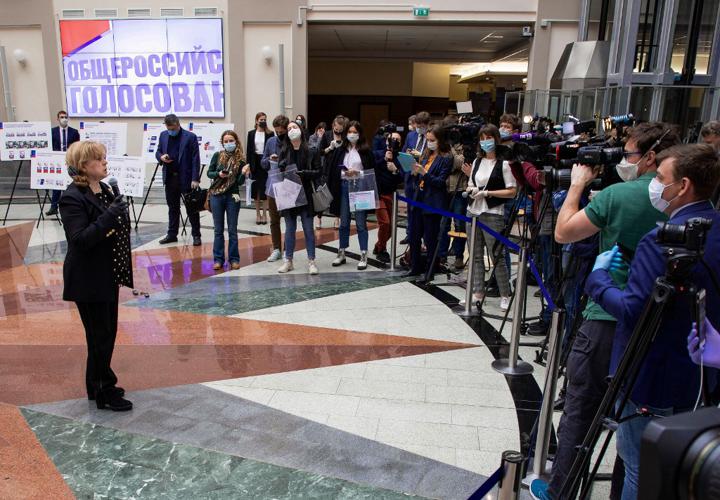 Ella Pamfilova, head of the Russian Central Election Commission, speaks to the media about voting on changes to the constitution during the coronavirus outbreak, at the commission's headquarters in Moscow. Photo: Election Commission / Sputnik via AFP
Putin fast-tracks reforms vote
Meanwhile, it took Putin less than a week after he said Russia's coronavirus crisis had peaked for the president to fast-track a vote on constitutional reforms allowing him to serve more Kremlin terms.
By pushing ahead with the public vote on July 1 – despite Russia still recording thousands of new cases every day – Putin is looking to regain control of a political agenda forced aside by the pandemic, analysts say.
He wants to turn the page on a crisis that critics say was badly managed and which dented his approval rating, while limiting opportunities for opposition protest. But in doing so, he risks undermining the legitimacy of the vote.
The Kremlin "needs to get it over quickly while people haven't fully grasped the consequences of the epidemic and are happy that life is getting back to normal," said Konstantin Kalachev, who heads the Political Expert Group, a Russian think tank.
"People will just have shaken off a bad mood and won't yet be aware of any repercussions," said Alexander Baunov of the Carnegie Moscow Center.
Putin currently cannot stay on as president beyond 2024 because he can only serve two consecutive terms.
If passed, the changes to Russia's basic law would wind the acting president's terms back to zero.
The vote is not the only example of Putin hurrying to return to his pre-virus agenda and put the pandemic behind him. His first move as daily cases began falling was to reschedule a Red Square military parade postponed from May 9. It will be held June 24, a week before the constitutional vote.
The Kremlin is hoping the event for the 75th anniversary of the end of World War II in Europe will boost the public mood and encourage turnout. "They're counting on the mobilising effect of the victory parade," daily newspaper Vedomosti reported, citing a source close to the Kremlin.
The constitutional vote was originally set for April 22, after Putin announced the reforms earlier this year and they were quickly approved by Russia's two houses of parliament.
Opinion polls show public interest in the vote has waned as the coronavirus took centre stage. Any further delay will mean people have a stronger sense of the economic impact of the virus including job losses, analysts said.
The July 1 date is nevertheless a high-risk decision since Russia's epidemic is far from over. Daily new cases are relatively stable, but still around 9,000. And the official death toll is rising, though far below rates seen in countries with similar rates of infection.
Russia's chief electoral official Ella Pamfilova has promised voting "will be safer than popping out to the shop".
Yet vote monitoring group Golos said that plans to check voters' temperature and hold outdoor voting show officials realise "how dangerous it is to hold a vote in a time of pandemic".
Opposition politician Lyubov Sobol tweeted: "To wind back his clock, Putin is willing to risk people's lives and health."
It's unclear how exactly the vote will fit with strict lockdowns in place in many regions into June.
Putin has acknowledged failures in efforts to curb the spread of the coronavirus outbreak. One poll in April showed his approval rating falling to a historic low of 59%. 
"There is less public enthusiasm" towards Putin, said Baunov. "And now he is offering an official plebiscite on the leadership, on himself."
'Great chance' for ballot stuffing
Going to the polls amid coronavirus restrictions has raised fears of a rigged vote.
"The only problem will be with legitimising the result," said Kalachev, predicting disbelief and protests if the "yes" vote is overly high.
Electoral chief Pamfilova ruled out a postal vote, citing the risk of potential "scandals" and the result being "placed in doubt".
Online voting may be used in a few regions, she said. 
Golos argued that anti-virus measures "have opened up unlimited opportunities for falsifying the vote". Mask-wearers could pull off repeat voting, while regular disinfection of polling stations offers a "great chance" for ballot stuffing, it said. 
AFP