(ATF) The global bonds selloff continued in Chinese debt Monday, with privately issued securities taking the brunt of losses on inflation worries.
A gauge of the bonds of state-owned enterprises (SOEs) declined after oil producer Sinopec made a coupon payment on its 4.98% bond. Similarly, a drop in the Corporate sub-index of private companies was accentuated by the payment on an issue by China Resources.
The benchmark ATF China Bond 50 Index fell 0.05%, the steepest drop in a month, even as equity markets shrugged off some of their steep losses from last week. 
Also on ATF
As confidence that the pandemic is on the wane lifts recovery forecasts, investors fear prices will rise as soon as pent up consumer demand is unleashed. That's sent risk and haven assets lower, and the yield on the 10-year Treasury - upon which trillions of dollars of loans, mortgages and other assets are priced – has reached the highest in a year.
Bonds are particularly susceptible to signals of rising inflation because increased living costs erodes the cash value of the fixed payments paid on the securities.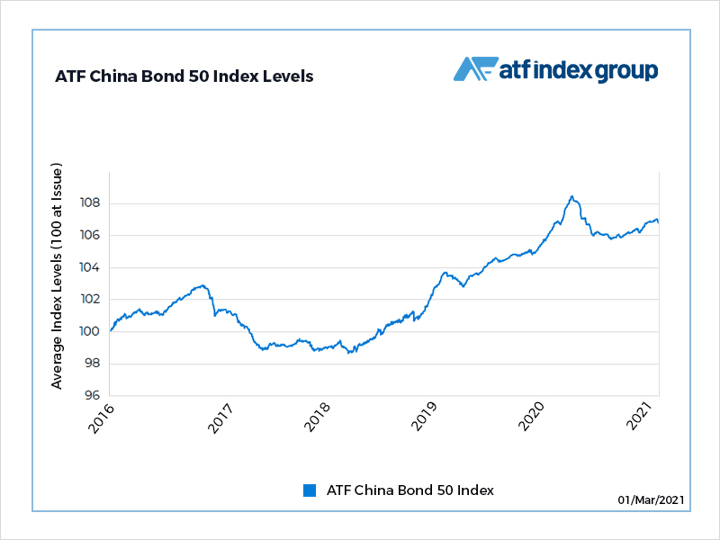 The Corporates sub-index fell 0.09% after a 0.16% decline on Friday. The SOE-heavy Enterprises gauge declined 0.09%. They were both dragged down by coupon payments among their constituents. Coupon payments make bonds less attractive because they reduce the fixed amount of payments they have left to maturity.
Local Government debt climbed as investors sought to buy up securities on speculation the government will begin to limit the amount of special bonds it allows the regions to issue. 
The Local Government sub-index advanced 0.03%, the most in a week.
Special bonds raise capital to fund specific projects that have already been given official approval. Issuance has surged in the past year as authorities have been instructed to start infrastructure developments to stimulate local economies hit hard by the pandemic downturn. 
China will reduce issuance to 3.5 trillion yuan ($541 billion) from 3.75 trillion yuan last year, Bloomberg reported, citing a survey of economists.