(ATF) Singapore plans to impose more stringent rules than the US for so-called blank-cheque companies that seek a listing in the southeast Asian city state.
On Wednesday, Singapore Exchange started a public consultation on a regulatory framework for listing special purpose acquisition companies (SPACs), which are shells that launch with the intention of buying and reverse merging with a private company.
Under the proposed Singapore rules, investors in these companies won't be allowed to cash out as soon as the SPAC merges with a private entity, and sponsors won't be allowed to vote on a business combination, two key departures from the regulation in the US.
"SPAC listings have attracted interest in major markets due to their speed to market and ability to offer price certainty in valuing target companies," Tan Boon Gin, chief executive of SGX RegCo, the exchange's regulatory unit, said.
"In reviewing the viability of SPACs, we note that recent SPACs developments have brought to the fore certain risks, in particular excessive dilution and the rush to de-SPAC," Tan added.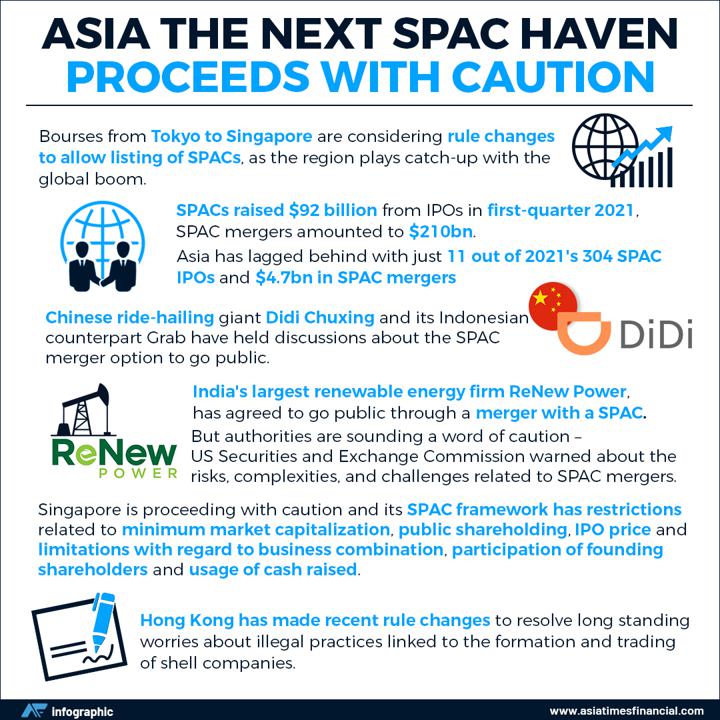 The operator of the Singapore stock market is proposing to allow only independent shareholders to vote on merger proposals, which means that sponsors of the SPACs won't be able to use their vote to force decisions on business combinations.
SGX, said Tan, has "the aim of creating credible listing vehicles that will increase investor choice and result in successful, value-creating combinations" for shareholders.
"Our observations [of the US market] showed that the SPACs that were most successful were the ones which managed two main risks well: first, free riding by investors and excessive dilution of long-term investors, and second, the rush to do a business combination, also known as a de-SPAC," Tan said.
FIRST IN ASIA
SGX is the first major Asian stock exchange to call for a consultation on SPACs, although Hong Kong, Indonesia, India and other markets are looking at the possibility of launching SPAC listings. The Singapore exchange said regulations could be in place by mid-year.
Singapore could attract companies from Southeast Asia with its proposed framework to list as the region is seen as a fertile ground for acquisitions by SPACs due to the "vibrant technology startup scene and smaller local IPO markets", according to a report on Wednesday by S&P Market Intelligence.
Indonesian e-commerce giant Tokopedia has said that it is considering a SPAC listing, while rival Bukalapak, which is backed by Microsoft, said it is investigating a possible SPAC listing in the US.
Hong Kong's Securities and Futures Commission and its stock exchange are both exploring the idea of "suitable listing regimes" – including a SPAC format – to enhance the competitiveness of the city as an international financial centre, the government said on March 1.
There were $166 billion in US SPAC deals announced in the first quarter, according to Kristin Zimmerman-Sorio, the head of Morgan Stanley's SPAC mergers and acquisition (M&A) practice.
That represents about 30% of total M&A activity.
With reporting by Reuters
ALSO SEE: