(ATF) Nearly 10 years ago, when I joined the fixed-income trading desk of a major European bank in Hong Kong, I was surprised to have my new boss tell me "here in Asia, our biggest challenge is a shortage of assets".  
Having followed Asia's markets and economies for around 20 years by that point, few statements would have seemed more counter-intuitive to me; how on earth could the continent with more than half the world's population, and many of our largest and fastest-growing economies possibly have a "shortage of assets"?  
I soon discovered that what he really meant was that there were relatively few bonds denominated in US dollars and other "hard" currencies issued and traded within the region. Beyond that, I would have plenty of opportunity to learn about Asia's myriad local currency credit markets; though as a trader, I obviously wished more of those credit opportunities were available as public bonds or ETFs and not confined to banks' loan books.
This week, I was pleasantly surprised to see a major Asian local currency bond ETF launch on an Asian exchange: the ICBC CSOP FTSE Chinese Government Bond Index ETF.  
This ETF started trading on Singapore's SGX on September 21 under the SGD ticker CYC and USD ticker CYB and was reported to be the "world's largest Chinese pure government bond ETF" with $676 million in assets on launch.  
The following screenshot shows the first day trading volume of almost $4.4 million on the SGD counter and $0.5 million on the USD counter: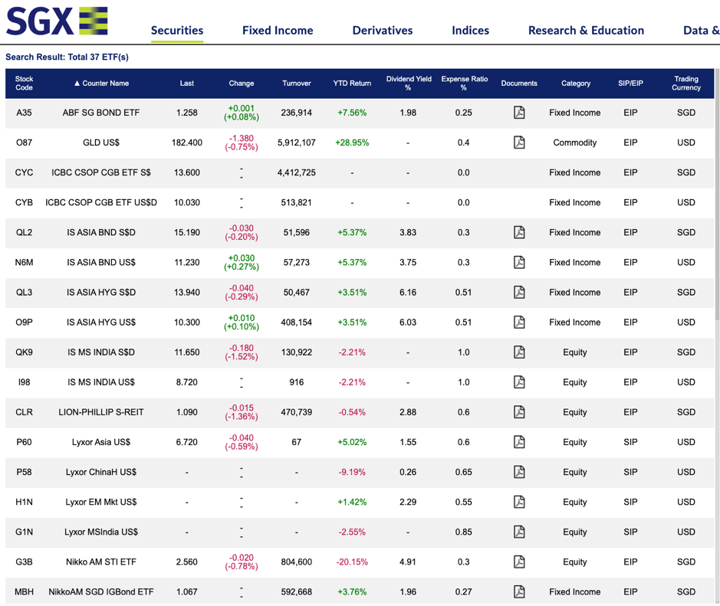 What I find impressive and encouraging about this new listing is that it starts out significantly larger than all four of Hong Kong's RMB bond ETFs combined. This seems to go against the expectation that Hong Kong was supposed to lead as China's own offshore RMB hub, and raises the question of why CSOP has gathered relatively few assets in its HK-listed ETF since its February 2014 launch.  
Since July 2019, investors not limited to Asian exchanges or trading hours have actually found the largest and most liquid China bond ETF traded not in Asia but in Europe: the $2.4 billion iShares China CNY Bond UCITS ETF. 
The European-listed iShares fund tracks the exact same Bloomberg Barclays China Treasury + Policy Bank Bond Index as CSOP's HK-listed ETF, but seems to have gathered almost 100x the AUM for three simple reasons:
iShares' expense ratio of 0.35% per year is significantly cheaper than the CSOP fund's 0.49% management fee and 1.05% total expense ratio for 2019

The European ETF trades in USD and EUR, rather than HKD

UCITS compliance makes the iShares fund much easier for a much larger pool of non-Chinese investors to find and allocate to the iShares fund
The new Singapore listed ETF satisfies at least the first two of these reasons: ICBC CSOP kept the total expense ratio relatively low at only 0.25% per year, and trades in USD and SGD.
CYC/CYB is the first ETF incorporated as Singapore's new Variable Capital Company (VCC) structure, so the new variable will be whether global investors consider the VCC structure to be comparable to Europe's UCITS or the US' RIC regimes. I will also be watching whether investors prefer this "purer" ETF tracking the FTSE Chinese Government bond index to the ones tracking the broader Bloomberg Barclays index that includes policy bank bonds.    
Rare asset class
Given that the US is still the largest and most advanced ETF market, it is also remarkable that Chinese fixed income remains one rare asset class where the US seems to be behind both Europe and Asia.  
While US-China trade tensions in recent years might be one factor capping low US interest in Chinese bonds, the US also has dozens of lower-cost and higher-yielding ETFs with which it would be more difficult for foreign bond funds to compete. Europe and many Asian markets, on the other hand, have even lower yields and fewer sources of credit returns than the US, the world's second-largest bond market is a much-needed source of two of the things most bond investors want: yield and diversification. 
Where the US bond ETF market is likely to tell us the future of overseas-listed China bond ETFs is the path of development: the first bond ETFs track narrow benchmarks of government and investment-grade bonds, then we get even broader "aggregate" bond ETFs followed by funds focusing on higher-yield, narrower-maturity, or green bonds.  
From the investor's point of view, what matters is how well any investment product, whether an ETF, traditional mutual fund, or insurance product, delivers the yield and diversification the investor needs. By providing retail investors access to institutional-grade bond portfolios at very low cost, and tradable in units of hundreds of dollars rather than hundreds of thousands or millions of dollars, bond ETFs are likely to be an increasingly important part of retirement plans as global populations age and need the income.  
With an average yield-to-maturity of almost 3%, in a currency increasingly used as a proxy for dollar weakness, this new ETF provides some of the yield and diversification that global bond investors need. Hopefully the success of CYC/CYB is a sign that we can expect many more specialised and higher-yielding China bond ETFs to list on Asian exchanges in the coming years.
---
Tariq Dennison TEP runs GFM Group, a Hong Kong based cross-border wealth management firm. Views expressed are his own. 
This article references ETFs listed on multiple exchanges, which may not be suitable for residents of every jurisdiction. Please consult with your own tax and investment advisers before making any investment decision.