(ATF) The bonds of Chinese state-owned-enterprises (SOEs) rallied Thursday after a probe lunched into defaults by two large companies suggested a feared contagion into other debt will be contained.
Local Government bonds were also lifted on the news and amid reports that China's bond-selling body and Hong Kong's central bank will make provisions for Chinese investors to trade bonds in the city.
The broader benchmark ATF China Bond 50 Index climbed 0.01% after the securities of China Development Bank (CDB) were listed for the first time on the Singapore Exchange, widening global exposure of the world's second-largest bond market.
A sub-index of SOEs climbed 0.03%. That lengthened a winning streak to four days, extending gains after a two-week selloff that followed defaults by Yongcheng Coal and Electricity Holdings Group.
The unexpected non-payments sparked fears that other SOEs would bilk on their debt payments. That concern deepened after an exclusive report by ATF said at least another 120 SOEs had defaulted in recent weeks.
Swift action
Authorities acted swiftly to stanch growing investor concern that China's bond market didn't have safeguarding measures to protect bondholders from unscrupulous borrowers. Anxieties were eased further by news that the China Securities Regulatory Commission had launched an inquiry into Yongcheng and Electricity Holdings, suggesting the defaults were the result of specific shortcoming at those companies instead of structural weakness in the bond market.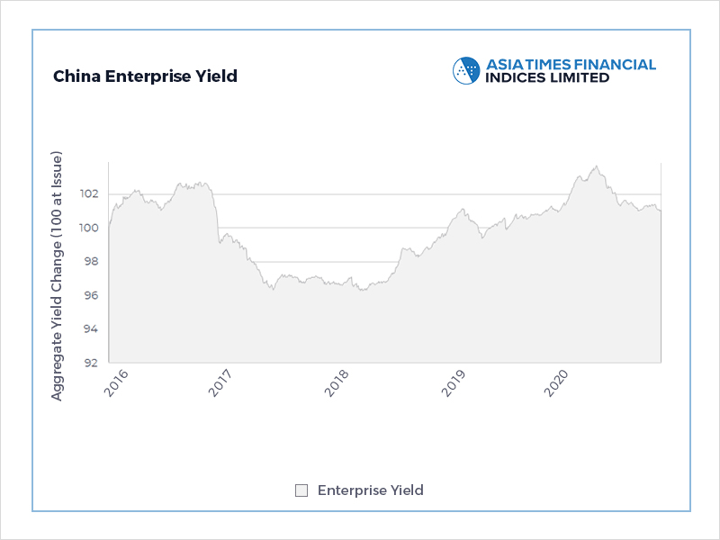 The ATF Enterprise Sub-Index climbed 0.03%
An announcement by the People's Bank of China and the Hong Kong Monetary Authority that the mainland's BondConnect sales link between the two jurisdictions would open a "southbound" channel also buoyed bonds. Local Government debt, which had been tainted by the recent default selloff, benefited sending the Enterprises sub-index 0.3% higher and extending a winning streak to eight days.
Six bonds of CDB were listed in Singapore, sending the bank's 4.25% bond on the Financials sub-index 0.01 percentage point lower. The Financials sub-index eventually closed flat.
The listing "strengthens the connectivity between the financial markets in China and Singapore, and plays a key role in the development and internationalisation of China's financial markets", said a CDB spokesman.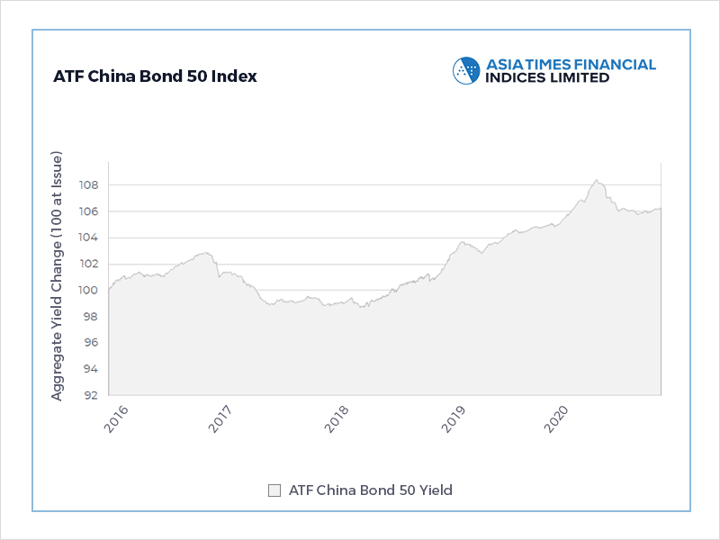 The ATF China Bond 50 Index climbed 0.01%