(ATF) Two blank-cheque firms backed by SoftBank Group hope to raise a total of about $550 million in their initial public offerings (IPOs), regulatory filings show.
SVF Investment Corporation 2, a special purpose acquisition company (SPAC), said it would sell 20 million shares and warrants at $10 each in its IPO, according to a US Securities and Exchange Commission filing. 
SVF Investment Corporation 3 said it would sell 35 million shares at the same price, according to its filing. 
The two SPACs launched on February 5 would list on the Nasdaq.
SoftBank has tried to ride the mania for SPACs, with SVF Investment Corporation raising $604 million earlier this year.
STRUCTURE OF CHOICE
Another SPAC headed by the company's chief operating officer Marcelo Claure is aiming to raise $200 million. Office-sharing startup WeWork is in talks to go public via the SPAC route.
A SPAC, a shell company that raises money in an IPO before later merging with a privately held company to take the latter public, has become many investors' structure of choice over the past year.
SPACs raised $24.26 billion in January, 20 times more than the same period in 2020, Refinitiv data published by Reuters showed. 
At least 182 SPACs filed for an IPO in 2020, raising a total of $65.7 billion, a figure that represents more than 90% of total IPOs filed in the US.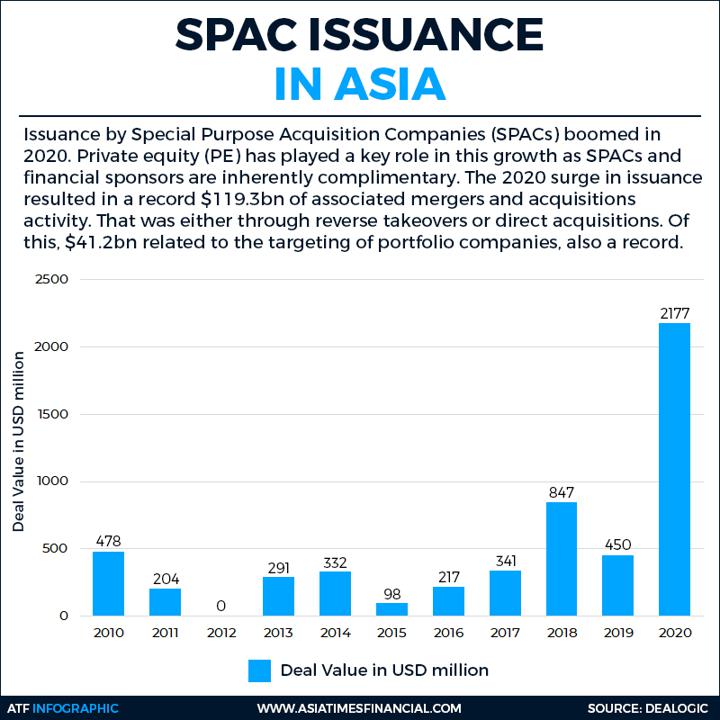 ALSO SEE: