(ATF) Shares of Apple's Chinese suppliers – Goertek, Luxshare Precision Industry, Lens Technology and Lingyi iTECH Manufacturing – have plummeted in the last two months after reports that Ofilm Group, a camera module maker blacklisted by Trump over "forced labour" allegations in Xinjiang, was removed from Apple's supply chain. 
While the decline in shipments of Apple Airpods headphones may have hit the performance forecasts of some, market sentiments reflect investor concerns about the vulnerability of these companies, whose businesses are highly dependent on the American tech giant. 
The once high-flying "blue chip" company Ofilm has seen its share price decrease from a high of 23.62 yuan ($3.60) in mid-July to about one-third today – 8.63 yuan.
With Ofilm's collapse, the market values of its peers have also decreased significantly.
Shares of Goertek and Luxshare, which both produce Airpods for Apple, and iPhone cover glass maker Lens Technology show a consistent declining trend since mid-January.
Goertek, which gains 40% of its sales from Apple, has decreased from a high point of 43.9 yuan in mid-January to a nine-month low of 28 yuan.
Over the same period, Luxshare, often dubbed "mainland China's Foxconn" or the "Moutai in tech" has decreased from 63.26 yuan to 35.25 yuan. Founded by Wang Laichun – a former Foxconn employee who moved all the way up from the assembly line to a head production role – Luxshare has in recent years become a fast-rising supplier for Apple, recording 55% of its revenues from Apple. 
Lens Technology, which generates about 60% of its revenues from Apple, has dropped from 41.4 yuan to 26.05 yuan. The company has also been accused of using forced-labour over Uighur workers from Xinjiang according to a report from the Tech Transparency Project (TTP), a left-leaning nonprofit watchdog of the major Silicon Valley technology companies. But Apple has denied such an allegation.
Shares of Guangdong Lingyi iTECH Manufacturing, which reportedly gains over 50% of its sales from making various parts for Apple iPhone, have been declining since early December, dropping over 40% to 8.89 yuan.
'Forced labour' worries
In the middle of last year, the former US administration headed by Donald Trump stepped up its response to alleged human rights abuses against Uighurs in China's Xinjiang Uighur Autonomous Region. Human rights activists had accused China of using torture, forced labour and sterilisation of Uighur Muslims in Xinjiang. 
China denies the accusations, saying it is providing vocational training and that its measures are needed to fight extremism. 
On July 22, 2020, US Department of Commerce added 11 Chinese companies to a so-called Entity List, citing human rights abuses in Xinjiang, and Nanchang Ofilm Tech was one of them. The move restricts these firms' access to US commodities, software, and technology. 
Also, a "Xinjiang Supply Chain Business Advisory" issued by the Departments of State, Treasury, Commerce, and Homeland Security earlier in July encourages US companies to consider human rights-related issues before entering into business partnerships with companies that operate in Xinjiang or employ workers from Xinjiang. 
82 companies
Washington's moves came after a report released in March by think tank Australian Strategic Policy Institute (ASPI) identified 82 foreign and Chinese companies that benefited from the use of Uighur workers outside Xinjiang through abusive labour transfer programmes. They included many western fashion brands such as H&M, Adidas, Nike and Tommy Hilfiger, as well as tech firms such as Apple, Microsoft, Google and Dell. 
The report included a case study on Apple and said at least three manufacturers of Apple parts use forced Uighur labour, namely Ofilm's plant in Nanchang, Jiangxi province, LCD screen maker BOE Technology, and Hubei Yihong Precision Manufacturing, whose parent company lists Apple as a customer. The report also identified the transfer of workers to a Foxconn factory, known worldwide for its assembly of iPhones. 
Rumours that Ofilm would be "kicked out" of Apple's supply chain started circulating after its Nanchang subdivision was added to US Commerce Department's Entity List. The company's share price has been declining consistently although Ofilm said it was preparing to have itself removed from the list.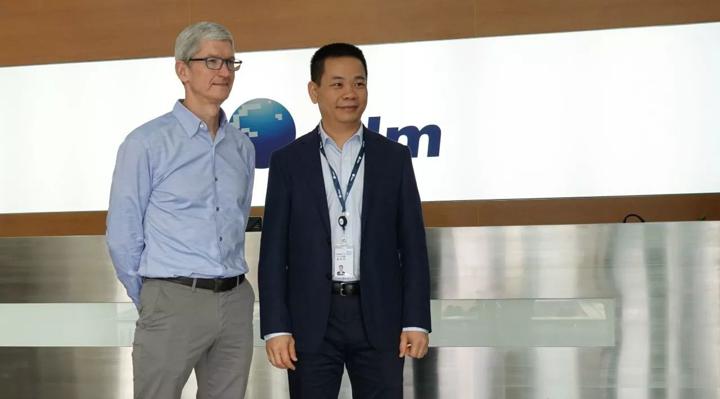 Apple CEO Tim Cook, left, is seen with Ofilm chairman Cai Rongjun during a visit to Ofilm's plant in Guangzhou on December 6, 2017 (company photo).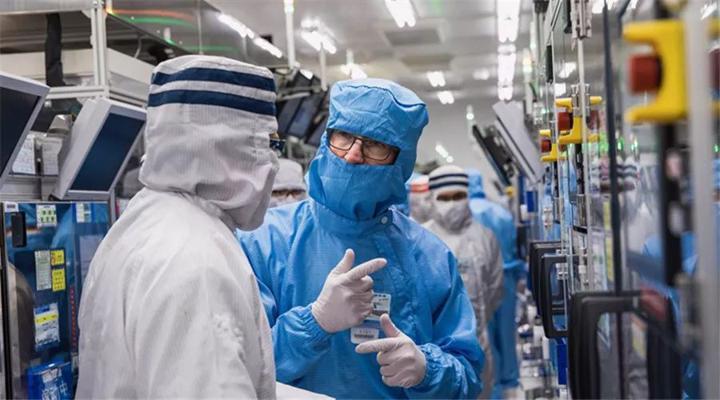 An Ofilm technician, left, talks with Apple boss Tim Cook, in blue kit, during the Guangzhou factory tour in December 2017. (Ofilm pic).
Cut-off rumours
On 1 September last year, Ofilm's stock price fell by the 10% daily limit after local media reports said Lens Technology had taken over most of Ofilm's orders from Apple. Shares of Lens Technology surged 14% at the reports. Both companies later dismissed the rumours.
In late January, Ofilm's market value evaporated by 7.55 billion yuan ($1.2 billion), or over 20%, in three trading days after local media reports said the company would sell its plant in southern China's Guangzhou city to Luxshare. Even a forecast by the company of a 59% growth in net profit in 2020 did not stop the share price from decreasing.
On 26 January, Ofilm issued a statement to respond to the rumour. It turned out that the camera module supplier was not selling one, but four plants. Besides the Guangzhou plant, it would also sell Nanchang Ofilm Tech and two other factories in Jiangxi province. The four plants together contributed to 21.9% of Ofilm's revenues in 2019.
Ofilm acquired the Guangzhou facility from Sony Corp in 2016 for $234 million and obtained its capabilities to make smartphone camera modules for Apple. That contributed to 185 million yuan, or about 37% of Ofilm's net profit in the first half of 2020.  
Nanchang Ofilm Tech, which was placed on Washington's Entity List, contributed the second largest revenue among the four plants, although it had been incurring losses.
Ofilm's statement confirmed market speculation that the company would be removed from Apple's supply chain. Signs of declining orders started to be revealed in late 2020. Workers at Ofilm's Guangzhou plant told 21st Century Business Herald that they did not need to work extra hours when four long days in a week was previously the norm. The company also stopped backfilling positions, they said.
Official severance
On 16 March, the Apple "cut-off woes" became official when Ofilm said in an exchange filing that it lost "a particular overseas client". 
The client, which accounted for 22.5% of the company's sales in 2019, said it would terminate the procurement relationship, Ofilm said in a statement. 
While the statement did not name the client, it was obvious that it was Apple because the US tech giant had contributed to that exact percentage of Ofilm's revenues in 2019.
"Apple Inc has severed ties with Chinese component supplier Ofilm Group Co over allegations it's involved in a government programme that transfers ethnic minorities from Xinjiang to other parts of the country for work," Bloomberg said, citing a person familiar with the matter.
Ofilm's shares tumbled by the 10% daily limit at the news, closing at the lowest level since August 2019. 
It was unclear whether Apple – which has drawn fire in the past for alleged rights violations within its massive Chinese-centered supply chain – knows if the allegations about Ofilm are true.  
The severance from Apple has pushed Ofilm to switch its focus to Android devices, and to Chinese and South Korean customers such as Xiaomi and Samsung, as revealed by the company's 2020 performance forecast in January. 
Wingtech Technology, a large Chinese semiconductor and component supplier, won the deal to acquire Ofilm's camera module facilities over other suiters, reportedly Luxshare, Lens Technology, LY iTECH, and BYD. 
After the deal is complete, Wingtech will take over the business of supplying camera modules for Apple, giving it a place in the US tech giant's global supply chain.
Wingtech's shares surged in early February when it said it would acquire Ofilm's Guangzhou plant, and rose again in mid-March when Ofilm announced it lost a "particular oversea client". 
But the market reaction was lukewarm when it announced last week that the price for the acquisition was 2.42 billion yuan, representing an almost 40% discount compared with previous estimates. 
Declining shipments
Some analysts have attributed the tumble of Apple suppliers to declining shipments of Apple Airpods. 
Kuo Ming-chi, an Apple analyst from TF International Securities, downgraded his forecast for global Airpods shipments in 2020 by 30-35%, and estimated the figure to be between 70 million to 80 million.
Guo said Airpods faced competition from similar headphone products that cost much less, while Apple's "ecosystem", or family of devices and services, is not strong enough to support a sustainable growth for the product.
India and Vietnam
Reports that Apple is moving some of its production from China to India and Vietnam have also caused market panic. 
A report by Nikkei Asia said in January that Apple will diversify its manufacturing process due to US-China tensions – with factories in India tipped to start manufacturing iPhone 12 devices as early as this quarter, while plants in Vietnam will work on iPads and HomePod mini devices. Besides US-China tensions, labour costs were also a concern, the report said.
However, the world's most valuable company has encountered labour problems in these two countries as well.
In November, Apple suspended Taiwanese iPhone-assembler Pegatron Corp on suspicion of labour abuses shortly after Pegatron invested $1 billion in a new Vietnamese plant. 
In early December, thousands of contract workers, allegedly enraged over unpaid salaries and overtime payments of several weeks, ransacked Taiwanese manufacturing firm Wistron's factory in the southern Indian state of Karnataka where it assembles iPhones for Apple, causing damage estimated at up to $7m. Apple held off on giving Wistron new orders after the drama.
Long-term outlook
Meanwhile, analysts from Shenwan Hongyuan Securities, Everbright Securities, and CITIC Securities remain upbeat about the performance of Apple suppliers in the long run, and believe their valuation will return to a more reasonable level. 
Mark Lo, an analyst from Shenwan Hongyuan Securities, expects strong demand for upstream parts and components as the wide availability of 5G telecom technology pushes consumers to replace their smartphones. Smartphone chipmakers MediaTek and Qualcomm have both estimated global 5G smartphone shipments to more than double this year, compared with 2020.
Luxshare, which has taken a similar path as Foxconn – moving from a single part supplier to a whole product assembler – will soon be assembling iPhones for Apple, Lo said. Like Pegatron, Luxshare has also invested in plants in Vietnam for Apple.
Analysts from Everbright Securities also expect Apple Watch and iPhone assembly services to bring billions of dollars of new business to Luxshare. The brokerage expects Apple Watch shipments to increase by 20% this year and reach 40 million units. 
Meanwhile, China Merchants Securities has given Luxshare a "buy" rating but revised down its price target from 70 yuan to 60 yuan. 
Luxshare's performance has been overshadowed by a patent infringement investigation filed against it from the United States. 
The company's shares fell as much as 9.5% in a day after it said in January it had been informed of two notices issued by the United States International Trade Commission (USITC) regarding a Section 337 investigation filed against it by US-based Amphenol Corp, alleging IP infringement.
ALSO SEE: