(ATF) The worst drought in more than half a century has hit Taiwan at the same time as the most serious computer chip shortage in recent memory – but the global centre for semiconductor manufacturing says it is gearing up for years of growth.
So far, the impact of the drought on chipmakers has been limited, and Taiwan's economic minister says billions of dollars of investments made by its major manufacturers will soon help replenish reserves of computer chips.
Taiwan is home to some of the world's biggest and most advanced high-tech foundries, which are key contributors to the global $450 billion industry.
The island, which proclaims itself as an independent state (and Beijing regards as a renegade province), is experiencing its worst dry spell in decades and this has added strain to its factories, which generate two-thirds of the world's chip capacity.
The sudden lack of rain since last year has hit the island's chip manufacturing process, which requires billions of gallons of water a year to stave off contamination of its products.
Seasonal typhoons provide Taiwan with much of its water reserves, but the dry spell has strained supplies, prompting the government to start rationing water for more than a million businesses and residents.
Even before the drought, Taiwan's microchip factories were struggling to meet soaring demand for microchips, spurred partly by spikes in demand caused by the coronavirus, as consumers snapped up electronics, and, some say, US sanctions imposed on Chinese tech giant Huawei.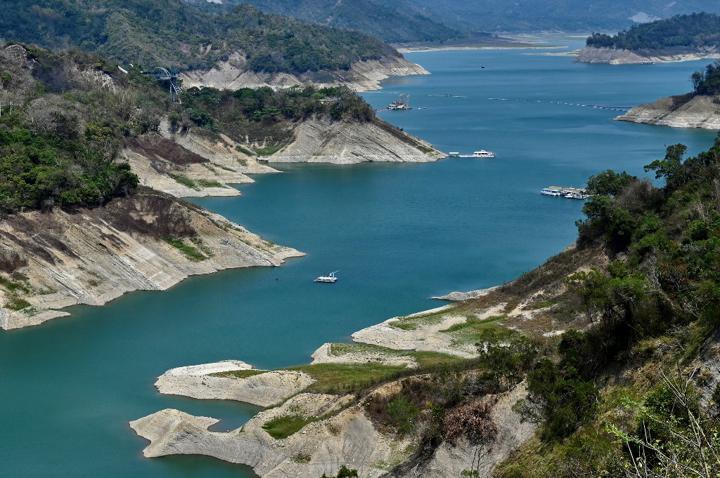 This picture taken on March 17, 2021 shows low water levels at Zengwen Dam in Taiwan's Chiayi county. More than one million households and businesses in Taiwan's heavily industrialised central regions were put on water rationing on April 6, 2021, as the island battles its worst drought in 56 years. Image: Sam Yeh / AFP.
'Limited impact'
But Kung Ming-hsin, the head of Taiwan's economic planning agency, the National Development Council, said on Thursday that the impact on chip firms has been limited due the amount of water the island's chipmakers are recycling, as well as the locational advantage they are enjoying with their main factories in northern and southern part of the island.
"These two places are okay at the moment. So, the impact on semiconductors is not bad," Kung said in a comment to Reuters.
Meanwhile, both the Taiwan Semiconductor Manufacturing Company (TSMC), the world's biggest chipmaker, and United Microelectronics Corp (UMC) say that while the water supply is tight, they have been prepared for years to tackle such a problem.
TSMC said the company is treating water for reuse, which is part of long-term efforts to tackle crippling water shortage.
UMC, as well as Winbond Electronics Corporation, another large chipmaker, said they have already started contingency plans, including mobilising water trucks.
Taiwan's key semiconductor players are also making massive capital investment to ramp up chip supply, according to Kung.
Between now and 2025, Taiwan companies such as TSMC and Powerchip Semiconductor Manufacturing Corp plan more than T$3 trillion ($107 billion) in investment in the semiconductor sector, he said.
"Once they are built, Taiwan's competitors in semiconductors in the next decade will be very few," Kung said, adding that Taiwan's key semiconductor industry has years of growth ahead with no worries about oversupply despite a massive capital investment programme.
"Soaring demand is set to continue, driven by 5G, artificial intelligence and electric vehicles," Kung explained.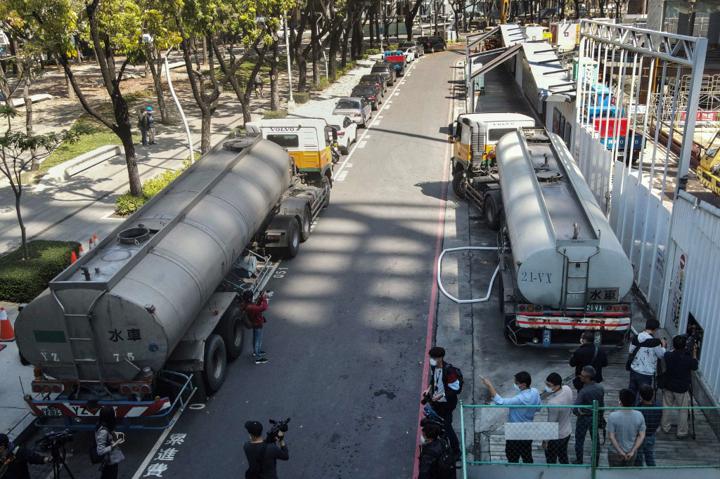 Two water trucks get underground water next to a construction site in Taichung in central Taiwan on March 25, 2021. In the foothills of Taiwan's mountainous spine, reservoirs are running dry as the island experiences its worst drought in decades. Photo: Sam Yeh / AFP.
Other smaller companies fear that the long dry spell will see Taiwan's reservoirs run dry.
"The drought has not materially affected tech production so far, however, if the drought conditions do not end by May – the arrival of Taiwan's monsoon season, this situation could start to weigh on production, especially for smaller tech manufacturers, which tend to be less prepared to cope with such issues," analysts said in a report by Barclays on Friday.
China challenge
Still, Taiwan does face other challenges, particularly from China where President Xi Jinping has made semiconductors a strategic priority. And there has been increasing concern that China may move to take over the island by force in the near to mid-term future.
For now, experts say that the whole thrust of China's latest industrial and technology policy is toward achieving greater self-reliance. This includes a broad-based approach to climbing up the semiconductor value chain, by supporting Chinese firms to upgrade their own capabilities.
Meanwhile, Intel Corp in the US – which is both a TSMC client and competitor – has announced a plan worth $20 billion last month to expand its advanced chipmaking capacity.
With reporting by Reuters.
READ MORE: