(ATF) "Climate risk is investment risk" – this famous quote of Larry Fink, CEO of BlackRock, the US investment group that reportedly oversees more than $7 trillion in assets, rings in our heads as the world endures a dreadful pandemic and ponders how to combat the other looming crisis, global warming.
Imagine you are investing in agribusiness or real estate in Shanghai or Jakarta, and you want to try to figure out much damage that a typhoon, say, or flooding, or heatwaves will cost you over the next 10 years. Or, if you work for a bank, and you are trying to decide whether to approve project finance for a wind farm built in Southeast Asia – and you need to know if a wind stream will weaken for the next five to 10 years, and thus, not generate enough energy to cover a loan.
"This issue [climate change] has an exogenous impact on all companies," said Dr Entela Benz, CEO and co-founder of Intensel, a website based in Hong Kong that is focused on climate science and "providing climate risk solutions" by predicting financial risks related to weather extremes and climate change in Asia.
Dr Benz is not a climate scientist, but rather a green finance expert who has a PhD in Financial Asset Management and Engineering from the Swiss Finance Institute and serves as Adjunct Associate Professor at the Hong Kong University of Science and Technology's Business school. While working on research into ESG – Environmental, Social, Governance issues – she noticed that climate change has become an unavoidable risk to business performance since 2007.
This year, Benz set up Intensel with Chief Technology Officer Dr Saurabh Singh, a passionate climate scientist from India who has a PhD in climate and weather prediction, to make the climate modelling more accessible.
"Climate affects your business operation in the short-term and well as the long-term. Short-term is looking at how you invest your money, which location and how the location will deal with flood and sea-level rise in five to 10 years from now. Once the information is conveyed to the market via solutions like ours, then the valuations will adjust instantaneously, hence short-term," said Dr Benz at the Social Enterprise Summit 2020.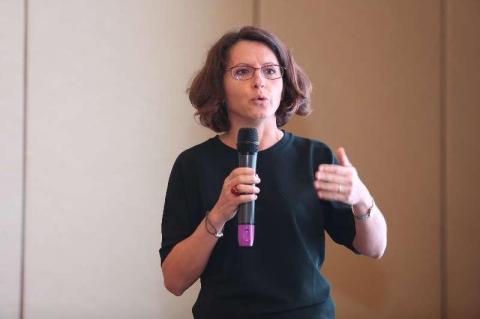 Dr Entela Benz, who set up Intensel to provide climate risk solutions (LinkedIn).
Intensel first launched its service on the market in September. It has a team of eight people who will analyse climate data on flooding, wind cover, solar cover, cloud cover, sea-level rise, hurricanes, drought and CO2 emissions from various sources including satellite imagery data, data from the National Aeronautics and Space Administration (NASA), the National Oceanic and Atmospheric Administration(NOAA), non-government organisations (NGOs) and government departments, then "map it into dollar losses". This service costs US$5,000 for each 10 square kilometres.
Currently, the start-up works with real estate owners, asset managers, international banks and big four consulting companies across the Asia region, such as the Monetary Authority of Singapore (the city state's central bank), and Dragon Capital, a leading asset manager in Vietnam.
Climate-related disasters
Climate-related disasters have become common. A 2020 report by the International Federation of Red Cross and Red Crescent Societies (IFRC) found that 83% of all disasters triggered by natural hazards over the past 10 years were caused by extreme weather and climate-related events.
And they can involve huge sums of money. In 2019, natural catastrophes caused global economic losses of US$150 billion. Indeed, an economist's report in 2015 warned that a rise in global temperatures of 6° Celsius could cause value losses totalling $43 trillion, which was equivalent to nearly a third of global manageable assets at that time.
In Asia, a region known for its ageing populations, which are highly urbanised and concentrated in big cities, pollution is a major concern with significant environmental risks. "The worse you are in terms of polluting, in terms of environmental footprint, the stronger the negative correlation with your performance," Dr Benz said.
Concern about global warming and lowering emissions increased considerably in the lead-up to the Paris Agreement backed by 196 state parties in late 2015 to try to counter global emissions and warming, while media reports about the crisis have become more and more disturbing.
"There are more inquiries and clients coming from Asia," said Yotam Ariel, co-founder & CEO of Bluefield, a Silicon-Valley climate tech start-up focused on independent emissions data via satellites and artificial intelligence. "[But] without using satellites, it's extremely difficult to obtain information on emitting sources in Asia."
Bluefield provides satellite-based data to corporates such as oil and gas companies keen to tackle their emissions, as well as financial institutions, and government agencies which set emission reduction targets to fight climate change. But Ariel said their efforts to counter the problem were "blindfolded" because traditional data often had "too many errors and gaps" due to infrequent or indirect measurements and calculations.
Bluefield captures data from satellites in space, which "need no permission from the emitting source or country and can track critical emitters anywhere in the world."
This was the company that in May was the first to identify a significant methane release that occurred in Florida in the US, Bloomberg reported. Next year, Bluefield plans to offer data on additional gases such as sulfur dioxide (SO2), nitrogen dioxide (NO2), nitrous oxide (N2O), methylene (CH), ammonia (NH3), carbon dioxide (CO2). So, that should enables a whole new level in environmental governance monitoring.
Ashley Hegland, managing director of StoneWave Group (HK) Ltd, who has been working on sustainability, ESG and climate issues for over 20 years, said: "In simple terms, the climate issue has two parts. On one side of the coin, it is about the impact that your business has on the climate – think decarbonisation – and on the other side, it is about the impact of a changing climate on your business – think adaptation. Proactively addressing both of these aspects will make your business more climate resilient. This is where climate tech fits in."
The endless lockdown and business interruptions of the Covid pandemic have taught the world a billion-dollar lesson on preparing for the next global crisis – climate change –as countries work move slowly toward a carbon neutral world. Financial sectors are also focusing on leveraging a green recovery by scaling up efforts on making businesses climate neutral, while making economies more resilient, more inclusive and more regionally balanced.
Climate-related financial disclosures, Asia lagging 
The Task Force on Climate-related Financial Disclosures (TCFD) established by the Financial Stability Board – an international agency based in Switzerland – has been urging countries to encourage companies to disclose all climate-related financial information. The European Union, Canada, Japan are already onboard, while some states, such as the United Kingdom and France, have made this mandatory.
"European countries, and in particular those in Scandinavia, have been leading the charge on climate action for decades. Up to this point, Asian nations have lagged behind, but with recently announced bold climate commitments coming from Japan, China, and Hong Kong, there is a dramatic shift. This is a train that is not going to stop," Hegland said.
Xi Jinping, the President of China, the world's largest emitter of greenhouse gases, announced in September that his country aims to be climate neutral by 2060. And in October, Japan and Korea also pledged to reach the target by 2050. Then last month, Hong Kong Special Administrative Region also pledged to be carbon neutral by 2050.
Hegland suggested that governments in Asia could spur climate tech innovation by providing policy clarity on how they intend to achieve net-zero carbon targets, and which industries will be required to take the swiftest action. This is already happening to a certain extent, with heavy industries, real estate and financial institutions facing growing pressure. Clear policy direction coupled with appropriate incentives will stimulate the market for climate tech solutions.
In 2017, stock markets in Hong Kong and Singapore made climate disclosure a mandatory requirement for listed companies. And by 2018, 11 emissions trading systems (ETS) operated in Asia and the Pacific, according to the Asian Development Bank.
In Hong Kong, Swire Properties has set up a $50 million Venture Capital Programme under New Ventures, to invest in Series A to Series C technology start-ups globally. Apart from 'property tech', office-of-the-future, smart retail, smart building, construction and hotel technologies are also included. New World Development established Impact Kommons, a start-up business integration program, to contribute to global sustainable development goals.
Despite the headwinds from the pandemic, the global sustainable investment market has thrived and now totals $715 billion. A study from Lombard Odier, a Swiss private bank, found that 89% of Asia's ultra-high net worth individuals have pivoted their investment towards sustainable goals. Climate tech, as a booming trend in recent years, is believed to be one of the popular choices.
A PwC report found that about $60 billion of venture capital flowed into start-ups contributing to the reduction of global carbon emissions from 2013 to 2019, although that amount is still small given the scale of the challenge.
Dr Benz said that the demand for Intensel's services is now outpacing their capabilities and they are raising funds to expand and accommodate the increase in demand. But she saw a lack of understanding among VCs in Asia, especially in regard to completely new products. "They are not comfortable with new products that are, for them, not already proven in the US. There is a follower ability, rather than leading."
She pointed out that there are a lot of funds for research in Hong Kong, but "not too much in enabling solutions as Singapore does". Dr Benz said the start-up had been thriving with "no venture money" and only some technology support from the Hong Kong Science and Technology Parks (HKSTP).
Meanwhile, Ariel has previously declined some investment offers as the start-up only receives funds from investors who share their long-term vision and values. So far, Bluefield has raised several million dollars from venture firms backed by Bill Gates and Jeff Bezos, plus an early-stage tech scout fund of Sequoia Capital, in the seed funding stage.
2020 is notable for one of the worst pandemics in history, but it may also end up beating 2016 to become the warmest calendar year as well, according to new numbers released by the Copernicus Climate Change Service, set up by the European Commission.
As Dr Benz said: "We need to have climate solutions, which help companies and people in society to move forward in a concrete way with clear transparency and measuring climate risk, not just talking on a policy level."
ALSO SEE: