(ATF) With an estimated 1.09 billion users Tencent's mobile app WeChat is ubiquitous on the mobile phones of anyone working and living in China. It emerged as an evolution of QQ, Tencent's copy of Microsoft's messenger. WeChat combines the functions of Facebook, Whatsapp, Twitter and other commonly used apps outside of China, but which are banned in the People's Republic.
Another major function of WeChat is WeChat Pay, the main rival to Alibaba's Alipay. But with the regulatory environment having changed in recent months, and rival Ant Group and Alibaba taking most of the pain, WeChat has changed course from previous plans to offer a raft of financial services to users.
On its 10th anniversary this week WeChat rolled out its new future direction – video and live-streaming, with some added twists and whistles via which WeChat may be able to commercialize its huge user base.
Tencent senior executive vice president and WeChat business group president Zhang Xiaolong (Allen Zhang) held a "talk show" for close to two hours, from the birth of the video account to his live broadcast. As China's upcoming Spring Festival gets nearer, live broadcast is the new thing in China, where trends change fast.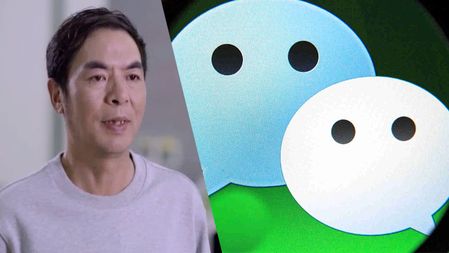 "If you use two words to express it (WeChat), one is connection and the other is simplicity," Zhang said.
Zhang, "who likes to speak with data", according to Xin Jingbao, posted a potted history of WeChat's 10 years – currently there are 1.09 billion users who open WeChat every day. Of these about 330 million make video calls; 780 million users enter 'Moments' (the micro blog section), while 120 million users publish Moments, with 670 million photos and 100 million short videos; 360 million users read official account articles, while 400 million use mini in app programs. 
He said: "I feel very lucky to be the 'person chosen by God," as he was the original creator of WeChat.
Zhang has become one of the best-known product managers in China because of he created Foxmail, QQ mailbox, WeChat and other products. His product concepts are well received by the outside world. But he rarely shows up in public. 
Zhang revealed that when the video account team was formed it started with only a dozen to 20 people.
For product design, the difficulty of video is the account system. In WeChat microblogs are only shared with the users' friends, whereas Zhang wanted to create a product with a more public face. Producing live-streaming and long form YouTube or short TikTok like videos seems to be the answer.
Dramatic growth of video use
The reason why WeChat chose this year to launch its video account is because over time, video-based expression has become a habit of ordinary people. Zhang said that over the past five years, the number of video messages sent by WeChat users has increased by 33 times. The number of video posting increased by 10 times. So, at this time, when WeChat thinks of short content, it's not short text messages it thinks of, but video content.
Judging from the current data, since the internal beta launch on January 19, 2020, the WeChat video account has been through four major versions, with long videos and live-streaming being the latest two.
Zhang believes that live-streaming is a relatively easy way to talk face-to-face, and that live-streaming may become a form of personal expression in the future. 
In the next iteration of WeChat, there will be an option to live broadcast, and the user can choose to share with "people nearby." There will also be e-commerce capabilities in the live broadcast, including that the live broadcast can be linked to a third-party applet. WeChat has a function that, if you shake your phone, it reveals other WeChat users in your area, be they strangers or friends. So, Zhang is combining this with live broadcasting.
"The content is becoming more and more fragmented, and I am also thinking about what other types of content can be accepted by more people than short videos? I personally think that live broadcasts have this opportunity," Zhang said.
Internet analyst Tang Xin believes, "It is WeChat that may bring about the biggest change. WeChat has been relatively cautious in commercialization, but its traffic is too large. If it can be commercialized, it may change the entire industry structure of live broadcasting. It will not become the standard configuration of big apps, but it is relatively suitable for content platforms and social platforms with pan-entertainment attributes. The live broadcast market is difficult to be monopolized, and the future will definitely be a state of coexistence, especially those with copyright attributes. The moat of live games is deeper."
ALSO SEE: