White House trade adviser Peter Navarro says he expects President Donald Trump to act firmly against the TikTok and WeChat applications, amid rising tensions between Washington and Beijing. 
Trump last week had said he is considering banning the wildly-popular TikTok app as a way to punish China over the coronavirus pandemic.
In an interview with Fox News, Navarro argued that "what the American people have to understand is all of the data that goes into those mobile apps that kids have so much fun with... goes right to servers in China, right to the Chinese military, the Chinese Communist Party."
He said these apps can be used to steal intellectual property. "So expect strong actions on that" by Trump, Navarro warned.
Fast-growing video-sharing app TikTok belongs to the Chinese group ByteDance and has nearly one billion users worldwide.
TikTok has sought to distance itself from its Chinese owners, pointing out it has an American CEO and consistently denying allegations that it shares data with Beijing.
WeChat, owned by Tencent, is the main messaging application in China with more than one billion users.
Navarro also accused TikTok's new boss Kevin Mayer, former head of Disney's streaming platforms, of being an American puppet. 
On Friday Amazon said it mistakenly sent workers an email telling them to dump the TikTok mobile application from their cell phones because of security concerns.
An Amazon spokesperson later said "there is no change to our policies right now with regard to TikTok."
Democratic campaign teams for the US presidential election have been asked to avoid using TikTok on personal devices and, if they do, to keep it on a non-work phone.
The research firm eMarketer estimates TikTok has more than 52 million US users, having gained about 12 million since the outbreak of the coronavirus pandemic. TikTok is popular with young smartphone users.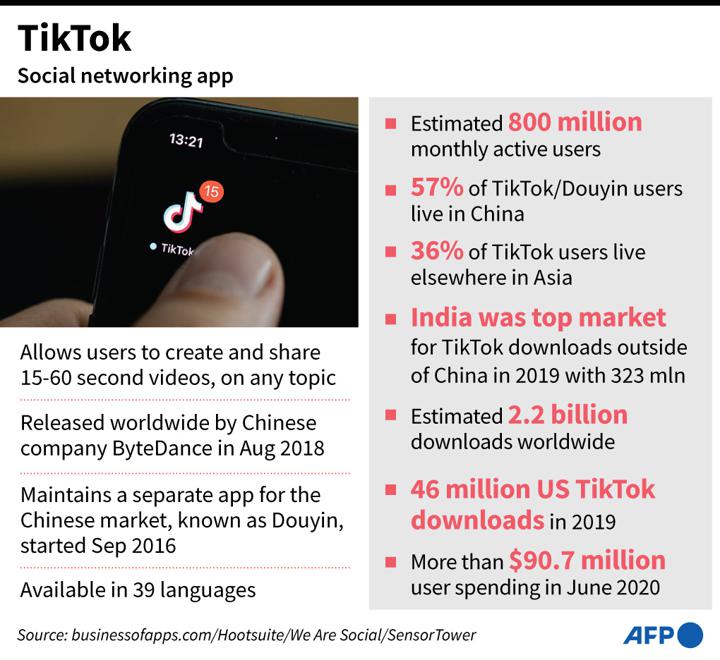 TikTok's withdrawal from business in Hong Kong recently was seen by experts as a savvy commercial move that sidesteps thorny privacy issues, although they believed it would not shield the app completely from accusations of collusion with China.
Facebook, Twitter and other US tech giants have risked angering China by refusing to share Hong Kong user data, but TikTok portrayed an image of principle by pulling out of the territory. 
The moves were triggered by China's imposition of a security law on Hong Kong at the start of the month aimed at quashing a democracy movement.
TikTok's exit from Hong Kong was partly an effort to shake off the "label of it being a company that is controlled by China and shares data with the Chinese government," Zhu Zhiqun, a political science professor at Bucknell University in the United States, said. 
However TikTok's parent company, ByteDance, has a similar app for mainland China called Douyin that does share users' data with the Chinese government. And while Douyin is not officially available for download in Hong Kong, ByteDance is happy for it to be used in the city of seven million people.
"The company does not have plans to make Douyin available on the Hong Kong app store, but Douyin has local Hong Kong users who have downloaded it in mainland China," a ByteDance spokesman told AFP.
'Trying to stay alive in US' 
Leaving Hong Kong would allow TikTok to focus on building its increasingly lucrative American market, tech expert Elliott Zaagman said.  
"(TikTok is) primarily concerned now with staying alive in the United States," said Zaagman, who writes for the Lowy Institute think tank in Australia and presents the China Tech Investor podcast. He spoke before Navarro made his comments on Sunday.
TikTok and Douyin are among the worlds' most popular apps, with more than 2.2 billion downloads, according to US-based research agency SensorTower. Their kaleidoscopic feeds of 15 to 60-second video clips are often fun and humorous, featuring everything from make-up tutorials to dance routines.
However, with its rising popularity in the United States, TikTok has also come under increasing scrutiny from the US government. US President Donald Trump warned two weeks ago he was considering banning it as a way to punish China over the coronavirus pandemic.
Other top American lawmakers have raised concerns over the potential for Tiktok to leak users' data to the Chinese government.
"TikTok is a potential counterintelligence threat we cannot ignore," two senior US senators wrote last year.
India recently blocked the platform on national security grounds following a deadly border clash between its soldiers and Chinese forces.
TikTok staunchly denies snooping allegations.
"We have never provided user data to the Chinese government, nor would we do so if asked," a spokesman said on Wednesday.
TikTok has also faced questions on whether it hides videos from Hong Kong's protests to appease the Chinese government. But a Tiktok spokesman denied any censorship. 
AFP