The world is facing an "impending global food emergency" that could impact hundreds of millions of people as the coronavirus pandemic threatens already strained supply chains, UN Secretary-General Antonio Guterres warned on Tuesday.
"Our food systems are failing, and the Covid-19 pandemic is making things worse," the UN chief said in a statement accompanying a report by the world body.
"More than 820 million people are hungry," he said. "Some 144 million children under the age of five are stunted – more than one in five children worldwide."
He warned that "this year, some 49 million extra people may fall into extreme poverty due to the Covid-19 crisis.
"The number of people who are acutely food or nutrition insecure will rapidly expand," he said.
"Unless immediate action is taken, it is increasingly clear that there is an impending global food emergency that could have long-term impacts on hundreds of millions of children and adults."
Guterres called for better protection for workers in the food sector, for humanitarian aid deliveries to be safeguarded and for support for food producers and distributors to avoid interruptions to the supply chain.
He also wanted more emphasis placed on nutritional programs, including aid to children who lack access to school meals.
The UN chief said it was possible to develop healthy and nutritional food to help eradicate world hunger. 
In April, the UN raised the alarm about a potential explosion in the number of people at severe risk of hunger because of the coronavirus pandemic.
People starving in North Korea
Food insecurity in North Korea is deepening and some people are "starving" after it closed the border with China and took other steps against Covid-19, UN rights expert Tomas Quintana said on Tuesday.
The hermetic totalitarian state, which has yet to confirm a single case of the novel coronavirus, introduced a range of other measures to try and prevent an outbreak.
Quintana, the UN rapporteur on human rights in the country, called for urgent action from Pyongyang and the international community to relieve the suffering.
"Lack of food had a devastating impact in the DPRK (Democratic People's Republic of Korea) in the 1990s, and prospects of a further deepening of food shortages and widespread food insecurity are alarming," he said.
Hundreds of thousands are believed to have died during a famine in the mid to late 1990s, a period known as the "Arduous March" in the North.
Before the coronavirus crisis, more than 40% of people in North Korea were already considered food insecure, with many suffering malnutrition.
The decision five months ago to close the border with China, and putting thousands into isolation, are exacerbating the situation, said Quintana – an independent expert who reports his findings to the UN.
North Korea's trade with China in March and April this year dropped by more than 90%, leaving many living in the border areas with no income, he said.
"There have been reports of an increase of homeless people in large cities, including kotjebi (street children), and medicine prices have reportedly skyrocketed," his statement said. "An increasing number of families eat only twice a day, or eat only corn, and some are starving," it said.
The expert pointed to reports that soldiers were also reportedly suffering from food shortages, and voiced concern over the situation in prisons, particularly in secret prison camps. He pointed to accounts of prisoners frequently dying due to exhaustive work, lack of food, overcrowding and contagious diseases.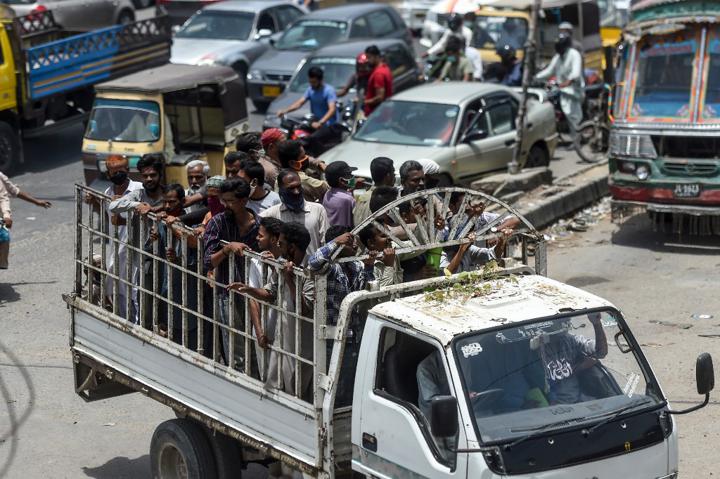 Pakistanis ride in a truck after the government resumed public transport after the lockdown imposed against the coronavirus, in Karachi on June 3, 2020. Photo AFP.
Pakistan hospitals running out of beds
Meanwhile, Pakistan has recorded more than 100,000 cases of coronavirus, health authorities said on Monday, as hospitals warned they are running out of beds to treat patients.
Pakistan – and neighbours India and Afghanistan – have lagged behind Western nations in virus tolls, but experts warn a lack of testing or accurate reporting in rural areas could be hiding true figures. 
In recent weeks, however, the country of more than 210 million has reported a sharp rise in new infections, and on Monday the government said more than 100,000 cases and 2,000 deaths had now been recorded.
Last week a leaked government report suggested there were nearly 700,000 infections in Lahore alone. 
Doctors at several main hospitals in the historic eastern city said they were running out of beds, ventilators and other vital equipment. "As the cases increase, more health care workers are also falling victim to the virus," Farooq Sahil, a doctor at Services Hospital Lahore, said.
Khizer Hayat, chairman of the Young Doctors Association of Punjab, said facilities across the province needed help. "Hospitals are running out of beds; there aren't enough ventilators given to us," he said.
In the southern port city of Karachi, health centres are turning away the sick, with a sign near the entrance of the Indus hospital stating there was no room for coronavirus patients.
Prime Minister Imran Khan on Monday said he expected the virus to peak "towards the end of July, followed by a gradual downslide". Pakistan's lockdown policy has been patchy at best, with Khan reluctant to call a nationwide shutdown in order to protect the economy.
Asad Umar, who heads the national coronavirus task force, announced that a package to relieve pressure on hospitals would include 1,000 new beds in major cities. 
"The crisis is unfolding now as we have ceased to observe isolation," said Sikander Ali Memon, who is leading Sindh province's anti-virus efforts.
In southwestern Balochistan province, government spokesman Liaqat Shahwani said the situation was serious, and authorities were struggling to cope.
AFP