(ATF) Chaotic scenes in Washington drew attention from Democratic victories in two Senate run-off races in Georgia that point to fiscal stimulus under President Biden and helped US markets rally further on Wednesday January 6. 
The S&P 500 had touched a new high as investors bought financial and industrial stocks on the assumption that a Democratic sweep in Georgia would lead to more fiscal stimulus and infrastructure spending, before edging down late in the US trading day as Trump supporters disrupted the certification of Biden's victory in the presidential election.
The S&P 500 index still closed up by almost 0.6% on the day.
Before the pro-Trump protests, financial stocks rose by 1%, while materials, industrial and energy sectors also made gains.
The Dow Jones Industrial Average closed 437.8 points higher, or 1.44%, to 30,829.4, the S&P 500 gained 21.28 points, or 0.57%, to 3,748.14 and the Nasdaq Composite dropped 78.17 points, or 0.61%, to 12,740.79.
The Russell 1000 value index, which is heavily weighted toward cyclical sectors, rose 2.5%, while the growth index, with a large tech company weighting, was down 1.1%.
Increased risk of anti-monopoly (antitrust) scrutiny of Big Tech pressured shares of major companies in the sector, with Apple, Microsoft, Amazon, Google-parent Alphabet and Facebook all falling.
Tesla was the only major technology stock trading up, with a 2.9% rise to $755.98.
The move to narrow Democratic control of the Senate - with Vice-President Harris able to pass votes that reflect the 50/50 split in the upper house in the next Congress - is likely to boost stimulus spending in the US.
This pushed up Treasury yields, with the 10-year benchmark rising above 1% on Wednesday for the first time since March 2020.
The prognosis for US corporate bond yields is mixed, as higher government spending will help to boost the creditworthiness of many borrowers, even if interest rates edge up.
The narrow margin of Democratic control of Congress means that an aggressive stimulus is unlikely to go through in the near-term, even if overall spending is higher than previously anticipated.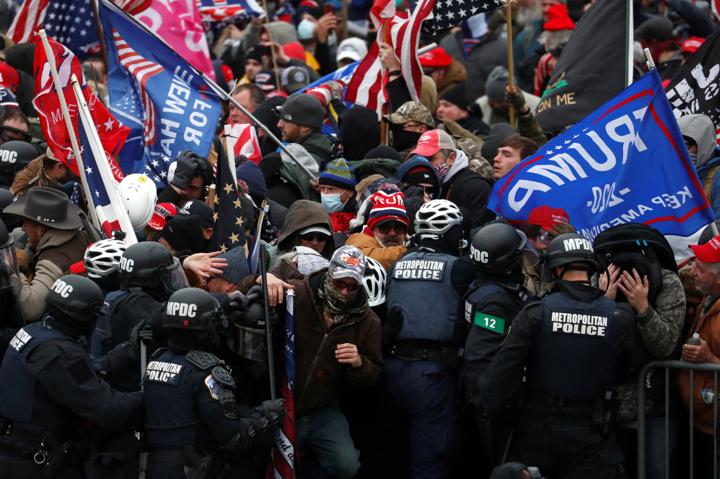 Police appeared to under-estimate the size of the protest by pro-Trump radicals in Washington, but the other big news of the day was the Democratic Party's win in both Senate seats in the election runoff in Georgia. This has major implications for Biden's economic policy. Photo: Reuters.
ALSO SEE: