If you were to name the 10 most thrilling things in 2019, the rollout of 5G technology should have a place on the list. With faster speed, lower latency and broader connections, 5G seems promising as a way to spur the development of new gadgets and applications, just as 3G/4G networks served as curtain-raisers for the smartphone era. 
Smart wearables, exemplified by smartwatches, could be one of the beloved offspring of 5G technology and come to live on everybody's wrist, becoming the next portable tech necessity.
At the current stage, smartwatches are considered as accessories adjacent to phones. The more intimate connection between the device and the human body is where the smartwatches could cultivate new user habits around functions such as health monitoring and instantaneous data transmissions.
Still, there is much more to expect with technology rollouts and service designs on the way. Thus, considerable investment opportunities are emerging from smartwatch vendors and companies along the industry chain such as chipmakers and display solution providers.
From 2013, when the first so-called smartwatch greeted the world, to the year of 2019, the shipments of this subtle device saw great growth. The one that truly ignited users' excitement in this type of product was the Apple Watch, which was first released in 2015. Although its Korean peer Samsung presented the Samsung Gear two years earlier than Apple, there was not initially huge hype around this kind of device.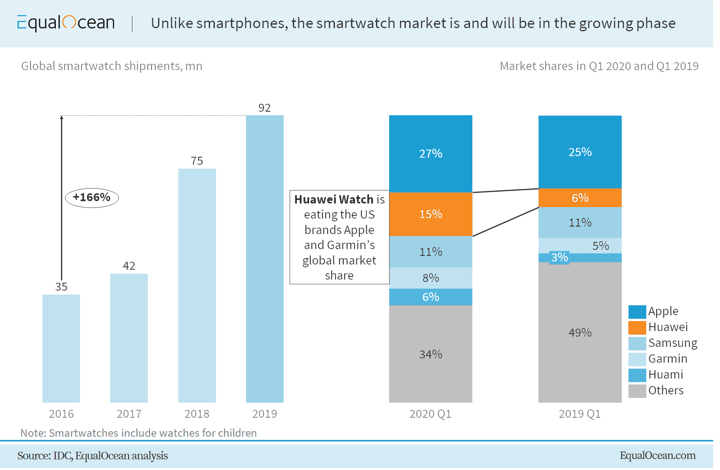 From a global perspective, the smartwatch market grew by a staggering 10% year-on-year in the first quarter of 2020. By comparison, smartphone shipments declined by 13% in the same period. The smartwatch demand was surprisingly higher in the pandemic-hit quarter.
Apple tops the list, with a 10% higher market share than the next-best vendor. Apple seems to have secured an absolute predominance in smartwatch sales, with a volume larger than the sum of Huawei, Samsung and Fitbit. However, the growth rate is not that optimistic, since the 2.2% decline is quite disappointing compared with Huawei's aggressive 118% year-on-year growth.
Furthermore, if we shift the perspective to a China-focused one, Apple will somehow lose its 'sense of superiority' and Huawei will be in Apple's shoes.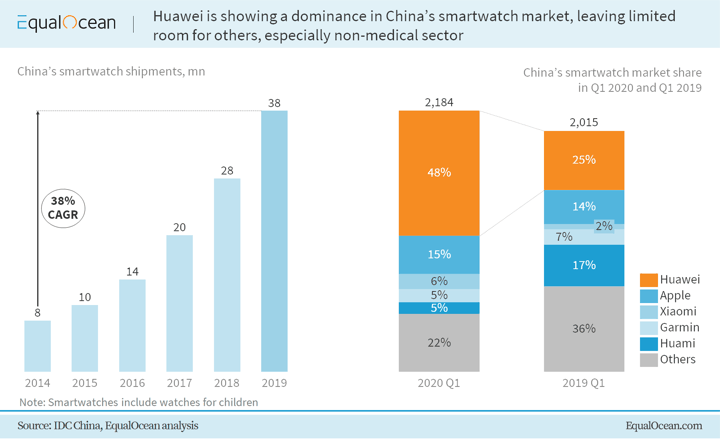 Xiaomi

 and Huami
Apart from Huawei's handsome domestic performance, Xiaomi and Huami, which have been providing mutual support, have both maintained slots in the top 5 in terms of market share in China. Compared with Xiaomi smartwatch's soaring growth, it is worrying that Huami is not performing as good as last year. 
The company's downslope is partly caused by Xiaomi releasing its own smartwatches, Mi Watch and Mi Watch Color, which surpassed Huami's Amazfit series. Previously Huami was standing on the shoulders of the 'giant' Xiaomi (pushing its luck one might argue) using the established brand and efficient sales channels to drive sales. Some people even reckon Amazfit to be a product name under Xiaomi's operation. So, when Xiaomi launched its own smartwatch, the sales volume of the younger brand, Huami, stumbled.
Garmin
Huami is not alone in facing a decline in shipments. Garmin, the Kansas-based GPS and wearables technology company, also suffered from diminishing market shares in China for the first quarter of 2020. In this case Covid-19 is to blame, as Garmin's smartwatches are specialised in fitness and accurate physical data monitoring. Under nationwide quarantine policies, the need for outdoor sports was reduced to the lowest degree.
And, Garmin targets the high-end, including luxuries; the economic regression caused by the pandemic has not tended to favour these categories. Though Garmin gained a steady growth of the global market from 5.3% to 7.5%, the next quarter's performance is likely to repeat what happened in China's market in the first quarter, as the pandemic spreads further and negative effects reverberate.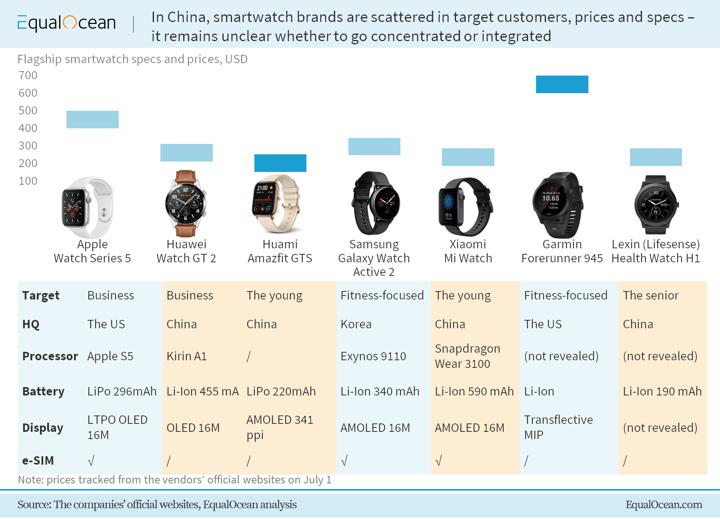 Taking a glance at China's smartwatch market mix, it is obvious that though the market is still niche, with only one-third of the shipments figures of smartphones, the price range and users' needs are quite widely differentiated. The lowest price is presented by Huami, which did inherit its angel investor's spirit on price-effectiveness. Garmin's Forerunner 945 is the highest in price, at around six times Amazfit. Though the range is comparatively large, the selling prices are mostly concentrated from US$200 to $300 except for the American brands – Apple and Garmin. Apple in this case benefits from the brand premium and Garmin is out of the unique product positioning – focused on professional fitness service.
Three major selling points: Medical monitoring, smartphone proxies and fitness
Chinese brands have covered almost every customer group segmented by age, from the children's electronic watches to the senior's health monitoring watches and the young and business-focused areas in between.
Smartwatches for seniors are expected to show physiological indexes such as ECG, blood pressure and respiration indicators. Lifesense, as a listed medical equipment provider, has almost monopolised the smartwatch market for the seniors in China, just as imoo watch has achieved dominance in the children's smartwatch market. China dominated the global market for kids' smartwatches in 2019, accounting for more than three out of every five devices sold. Brands such as imoo (backed by the BBK Electronics) and Huawei were leading in market shares.
As for smartwatches for working professionals and the younger consumer group, Huawei and Xiaomi watches, as accessories for phones, are leading. In this sector, the design, lasting time (can be reflected by the battery and display mode) and the communication capacity are the most important elements, where, if Huawei Watch could add the e-SIM so that the watch could be more independent from the phone, it would have the opportunity to eat away at Huami and Xiaomi's sales. 
If that is what is going to happen, Xiaomi will not be as upset as Huami, since the former has its Mi band as a killer product while for Huami the whole company has been counting on a quite singular product mix – Amazfit series. If Huami fails in capturing the health and fitness-focused consumer group with its Huangshan-2 chip development, the future may be lacklustre for this company. 
Overall, China's smartwatch market is still in a growing phase as it attempts to embrace significant changes in terms of market share. Total volume compared to smartphones also indicates a growth potential. Based on the three major selling points, local vendors have not yet covered the fitness-focused segment, leaving an alternative for the falling Huami to adjust its strategies.
As for the middle-and-high-end smartwatches used as smartphone proxies, Apple and Huawei dominate, establishing their brand images and sales channels. Xiaomi somehow lost its interest in the smartwatch category, since no further moves or promotions have come since the Mi Watch was released last year. But it's possible  Xiaomi is taking a strategic step back and letting its investee make a successful specialisation in smartwatches.
With the 5G rollout and the completion of BeiDou navigation system, China's smartwatch market is in a favourable uptrend.
This report by Beier Kan appeared first on EqualOcean