(ATF) Chinese electric vehicle (EV) maker Xpeng Motors is developing proprietary autonomous-driving chips, with the design of these chips likely to be finalised late this year or early next year, local media reported. 
Chinese tech media outlet 36Kr said the Guangzhou-based startup is developing chips in China and the US, mainly for autonomous vehicles, and that the project is being overseen by Benny Katibian, chief operating officer of Xpeng North America, and the firm's co-president Xia Heng. 
The project has been rolling for several months and involves an initial team of about 10 people, the report said, adding that the chips are likely to be produced late this year or early next year if the project progresses smoothly.
Xpeng currently uses Orin chips from Nvidia Corp. The firm will increase investment in research and development, including hardware closely related to autonomous driving, He Xiaopeng, the firm's founder and chief executive, said during a fourth-quarter earnings call. 
Last month, a fleet of Xpeng P7s completed a 3,600+ kilometre (2,237 miles) cross-country autonomous drive from Guangzhou to Beijing as a demonstration of its newly-released autonomous-driving assistance function called Navigation Guided Pilot (NGP). The vehicles were driven by auto journalists and other third parties, using NGP for 2,930 km of highway driving. 
That's about the same as driving from New York City to Salt Lake City in Utah and having the vehicle drive completely by itself for about 80% of the trip.
US electric vehicle maker Tesla has also begun its own chip development programme for self-driving vehicles, while Chinese automakers Nio and Li Auto have started development of autonomous-driving hardware.
Xpeng delivered 13,340 cars in the first quarter (Q1), which was a historical high. After a sales decline in February, its March delivery was 5,102 units, up 384% year-on-year and 130% month-on-month. The company runs ahead of Li Auto but behind Nio by sales volume in the first quarter.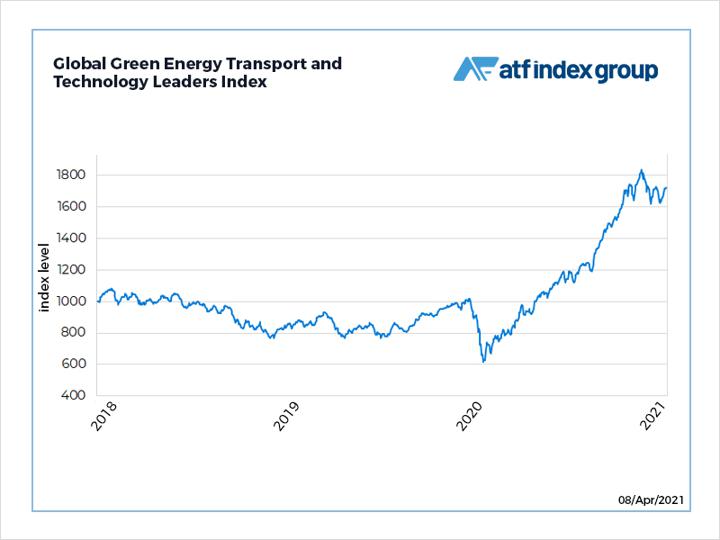 The Global Green Energy Transport and Technology Leaders Index created by Asia Times Financial in collaboration with ALLINDEX, is a benchmark that tracks shares of leaders in electric vehicle and renewable energy production and storage businesses.
'Comprehensive portfolio'
"In our view, Xpeng's comprehensive product portfolio with cars equipped with the latest NGP features represents a competitive advantage. We look for higher profitability and cash flow at the firm along with greater economies of scale," analysts from CCB International Securities, said. 
The brokerage firm said a near-term catalyst for Xpeng could be the ramp up in monthly output, the launch of a third model in Q4 and the debut of a new model next year.  
Xpeng has launched two mass-produced EV models so far, the G3 SUV and the P7 sedan.
CCB International Securities has raised their forecast of Xpeng sales volume for 2021 by 15% to 61,500 units.
The Chinese EV startup recorded a net loss of 4.9 billion yuan ($754 million) in year 2020 although its revenues more than doubled to reach 5.8 billion yuan ($896 million). It has estimated its first-quarter revenue will be 2.6 billion yuan ($400 million), down 8.8% from the previous quarter.
ALSO SEE: